This week's giveaway:


By Marilee Haynes (Pauline Books & Media, 2013)
About the book:
Thirteen-year-old Gabe Carpenter is just like any other middle-school boy at St. Jude Academy...well, except for the fact that based on his scores on some seventh grade test, he is considered a "genius" and is placed in an enrichment class with other gifted students. But he sure doesn't seem like a genius-after all, he can't even open his own locker and his brain stops functioning when Becca, his sister's best friend, comes around.

As if these problems aren't enough to deal with, he is convinced that one of his arms is longer than the other, he has yet to grow a mustache, and his second best friend is mad at him. Even worse, his nervousness causes some pretty embarrassing bodily functions. And at home, his dad expects him to be some kind of basketball star athlete instead of a science nerd who predicts the weather.

Join Gabe as he navigates the trying times of middle-school, wonders what it means to have brains, and learns what it truly means to be himself.

Genius Under Construction
By Marilee Haynes (Pauline Books & Media, Coming in March 2014!)
About the book:
Gabe Carpenter-St. Jude Academy's resident genius-is back for his final year of middle school. Some things have certainly changed from last year: his 'locker-won't-open' days seem to be over, his rolling backpack has been replaced by his grandpa's briefcase, he's now the basketball team's official analyst, and he, along with all of the other eighth graders, are allowed to sit on "The Rock." Other things have stayed exactly the same: Gabe has yet to figure out girls (especially his second best friend and crush, Maya), he's still in that class for gifted students, and his embarrassing bodily functions continue to well, embarrass him.

On the cusp of graduation, this eighth grade status brings some inescapable realities. Gabe, along with all of the other graduating students, must complete fifteen hours of community service. Thinking his talents would be best used in service to others academically, he picks tutoring. But when he finds out he will be working with a student who has a learning disability, things become a bit more complicated than expected.

At home, an envelope with an unfilled application to Carolina Science and Math High School is shoved in the bottom of his closet. With the deadline quickly approaching, Gabe is being pressured by his parents, grandma, and the memory of his dead grandpa to make a decision of whether or not to apply. He loves science, but is he willing to leave his friends behind to go there next year? Leave Maya? At least Gabe can still turn to St. Jude, the patron saint of lost causes, to help him along the way...

Join Gabe as he finishes up his last year of middle school, discovers how his giftedness can serve others, and follows his academic passion.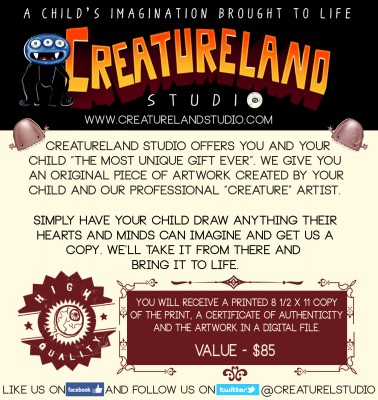 About this prize:
Creatureland Studio will take your child's artwork as pure inspiration. We will come up with a one-of-a-kind, original print based on your child's art but interpreted by us and what we see when we look at your child's drawing. Please know that what you receive will be a finalized collaboration and will not be able to be changed.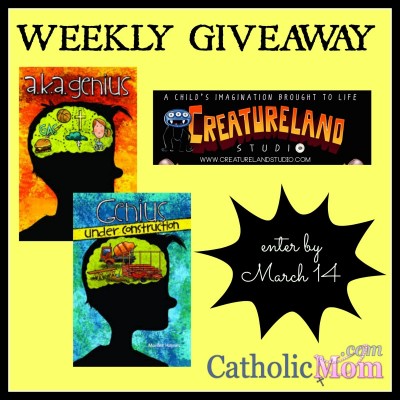 About the Author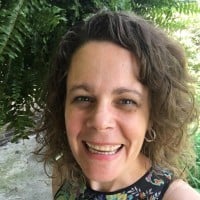 When she's not chasing kids, chugging coffee, or juggling work, Sarah Reinhard's usually trying to stay up read just one…more…chapter. She writes and works in the midst of rural farm life with little ones underfoot. She is part of the team for the award-winning Catholic Mom's Prayer Companion, as well as the author of a number of books. You can join her for a weekday take on Catholic life by subscribing to Three Shots and follow her writing at Snoring Scholar.