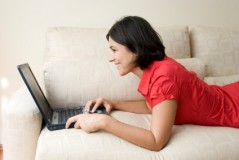 I received a phone call the other day from a college friend I hadn't talked to in many years. It was such a treat to hear her voice and catch up on our lives! One of the things she said to me was that she was so inspired by the way I seem to have everything in balance – how I juggle my business and my family and the way I embrace my faith as the foundation for everything. While I confess that I don't often feel like I have it all together, I have to agree that I am so very blessed to have a flexible career that enables me to put faith and family first. And I often take that for granted -- I forget that where I juggle, some women struggle.
Whether you work full time outside the home, or work full time raising your children, I'm willing to bet there are always a billion things competing for your attention. Even though people think I have the perfect balance, I must admit that being a mompreneur also has challenges! 
I've been through most of them myself – and I have 
dozens of clients who've been through them as well. 
So I'd like to share some of my tips for making the 
life of the mompreneur work FOR you – and not 
AGAINST you.
The Christian Mompreneur's Trinity of Challenges
Guilt: You recognize this challenge if you feel like:
It's a constant battle to balance work and family and you never quite feel like you're giving enough;
You have a difficult time setting boundaries and saying 'no' to friends, family, volunteering and pro-bono work;
You feel a little bit uncomfortable when it comes to sales, marketing and asking for the fees you deserve.
Overwhelm: You are experiencing this challenge if:
Your life is filled with multi-tasking chaos and there never seems to be enough time to do everything you want to do;
You spend all of your time responding and reacting to everyone else's needs rather than proactively creating the business and life you desire;
You feel it's easier to do things yourself than to rely on someone else to help.
Darkness: You can relate to this challenge if:
You feel it is isolating and lonely to run a "one-woman-show" with nobody to guide and encourage you along the way;
You're not sure who to trust and where to turn for support;
You're easily distracted by empty promises, "once-in-a-lifetime" opportunities and other activities that steer you in a different direction leaving you feeling disenchanted and confused.
Does any of this sound familiar? I call them the Trinity of Challenges (or G-O-D) Challenges, because He (of course!) is the solution. The foundation for my work is simple: create your business in alignment with your values and He will lead the way. With the support of other Christian mom entrepreneurs, you CAN follow God's plan and walk away from guilt, isolation and darkness and into peace, prosperity and productivity!
If you're wondering how other moms manage to "do it all" while you struggle to keep on top of laundry and bills, then I want to encourage you to listen to the free audio recording of a recent teleseminar:
The Top Three Challenges of the Mompreneur – and How to Overcome Them!
On the recording, I share simple strategies for overcoming the challenges of guilt, overwhelm and darkness. I also tell you about some of the amazing and inspiring women I work with in the Christian Mompreneur mastermind and let you know how you can be a part of the next program!
Click here more information.
Copyright 2011 Theresa Ceniccola
About the Author