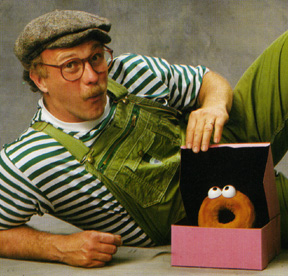 One of the highlights of my visit to this year's Catholic Marketing Network show was the chance to meet Rob Evans, better known as "The Donut Man". Seeing this convert in action is a true treat -- he has a chemistry with kids that truly brings the faith to life. I'm thrilled to share the following conversation with Rob Evans and want to encourage you to visit his website at www.DonutMan.com, to check out his YouTube channel and to "like" him on Facebook.
Q: Rob, it was so wonderful to meet you in person at this year's Catholic Marketing Network and to watch your ministry in action as you performed for the children. Would you please briefly introduce yourself and your family to our readers?
A: Thanks, Lisa! I really enjoyed singing for the live audience at CMN. Folks think of "The Donut Man" as a recording artist, but I actually perform over 100 live concerts a year. My favorite events bring the whole church family together for songs and stories that present the Gospel and the Catholic Church in a memorable way. My biggest event this year was the Atlanta Eucharistic Congress with over 25,000 Catholics. My smallest? Vacation Bible School for St. Margaret's in Narberth, PA... my home parish! As a parents of six and a grandparents of seven, my wife Shelley and I have had a lot of experience communicating with 'little, energetic, wiggling people'.
Q: How did you get started as "the Donut Man" and how has your mission to children evolved over the years?
A: I am the world's first 'Donut Repair Man'. My theme song says, "Life without Jesus is like a donut, 'cause there's a hole in the middle of your heart." I would tuck-in my kids at night with Bible stories that I then turned into songs and videos. Check out my website for a listen: http://donutman.com/?page=home The songs, CD's and videos have become a world-wide phenomenon... over six million sold. EWTN has broadcast them for 15 years; that is ten years longer than I've been a Catholic! I am told Mother Angelica always said that, "He's a Catholic, but he just doesn't know it yet". She was prophetic! My wife and I entered the Church together Easter Vigil of 2006. We can tell you, there is nothing better than the Eucharist to fill up that 'empty hole in your heart'.
Q: I know that you are a convert to Catholicism. How has this impacted upon your public ministry and your personal prayer life?
A: As a child of divorce, I have had first-hand experience in heartbreak and loss of family-life. With the Reformation of 500 years ago, the Protestant Church essentially 'divorced' the Catholic Church. All Christians have since suffered from the heart-breaking loss of identity, unity and love. I want to be a voice of reconciliation, calling the attention of Catholics to Protestant's love of scripture, and Protestants to the power and authority of the Sacraments. On a more personal note, along with my prayer and desire of better sharing the mysteries, joy and power of the Roman Catholic Church, I just completed my studies for the Roman Catechetical Diploma offered at St. Charles Borromeo Seminary in Philadelphia.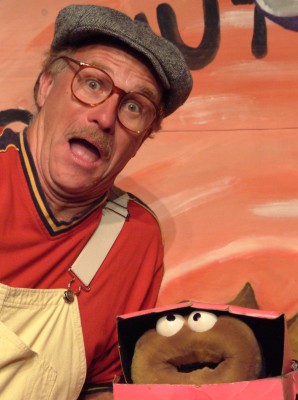 Q: I love that your work is so involved with lifting up and educating children (and through them, their parents!). How are the unique catechetical challenges of educating our children fulfilled through a ministry like The Donut Man?
A: Good catechesis communicates the vitality of Christ and His Church to modern family life. I hope that folks find that my musical and story-telling persona balances Catholic orthodoxy and creativity in an appropriate way. My live concerts involve the whole family in the journey to Christ, grabbing their kids through action and song, all while giving the parents ideas how to use age-appropriate language to simplify 'religious' thought.
Through my CD's: http://donutman.com/?page=cds My songs 'personalize' scripture by singing the stories from the character's point of view. My song, "Shout Hosanna!", is sung by the children on the first Palm Sunday, greeting Jesus and His donkey. In "Daniel and the Lion's", the kids become the 'lions'; as they roar along. Another example of 'personalization' is "One Basket"; sung by the little boy who shared his lunch with Jesus who then multiplied it to feed 5000. I've written lots more like that.
My DVD's http://donutman.com/?page=dvds invite kids to join the 'The Donut Repair Club'. Each title focuses on a different aspect of Christ's nature, and how He gives us the grace and gifts we need to help and and serve others. The name illustrates the servant's nature of the Church. If you think about it, everybody is like a donut! We are all "something good, with something missing". For example, on "Barnyard Fun", we go to see Farmer Jim, and arrive just after he hurt his leg, so he leaves us in charge of his farm. Will the farm be fruitful when he returns? This is how I teach about the fruit of the spirit that grows by the grace of Christ within us. Prayer! Each of my videos and concerts end with a prayer asking the Lord for his help as we serve others.
Q: What are some of the special rewards of educating children, the future leaders of our Church?
A: The obvious answer is the joy of seeing kids 'get it'; to hear them answer the basic questions about the nature of man, the nature of God, and the good news of the Gospel; to see their lives filled with the fruit of the spirit. Wow!
The not-so-obvious answer may sound a bit mercenary: God rewards catechists with a deeper revelation of Himself. By spending time with God and His Word, parents and teachers who teach kids get a richer blessing from God than those who do not; as He equips them and inspires them to be witnesses for Him. It was Jesus who said, 'Follow me and I will make you fishers of men'. I can testify that Jesus will show you where to go fishing and what bait to use... His Word and His Love!
Q: On the converse side of things, are there ever days when you'd like to put away the Donuts, the crying kiddos, and the special challenges related to working with little ones? What keeps you motivated when you have "one of those days"?
A: My wife and I adopted a very troubled Siberian child, Tonya, who spent her first five years in a Russian orphanage. When we got her home, the first thing we had to deal with was her parasites and rotten teeth. She has an 'alphabet soup' of issues that has left us worrying for her very life on many occasions. My wife and I consider it a successful day when Tonya spends another day on earth. We say our prayers, light a candle, and fall asleep in each other's arms We have been sustained more than anything by Mass. We draw great strength from Jesus: there on the cross, there in the bread, there in our mouth, there in our heart! We cannot survive without His daily gifts of Grace!
Q: I know that you do a lot of work with parishes and catechetical leaders, and that your website offers special resources for families and teachers. Can you tell us more about your speaking work and what treasures we'll find on the Donut Man website at www.DonutMan.com?
A: Coincidentally, I am writing this at St. Mary's School in Jackson, TN. I spent yesterday working with Sr. Mary Rebecca and her six Religious Education classes. We talked and sang a number of my songs that correlated Christ the Creator with Christ the Teacher... focusing particularly on His parables. I have an album called "Bible Parables". Depending on the age-group that Sister was working with, we presented scripture and songs that unpacked Redemptive History or the Sacraments. Our biggest shared concern was to help children really see the way the Catholic Church is utterly unique in the array of 'churches' in the world. Say… I think I shall add these suggestions to my 'Teacher's Page' on my donutman.com website! http://donutman.com/?page=teachers
Today at St. Mary's, I sang to a gymnasium full of kids. Tonight we bring familes together for 'Whole Family Catechesis', then tomorrow I drive over to Nashville to do more of the same. Friday, I fly home to Philly to recuperate!
By the way, our web site also has Bible-themed coloring pages that kids can print out for free: http://donutman.com/?page=funandgames We also offer a link to our YouTube channel at www.YouTube.com/TheRealDonutMan which averages over 10,000 views a month.
Q: As we prepare to welcome changes in the Mass, how can families prepare to teach these new translations to children, and in a general sense, how can we better support our little ones and elementary age students in their own faith journeys?
A: I love the new translation of the Missal! Remember how we used to say in reply, "...And also with you"? Now we say, "And with your spirit also". This original language reminds us that the priest is actually functioning as Christ Himself; in persona Christi. Wow!
I am always looking for ways to stir children's passions for Christ, and challenge them to better understand the liturgy, and the presence of Christ to be experienced there. So, I am working on a CD called "Let's Share Our Faith in a Donut Shop!" By summarizing and simplifying the major themes and experiences of the Mass, and then putting each segment into a song: "First we say 'hello', "Then we say 'We're sorry'… it is my hope that a personal walk with Christ-in-the-Mass will result in a lifetime walk with God in the Catholic Church.
Q: For people who would like to bring you to their parish, how can you best be booked and contacted?
A: I handle all of my own bookings. Most contact me through our email address concertinfo@donutman.com. These links are available at www.DonutMan.com and also under the "CONCERT" tab of our web site. I have performed for thirty years now, so I am quite aware of the need to keep things affordable... "Will work for food" is my motto... but please, No More Donuts!
Q: Are there any additional thoughts or comments you would like to share with our readers?
A: I invite everyone to join me on Facebook at www.Facebook.com/TheRealDonutMan to keep updated on all Donut Man new products and concert locations. Also, we post new video clips there and on YouTube for children and families to enjoy together.
Last but not least, let's all continue to pray for the unity of the Church. I am proud of my Protestant background and the faithful folks who prayed for my soul and taught me the scriptures. We Catholics need their zeal for Christ, Scripture and evangelization. Oh, that their 'protest' would be 'loved away' with the power of the communion of the saints, the power of the Sacraments, and the 'heaven-come-to-earth' that is Mass!
About the Author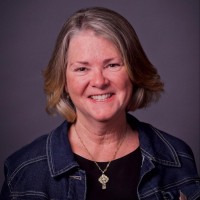 Lisa M. Hendey is the founder of CatholicMom.com, a bestselling author and an international speaker. A frequent radio and television guest, Hendey travels internationally giving workshops on faith, family, and communications. Visit Lisa at LisaHendey.com or on social media @LisaHendey for information on her speaking schedule or to invite her to visit your group, parish, school or organization. Visit Lisa's author page on Amazon.com.