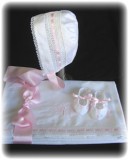 When the owner of Embroidered Heirlooms, Janet Quinlan, offered to send me a sample of her work, I was intrigued.
But when it came, there were tears.
It was a baptism blanket, with my son's name and baptismal date embroidered on it. It's just the keepsake I would have wanted to commemorate his entrance into the Body of Christ, and I'm so grateful to have it. (And I have big plans for the godchildren in my life, lemme tell ya!)
She also sent me a bonnet and oh! The longing I have to feel a baby head in that bonnet is indescribable! It reminds me of the old-fashioned things I've found in the trunks at my grandma's house and that you see in museums. It is simply gorgeous.
Next year, when we are preparing our oldest for her First Communion, I'll be checking out Janet's First Communion line.
Janet's inspiration for her work came when her family faced a crisis after her husband's diagnosis with cancer. How would they survive without his income? She prayed about what she should do—while still continuing to homeschool her seven children—and discerned that Embroidered Heirlooms was the answer to those prayers.
You can see her deep passion for the Catholic faith, children, and beauty in the work she does. Everything from Embroidered Heirlooms is hand-crafted.
Janet says that she's "honored to be a part of the most important days in children's lives—the days of receiving the Sacraments for the first time." Her greatest joy is when mothers express their gratitude to her for offering appropriately styled, modest, First Communion gowns.
When you purchase something from Embroidered Heirlooms—as I've seen first-hand—you aren't buying an item. You are investing in a memory and in a garment or article that can be passed down through generations.
Copyright 2011 Sarah Reinhard
About the Author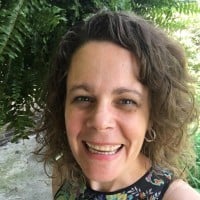 When she's not chasing kids, chugging coffee, or juggling work, Sarah Reinhard's usually trying to stay up read just one … more … chapter. She writes and works in the midst of rural farm life with little ones underfoot. She is part of the team for the award-winning Catholic Mom's Prayer Companion, as well as the author of a number of books. Follow her writing at Snoring Scholar.