These three books don't scream "Advent." But somehow, as I was digging through the mess also known as my desk, I found them and they clicked.
Because, if I'm not careful, Advent is something I dread (even though I speak about it and have a whole set of tips and thoughts and even a book). There's so much to do! There's so much I can do! There's...so much!
Enter this trio of books I'm going to actually try to use this year. That's it. Just these three books.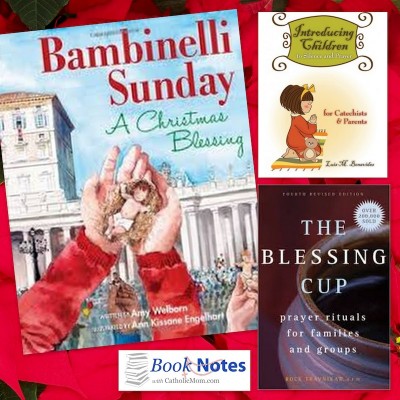 Written by Amy Welborn; Illustrated by Ann Kissane Engelhart (Franciscan Media, 2013)
My eight-year-old assures you that this book is a five out of five. She hasn't yet graduated to writing her own full-length reviews, but I count it as high praise that she read it to each of her siblings after she read it for herself. And she's had her eye on me since I claimed it back (so I wouldn't forget to write about it).
This is a hardcover book that is beautiful. Though it's a children's book, it's also very much a book for the rest of us. The story is delightful and touching, but that's not what seals it for me. The illustrations are worthy of anything we find in the library or at bookstores, but that's not what makes it so special for me. The pages are glossy and they smell new-book-divine, but that's not the best part of the book.
No, what makes this book special is how it moves my heart, how all the components work together and create something greater. There is a lesson in this book for everyone who reads it, and I suspect that lesson changes depending on where you are in your life.
The official book info:
Alessandro is staying with his grandparents, who run a small shop that sells figures for the presepe (Nativity scene), while his parents look for work in another country. To help with the boy s loneliness, his grandfather encourages Alessandro to make his own figure of the baby Jesus. They will bring that figure to Rome in two weeks to have it blessed by the Holy Father on Bambinelli Sunday. Through the events that occur in the time leading up to receiving the blessing in St. Peter's Square, Alessandro comes to see his world in a new way, and receives the best surprise of all in the end.

This book for children ages 5-8 tells a wonderful story about sharing, comfort, generosity, and forgiveness through the lens of a long-standing Italian tradition. The beautiful illustrations and timeless story make this a treasure Advent and Christmas resource for generations to come.

By Rock Travnikar, O.F.M. (Franciscan Media, 2012)
This is a book that's a treasure trove. How could I have let it sit so long? There are sections for so much more than just what you'd normally think of. In addition to holy days and holidays and family times, there's a section called "In Times of Need," where I found a lovely little ritual "When Someone Is Ill."
As it happens, this is something near and dear to us right now.
The prayer rituals themselves are short—one page with an opening prayer, a scripture passage, petitions with responses, a collect, and a closing that's called "Sharing the Blessing Cup," where you pray together (or sing, if you're brave).
You know those bedtime and family prayers I seem to struggle with as much as I struggle to exercise? I think this book just gave me some ideas and some tangible ways to address that, and since I have a kid now who can actually read, we can take turns leading the prayers too.
This is also a great resource for anyone who has to lead groups in prayer and for catechists. (Guess there's a reason it's in its fourth revision, huh?)
Here's the official synopsis:
Ritual is a powerful binding force. From the bedtime routines that toddlers insist upon to the comic routines that leave outsiders puzzled, all groups, including families, shape their identities by the rites they observe. And, in the process, they discover that something holy lies at the heart of their relationships. Franciscan Father Rock Travnikar wants families and groups to discover that holiness and to claim a deeper identity as God's people. To aid in this discovery, he created prayer rituals that are centered on a common cup and based on the use of Scripture and petition to help family or group members express their deepest feelings.
by Luis M. Benavides (Liguori Publications, 2013
This little gem came my way and I almost tossed it onto my giveaway shelf. Boy, am I glad I didn't!
I haven't read it yet (but I will be), but just glancing through the Table of Contents convinced me that it's a put-my-name-in-the-front keeper. From different forms of prayer to praying with the senses to a closing called "Prayer in the Family," I can't help but think that this book is something I NEED to read. And whether I finish it soon or not, I'm going to make it my Advent reading, the little something spiritual I read in the morning during my devotional time.
Here's the official synopsis:
Through prayer, very young children can learn to talk with God and to build their faith and trust in him in the greatest and hardest of times. In "Introducing Children to Prayer", author Luis M. Benavides, explores this belief. By walking catechists and families through the process, he helps them to get to know God and to communicate with the God who loves them. Furthermore, Benavides helps us to reexamine our own attitudes about prayer, as he offers a different perspective to help children begin the journey and deepen their relationship with God.
Be sure to check out our Book Notes archive.
Copyright 2013, Sarah Reinhard
About the Author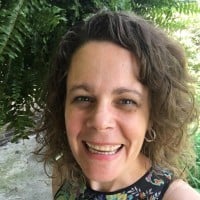 When she's not chasing kids, chugging coffee, or juggling work, Sarah Reinhard's usually trying to stay up read just one … more … chapter. She writes and works in the midst of rural farm life with little ones underfoot. She is part of the team for the award-winning Catholic Mom's Prayer Companion, as well as the author of a number of books. Follow her writing at Snoring Scholar.