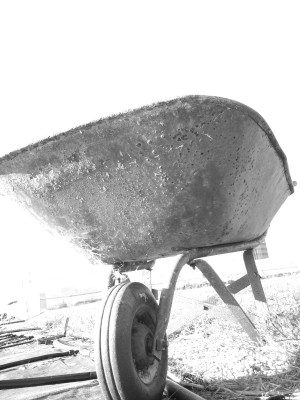 Weathered, worn, rusty, yet steady stable, productive and relentless are the words conjured up by the image of this old wheelbarrow on my Uncle Dale's farm. There it sits in the sunlight at rest yet how much work has it seen, what has it carried over the years. It is a small vehicle that's main purpose is to carry things.
We are all like that wheelbarrow; some of us feel weathered, worn and rusty, while others feel spry, energetic and strong. Our common factor is that we are each vehicles to carry or transmit something. We are vehicles for God. God has given us a purpose although many of us have yet to find it. Some of us know exactly what we should carry and have been doing so for years. They have been productive and stable with a goal in mind. Others of us carry the wrong items to the wrong part of the farm. They are caught up in the material world, seeking wealth and things to fill up the wheel barrel, relentless about the goal to be rich and powerful. They don't even realize the goods they carry weigh them down and contribute to the breaking down of their lives. We are all just trying to live happy, good lives. However, what many people have yet to discover is that happiness and goodness will not be fulfilled by earthly things but only with love.
God wants us to be a vehicle for God. God wants for us to share His love with one another. God wants us to use our wheelbarrow to serve one another, to carry one another when we have fallen, to dump it when our sins pile up and weigh us down. The answer to life, to happiness and a good life is so easy that people just don't believe it. It is simply to love God and one another unconditionally. Our lives are a vehicle to carry out God's plan to love…it truly is that simple…if you do all things with love, undying, unconditional love in your heart for one another you will be filled with joy and goodness all the days of your life.
Today, dump the stuff out of your wheelbarrow and fill it with what God intended. Be relentless, productive and stable in your mission to carry the love of God to the world through your life.
Copyright 2011 Lori Hadorn-Disselkamp
About the Author

Lori Hadorn-Disselkamp - mom of 4 teens/wife for 20+ years. Lori has been writing at her own website Faith Filled Mom. She writes about the journey of faith we live daily and the ability to recognize God. She is a retreat director at Sacred Heart Academy HS. She just earned her MA in Pastoral Ministry as well as a certification in spiritual direction.