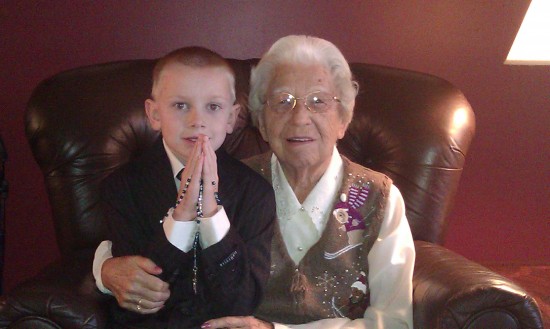 Spencer made his First Holy Eucharist today. He is sitting beside his name sake, his great Grandma who is 94 years old. She is 86 years older than him. She grew up during the Great Depression and lived as a Catholic during PreVatican II. She lived a completely different life than he lives now. However, generations, economic times, lifestyle or even changes within the Catholic Church cannot change what they hold in common. They both are able to hold the body and blood of Christ and take it into their hearts and souls each and every time they receive the Eucharist. The Eucharist – the gift of Jesus Christ transcends every difference among them and makes them united in Jesus Christ.
"For I am convinced that neither death, nor life, nor angels, nor principalities, nor present things, nor future things, nor powers, nor height, nor depth, nor any other creature will be able to separate us from the love of God in Christ Jesus our Lord." – Romans 8:38-39
Copyright 2011 Lori Hadorn-Disselkamp
About the Author

Lori Hadorn-Disselkamp - mom of 4 teens/wife for 20+ years. Lori has been writing at her own website Faith Filled Mom. She writes about the journey of faith we live daily and the ability to recognize God. She is a retreat director at Sacred Heart Academy HS. She just earned her MA in Pastoral Ministry as well as a certification in spiritual direction.