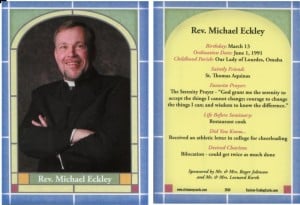 Editor's Note: A huge thank you to Melia Vankat for her assistance in compiling the information for this article! LMH
Have you heard how four creative moms turned playing into praying for our priests? The brainstorm of these clever ladies led to the creation of St. John Vianney Priesthood Cards in the Archdiocese of Omaha. With 27 children among them they understood the need for kids to make a personal connection with priests. Each card consists of a photo of a priest serving in the Archdiocese of Omaha and, on the flipside, "Sacramental Stats." These stats may include information such as ordination date, hobbies, favorite meal, favorite prayer, and fatherly advice. The cards are randomly packaged with 8 cards per pack. This encourages individuals to acquire and pray for all 121 priests in the collection, even the ones they may never have met otherwise. These packs are distributed a variety of ways including local bookstores, parish festivals and parish offices.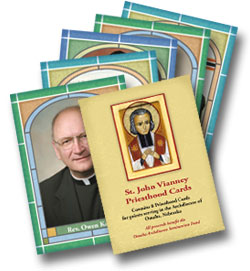 The priesthood card project was started in 2010, the Year of the Priesthood, with a threefold mission in mind. The primary goal was to encourage the laity to pray for priests and to introduce them to the ordinary men who are living extraordinary vocations. Numerous stories have been shared about families and individuals praying for priests by name, even priests whom they have only "met" through the priesthood cards. The next goal was to open the hearts of young people to consider the possibility of their own religious vocation. One 8-year-old told Fr. Joseph Miksch that he thinks he may want to become a priest so that he can have his own priesthood card. This is just one example of the seeds being planted in the hearts of children across the archdiocese. The final goal was to raise funds for the Archdiocesan Seminarian Fund. To date, the project has raised more than $20,000 for the seminarian fund in the Omaha Archdiocese.
The creators of St. John Vianney Priesthood Cards have formed Vocat Group, LLC, whose mission is to provide support and resources to individuals and groups who strive to promote vocations for the universal church. Vocat is the Latin word for "He calls" because they know that God calls each and every one of his children to a special vocation. They have compiled their wisdom and experience into a How To Manual. This manual outlines the stop-by-step process that will inspire and support others who want to produce St. John Vianney Priesthood Cards in their diocese.
To read more about the St. John Vianney Priesthood Cards in the Omaha Archdiocese, visitwww.stvianneycards.com. For more information on how to bring St. John Vianney Priesthood Cards to your diocese, visitwww.vocatgroup.com.
About the Author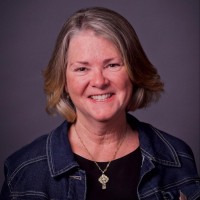 Lisa M. Hendey is the founder of CatholicMom.com, a bestselling author and an international speaker. A frequent radio and television guest, Hendey travels internationally giving workshops on faith, family, and communications. Visit Lisa at LisaHendey.com or on social media @LisaHendey for information on her speaking schedule or to invite her to visit your group, parish, school or organization. Visit Lisa's author page on Amazon.com.