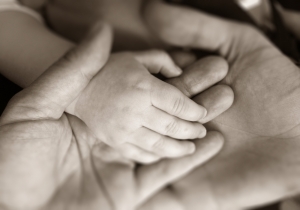 Editor's Note: Today, I'm pleased to welcome a guest article from my friend Scott R. Porter, founder of The Veritas Project. Scott and his lovely wife Celeste recently welcomed their second daughter, beautiful little Gianna. Please enjoy this wonderful column and join me in praying for all families in need of God's grace at this time. LMH
The Eucharist, the source and summit of our faith, derives its name from the Greek word, Eucharistia, which means: "Thanksgiving," "Giving thanks for a benefit received," or "sometimes adding one's inability to pay." It is with this proper understanding of the word used for the presence of Our Lord that we should receive Him in this most holy Sacrament, both physically and spiritually, with faith, hope, and love. Through His nourishment of our physical and spiritual being, which He has given us—along with our parents, who are His collaborators in creation—He reminds us, as sons, daughters, and parents, of the Ten Commandments He gave to Moses, especially "Honor thy Father and Mother," and Christ's First of the Two Great Commandments, "'You shall love the Lord your God with all your heart, and with all your soul, and with all your mind. This is the great and first commandment" (Mt. 22:37-38, Cf. Dt. 6:5).
During the month of March, Celeste, my fantastic wife, came to me with the news that she was pregnant. As with her announcement of her first pregnancy, which resulted in the birth of our daughter Ella, I was both elated and nervous. Don't get me wrong: Children are a precious gift from God. However, any gift from God comes with responsibility, since a gift, especially a child, is a privilege, not a right, entrusted to his or her parents. Thus, parental responsibility starts immediately, which brought us to call the doctor's office the following morning to arrange Celeste's first prenatal examination.
Thanks be to God, the first trimester of this pregnancy went very much the same way the first pregnancy's did. Celeste went in for her scheduled examinations, tried to eat even healthier then she normally does, walked a little more, and stayed on top of all the tests the doctor requested. Everything went as it did before. Then the second trimester came.
As you may know, as women get older, the chances of their conceiving a child with some sort of genetic defect increases exponentially. Now, Celeste and I are not old, but we are no Spring Chicks— we know this. So did her doctor, who called for the medically accepted blood tests that provide clues about the health of the baby. Celeste made it a point to follow the doctor's orders and to go in for these blood tests.
Two weeks came and went from the time Celeste took the blood tests. Our faith in God prompted us to pray a little more, to hope that His will be done, and to love our newest addition as much as we do Ella. Then, the doctor's office called. I answered the phone. The lady on the other end was straightforward with her request: she wanted to speak with Celeste. I informed her that Celeste was at work, but she could talk to me. The lady refused, telling me that she had to speak with Celeste. She hung up. Celeste called me five minutes later, trying to speak through tears: the doctor's office told her the baby has Down Syndrome and that we needed to go in the next week to speak with a genetic counselor.
The week leading up to the counseling appointment was the first of a series of long weeks to come during the pregnancy. Not only were we in the process of moving into a new house, of continuing to run our consulting business, of trying to fix-up our old house for renters; but we were calling upon all of our friends and family to pray as we researched more about Down Syndrome. It was a test. Not an impossible test, since God does not give the impossible, but a test that made us sit down as a family and have some straight-from-the-heart discussions. These discussions, infused with faith, hope, and love, led us to make some important decisions and to take stances going into our meeting with the genetic counselor.
We met with the genetic counselor, a petite, bubbly woman, the following week. She told us the test results and broke down what they all meant—the baby certainly did not have Down Syndrome; however, there was a much higher than normal indication that the baby could have Down Syndrome and that additional tests were need to positively provide an answer one way or another. The counselor proceeded to lay out our three options: have an ultrasound that would look for some potential indicators of birth defects; have an amniocentesis performed; or abort the child. Now, before she could give verbally deliver the third option I stopped her, politely, by informing her that Celeste and I had made the decision to not even hear her third option, because it is not an option. The counselor was a little taken aback by this, but quickly moved forward to discussing the pros of having an amniocentesis performed. Celeste, always quicker than I, brought up the cons, or inherent risks posed to both the baby and herself from an amniocentesis. With just a shared glance between us, we knew our decision, to just schedule the ultrasound.
I don't claim that our decision not to have the amniocentesis was the voice of reason amongst the waves of voices; however, we could not justify putting either Celeste or the baby at any additional risk than the pregnancy already entailed. We considered the desire for a definite answer to be selfish, and thus a negation of our faith in God and the expression of love we shared with Him as collaborators in the creation of this child. With this mindset, we went forth in prayer to the ultrasound, which gave us three pieces of information: there were no abnormalities to the heart or in the amount of spinal cord fluid, and that our gift from God is another little girl. This was all good news that had to be taken with a grain of salt, as our baby girl could still have had Down Syndrome. Given this, we continued to pray as a family, and gave our newest addition the name of Gianna, after St. Gianna Beretta Molla, all while Celeste continued on her prenatal regimen. (I contacted theSociety of St. Gianna asking them for their prayers and permission to spread theintercessory prayers to St. Gianna on TheVeritasProject.org website.) Celeste made sure to follow the doctor and his staff's instructions, including preregistering with the hospital for the delivery.
The preregistration at the hospital we expected to have Gianna delivered in was attached to Celeste's doctor's office, the closest hospital to our home, and a "Catholic" hospital. Of course, one of the responsibilities with this kind of gift from God is the expected financial responsibility. This financial responsibility smacked us hard, courtesy of the hospital, with a bill for the hospital's perceived expenses from services to be rendered during Gianna's delivery. The total payment-in-full was requested a month before Gianna's expected arrival. After carefully reading the Request for Payment letter a couple of times, and a lengthy conversation with the hospital's financial counselor, I came away from both deeply troubled and upset.
I discovered a few interesting facts, at least for this hospital, about the request for payment. It would not have been sent to us had Celeste not followed the advice to preregister for the delivery. The amount listed for payment did not take into account the actual remaining out-of-pocket deductible from our insurance. The worst, in my opinion, is that not all deliveries at the hospital were being treated equally. You see, it's not just a matter of being told in a letter that the payment needs to be made in advance, which it actually doesn't. This dubious tactic is designed to compel patients to pay in advance, without the knowledge that those who do not have insurance or who do not register with the hospital are not required to meet the financial obligations until after the delivery. In other words, they are not treating everyone equally, by penalizing those who have insurance and who follow their doctors' requests to preregister at the hospital. Thankfully, by the grace of God and the support of my friends and family, I was able to move past the mixed bag of feelings brought about by this and refocus on Celeste, Ella, and Gianna. With this newly acquired grace, the Porter family moved forward into Celeste's third trimester and Gianna's arrival.
Of course, baby due dates are always estimates. Given that Ella arrived two weeks early, we were trying our hardest to wrap up projects, and other preparations for Gianna's arrival, a month in advance of her due date, especially since the doctor expected her to arrive early. How silly of us to forget that some people like to be fashionably late—Gianna is one of those people. A week after her due date, the doctor had us come into the hospital to start inducing labor. Four hours after the induction started, big Gianna arrived, 21.5 inches long and weighing nine pounds, six ounces. Gianna and Celeste both looked fantastic, especially considering what both of them had been through. A few hours later we were moved from the birthing center to a room in the maternity ward, where we spent the night.
The next day, Gianna went through a battery of tests. Through these tests we discovered that she couldn't hear in her right ear, she had a case of jaundice that was slowly getting worse, and the genetic blood tests to check for Down Syndrome would take a week. After the tests, we were discharged and permitted to take Gianna home for the night; however, we had to report back to the hospital the following morning for Gianna to undergo another jaundice test and physical examination by her pediatrician, then a follow-up hearing test a week after discharge, and the hurry-up and wait game for the genetic testing results. Once again, we turned to prayer.
A week and a half later, the day before Thanksgiving, Gianna's jaundice had totally resolved itself, she passed her hearing test for both ears, and the pediatrician finally called Celeste with the genetic test results. The doctor was very slow in his cautious delivery of reading the results to Celeste over the phone. Finally, Celeste, with tears in her eyes, hung-up the phone and told me, as I was holding Gianna with Ella holding onto my leg, that Gianna did not have Down Syndrome. The four of us hugged, with thanksgiving to God in our hearts.
Faith.
"The Lord replied, "If you have faith the size of a mustard seed, you would say to [this] mulberry tree, 'Be uprooted and planted in the sea,' and it would obey you" (Lk. 17:6).
Hope.
"Blessed be the God and Father of our Lord Jesus Christ, who in his great mercy gave us a new birth to a living hope through the resurrection of Jesus Christ from the dead" (1 Pt. 1:3).
Love.
"Whoever is without love does not know God, for God is love." (1 Jn. 4:8)
Faith, Hope, and Love (1 Cor. 13)
Copyright 2011 Scott R. Porter
About the Author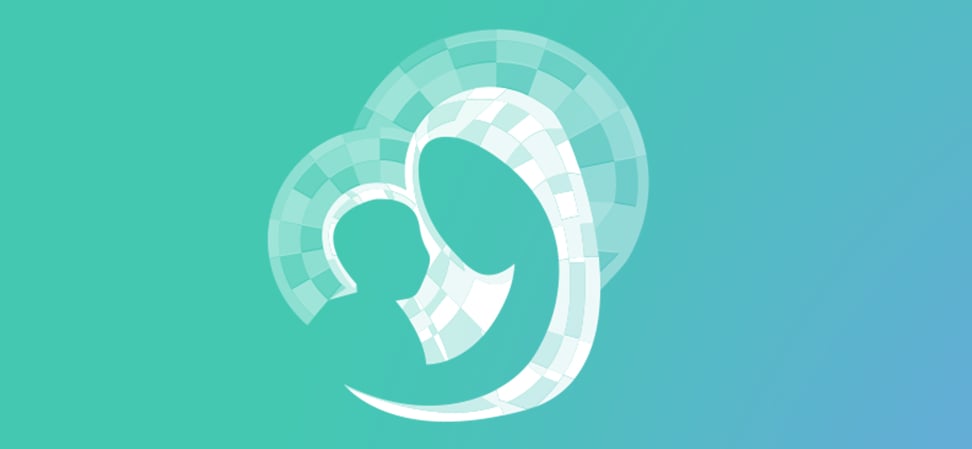 We welcome guest contributors who graciously volunteer their writing for our readers. Please support our guest writers by visiting their sites, purchasing their work, and leaving comments to thank them for sharing their gifts here on CatholicMom.com. To inquire about serving as a guest contributor, contact editor@CatholicMom.com.