Buying Fair Trade Items for Christmas
and bringing joy to God's heart
I took my own advice from the last Catholic Mom article, "Take Back the Holidays for God," and purchased a fair trade item. Little did I know I was in for a spiritual surprise. I found a holiday item on the Catholic Relief Services, Fair Trade website, called SERRV, clicked "Add to Cart," and sent along my credit card info. What happened next could only come from God. Normally I don't like, well, that's not true. . .I hate shopping, either online or in the aisles of a department store; I've never before felt the addictive rush of shopaholic glee experienced by others, so I cannot say what followed was that. After I clicked the "Place Order" icon, a feeling I had never before experienced, an ecstatic, perfectly clean, undefiled, joy, filled me within. It was, perhaps, like the joy that flows through the angels when they've succeeded in helping one of us. God seemed to be communicating to me that every single thing about my purchase pleased Him, that every little endeavor, from the poor man's hands in Haiti who made the object, to the charitable hands that linked the events, which brought the gift into my husband's hands, made the Almighty smile.
I cannot promise you insta-happiness, but I do believe that my infusion of a joy magnificently beyond and far purer than any in this world was God's way of showing me and you, that Jesus' Sacred Heart swells with gratitude when we put money and hope into the hands and hearts of the poor. As He reminds us, "I tell you the truth, whatever you did for one of the least of these brothers of mine, you did for me" (Matthew 25:40).
Here are some shopping internet sites, dedicated to Fair Trade practices: SERRV, crsfairtrade.org, www.tenthousandvillages.com, hessnatur.com, shoppingforachange.org. Purchase something there, and you will have just helped people survive through their own hard, creative work, whereas they might otherwise become impoverished and destitute, through no fault of their own. Enjoy browsing and clicking! No filling the pockets of the rich. No supporting sweat shops. No blindness in wondering where your money has gone. No parking. No traffic. Only sweet, holy goodness.
Want another great option?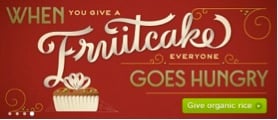 Oxfam.com has fun website (at least for me, it is), that allows you to buy a mosquito net, a toilet--something desperately needed by the poor, and give a card to your friends or family members, which mentions this charitable gift in their name. No more buying that knick knack, which further clutters their stuffed home. Now you can avoid the plastic, polite smiles, and the strained, "Thank you's!" you receive when gleefully handing a plastic elf over to them. Click on the picture above and see . . .
IT REALLY IS OKAY TO SAY "MERRY CHRISTMAS"

Tired of the slogan, "Happy Holidays," trumping the reason for the season? The American Family Association offers a list of Christmas-friendly stores, alongside those that neglect or refuse to mention Christmas. Click here for details. They also supply gung ho Christmas folk with buttons, stickers and signs, displaying the attractive message: "I bring you news of great joy!" Click here to get a Merry Christmas button. I wanted a yard sign, too, but they'd already sold out!
Copyright 2011 Christine Watkins
About the Author