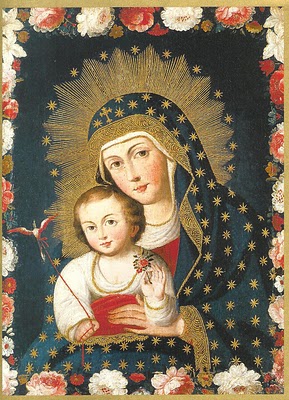 How blessed we are to be Catholic at Christmas! How blessed we are to be mothers! Praise God for the gift of biological motherhood, and praise God for the gift of spiritual motherhood which also receives love in order to nurture children.
Catholicism is a very bodily religion. God knew we would need to know Him in and through our bodies and senses. Our churches are well known for the visual beauty of stained glass windows, the sweet smell of incense, and the ringing of bells. Most profoundly, we are privileged to touch and taste the very Body and Blood of Christ! In each of the sacraments, there is a physical reality- a sign through which God gives grace. And God shows us the goodness of the body and the senses by sending us Himself in the flesh. Our God became visible in His body, heard in His Word, and He reached out to touch so as to heal. In a final act of oneness with us, He gave us His Body, and shed His own Blood. This is the profound gift of the Catholic faith. Christmas means God in the flesh is one with us!
And how does all of this take place? In and through the flesh of a mother.
Just as all mothers give over their bodies in order to nurture new life, Mary gave her fiat and became the Mother of God. Mary offers herself completely to satisfy the mission of the Father. She certainly does not comprehend fully the sacrifice this entails, as many of us had no clue at the conception of our own children. Little did we know how our pregnancies would continue on spiritually and emotionally as we carried the weight of our children's struggles or growing pains. Labor would continue on, we found out… a labor for their sanctification (and ours) through intercessory prayer.
Being moms means experiencing the fullness of joys, too, as we watch children become who God wants them to be.
At Christmas we find Mary giving birth in a stable, a mother giving God in the flesh to the world.
How blessed we are to be Catholic at Christmas! How blessed we are to be mothers, like Mary, who marvel at the gift of the child!
O Come let us adore Him! Merry Christmas to all at CatholicMom,com!
Copyright 2011 Cynthia Ann Costello
About the Author

Cindy Costello is a praying wife and mom who is settling into her empty nest. More than fall trees and caramel lattes, she loves a pen hitting paper to create something unique and beautiful for God. Cindy is challenging herself intellectually and getting ready for Career #2 by pursuing a MA in Theology. And on the side she gives parish talks and retreats , specializing in Theology of the Body and all things Catholic! Visit her website at CindyACostello.com.