Find the Tech Talk Tuesday archive here.
I was debating between the iPad and Kindle last year for a number of months. Then I went to a conference packed with a lot of social junkies and saw all the iPads in action. That's the gadget for me, I thought.
"And," I told my husband in one of the many one-sided conversations he had to endure on the topic, "I can read books on it! I can! I will!"
I didn't really think I'd get an iPad as quickly as I did: he and the kids kept it a terrific secret and on Christmas morning my six-year-old nearly burst, insisting that I had to open my present first.
I really do love my iPad, as much as it's possible to "love" any gadget. It has made my life easier in many ways (though there's been a new measure of learning to balance online and offline, too).
One thing I've been not-thrilled about is the reading experience. An iPad--or any tablet, really--is another glowing screen. It's a little larger than is comfortable for me to hold. And on and on and on, a host of little things that added up to make me look longingly at the Kindle.
Could my sleeping problems of late have had to do with the amount of time I've spent curled up on the couch, reading electronically?
Well, let's not go overboard, but suffice it to say that my poor, patient husband has had to listen to more one-sided conversations by yours truly, in which I expound on the benefits of e-ink, outline the number of close-to-free Kindles that must be available somewhere online, and flirt with complaining about how my iPad is just about 30% too big to be the eReader I really long for.
Lo and behold, in early January, wrapped up in my pile of birthday gifts was a Kindle Touch.
I was surprised and, yes, delighted.
I wasn't sure how I'd like the touch feature (I had my eyes set on the lowest end Kindle), but as it turns out, I do like it.
It's not ideal for reading PDFs, which is what a lot of the things I have to read electronically are, but I'm trying it.
In the last few months, I've read probably a thousand or more pages electronically, and I see that number increasing exponentially now. I'd like to use the Amazon Lending Library (unfortunately, right now I get my Amazon Prime benefits thanks to Amazon Mom and it appears the Lending Library benefits don't extend to me).
Oh, and the pile of review books I have? I'm still working on those the old-fashioned way, too, and not complaining about regular old paper.
I like the idea of being able to share across devices using the Kindle app, but as small as the Kindle itself is, I don't think there will much of that. It's nice to know it's an option, though.
Starting the year off with a new gadget isn't half bad, really. And a gadget that involves my favorite hobby of reading? Even better!
Do you have a Kindle product or a new eReader? What's your favorite aspect? What have you read recently electronically?
If you're looking for an e-reader, consider making your purchase of a Kindle through CatholicMom.com and supporting the work we do here?
Copyright 2012 Sarah Reinhard
About the Author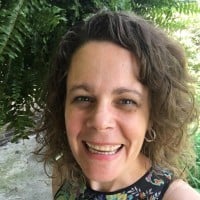 When she's not chasing kids, chugging coffee, or juggling work, Sarah Reinhard's usually trying to stay up read just one…more…chapter. She writes and works in the midst of rural farm life with little ones underfoot. She is part of the team for the award-winning Catholic Mom's Prayer Companion, as well as the author of a number of books. You can join her for a weekday take on Catholic life by subscribing to Three Shots and follow her writing at Snoring Scholar.