Here in central Ohio, spring has sprung. That means, for a certain Wants-to-Be-Reading Momma in my house, that trips to the park will find me lugging a book in the hopes of catching a few pages. It means that I'll be drying flowers as bookmarks and muttering "mmm-hmmm"s as tractors go barreling down the fields nearby and the boy in my life jumps up and down.
AND it means that I'll have PLENTY of natural light to read by.
I hope. :)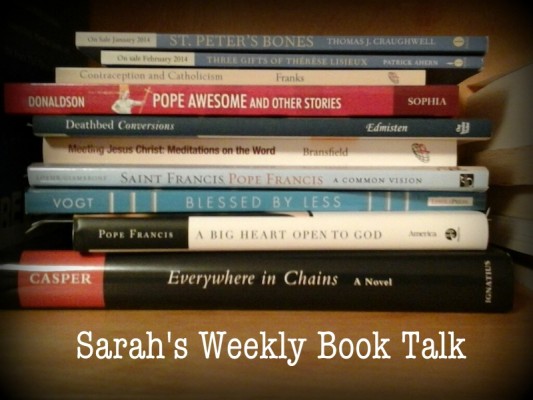 Recent Reads

Navigating the Interior Life: Spiritual Direction and the Journey to God, by Daniel Burke (Emmaus Road Publishing, 2012)
My rating: 5 out of 5 stars
This is the kind of book that I needed to read, and that I now need to reread. It is both useful and insightful. There's a little "find your root sin" test-thing which is NOT intended to be a "take this test and know it forever," but more of a "here's a good idea of where to start your discussions with your spiritual director." There's also a lot, a LOT, of food for thought. Highly recommended.
Current Reads

Everywhere in Chains, by James Casper (fiction, Ignatius Press, 2013)
Yes, fiction. Because? Because. And so far (a couple of chapters in), it's good.
I was supposed to read this a while back, but then I gave in to the guilty pleasure of Divergent. I'm not far enough in to tell you much, but it has the "feel" that so many Ignatius novels do: good characters, a plot that's waiting for me to read a few more chapters and get hooked in, and stellar editing/writing. We'll see if the rest of the book holds up to that expectation.
Catholic Dad: Mostly Funny Stories of Faith, Family, and Fatherhood to Encourage and Inspire, by Jake Frost (Amazon Digital Services, 2013) (Kindle only)
Does the dad in your life have a Kindle? Consider this a Father's Day tip for you, because this book is delightful. It's written for dads, but as a non-dad, I'm loving it. Frost is just an entertaining writer, and he's also full of wisdom and observations that are nothing less than hilarious.

The Sinner's Guide, by Venerable Louis of Grenada (with the Catholic Spiritual Direction Book Club)
Fact: I would NOT have picked this book up without the coercion of the Catholic Spiritual Direction Book Club. I just...wouldn't have. I mean, hey, I haven't even read Confessions yet, and that's at least as big as this one.
So, one chapter in (and two more to go before tomorrow), I'm...okay with it. Not blown away, not changed, not really all that impressed. (Yes, I am a jerk. If you didn't know that before, now you do.) I'm keeping with it, though, because that's the kind of stubborn reader I am. Oh, and I have to write about it. There's that. :)
What have YOU been reading lately?
*Are you on Goodreads? I'll see you there!
Curious about what my ratings mean? Here's an explanation of what the stars mean to me.
Be sure to check out our Book Notes archive.
Copyright 2014, Sarah Reinhard
About the Author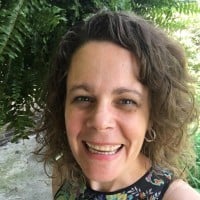 When she's not chasing kids, chugging coffee, or juggling work, Sarah Reinhard's usually trying to stay up read just one…more…chapter. She writes and works in the midst of rural farm life with little ones underfoot. She is part of the team for the award-winning Catholic Mom's Prayer Companion, as well as the author of a number of books. You can join her for a weekday take on Catholic life by subscribing to Three Shots and follow her writing at Snoring Scholar.