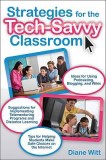 Strategies for the Tech-Savvy Classroom, by Diane Witt
Prufrock Press, 2009
187 pages
Here's a book that, though it's not Catholic, caught my attention for a number of reasons.
First, I know the author. Though I've been a writer myself for a number of years and I have growing network of writers, I know her from my childhood. She's the mom of a friend from junior high and high school. She stumbled on my work as a result of her daughter, and kindly sent me her book for review.
Second, the bubbles on the front of the cover pretty much scream my name: Ideas for Using Podcasting, Blogging, and Wikis; Suggestions for Implementing Telementoring Programs and Distance Learning; and Tips for Helping Students Make Safe Choices on the Internet.
I'm glad I discovered this book, however accidentally. I have a tendency to geek out about education and technology, and to be able to combine them: bliss! Diane Witt writes from experience as an educator and as a mom, and she speaks to some concerns we all have when we face the onslaught of technology coupled with the need to educate.
I came away with some great ideas for myself–and for my kids! I have already applied some of her ideas and concepts to my religious education classroom and to my home, and I have plans to use even more.
Diane (who remains "Mrs. Witt" to me) has done a great job of taking technology and making it both interesting and supplementary. I don't think technology ever transcends good old-fashioned techniques, but have you ever noticed how kids now seem to just be attracted to technology? (As I type this, my kids are playing on my iPad.) There are some wonderful ideas and some play-by-play plans within this book.
I hope there's an updated and revised version of this book coming out that will address other technology that has come into play since 2009, but even if there's not, the fundamentals in this book do go beyond the specifics of the technology itself. I know, that sounds impossible, but I'm here to tell you, as a certifiable technology junkie, that it does.
I'm grateful to have this book as part of both my personal library and the resources available to me in my various educational roles. See if you don't find it as indispensable as I did!
Your purchase of Strategies for the Tech-Savvy Classroom through our Amazon links supports the work we do here at CatholicMom.com!
Copyright 2012 Sarah Reinhard
About the Author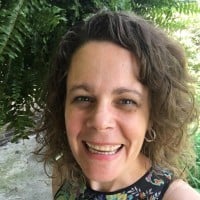 When she's not chasing kids, chugging coffee, or juggling work, Sarah Reinhard's usually trying to stay up read just one…more…chapter. She writes and works in the midst of rural farm life with little ones underfoot. She is part of the team for the award-winning Catholic Mom's Prayer Companion, as well as the author of a number of books. You can join her for a weekday take on Catholic life by subscribing to Three Shots and follow her writing at Snoring Scholar.