I have a pile of new Lenten releases sitting on my counter. While I didn't have time to read them all cover-to-cover, I have spent some time looking these over and can recommend them as great resources for you to consider using this year.
Rediscover Lent, by Matthew Kelly

Using excerpts from his New York Times bestselling book Rediscover Catholicism, St. Anthony Messenger Press has put together a wonderful book that starts on Ash Wednesday and concludes on Easter Sunday. Each day includes a Scripture passage and a reflection on the Catholic faith, questions for meditation, and a short prayer. This could take as little as five minutes of your day but impact it with the seeds it could plant into your soul. Guaranteed to make you think and reconsider your approach to Lent while inspiring you to embrace your faith more.
Simplifying the Soul: Lenten Practices to Renew Your Spirit, by Paula Huston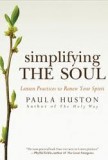 I have a dear friend who ends up getting to read books after I've reviewed them. This book, though, I recommended for her to buy (in part because I wasn't willing to part with my copy, even for a few days). It is, in fact, one of the only things I will be using for my Lent this year. I reviewed it at length a few weeks ago: I couldn't put it down and it made me look forward to Lent. Each day of Lent has a task, with a reflection by the author from her own experience, and then an brief description of the task or practice for the day. You get to know the author during the journey through the book and, I think, you get to know yourself too. In that lies the difficult task of growing closer to God through simplicity. She approaches each week independently and I'm so looking forward to tackling the tasks for each day in the context of Lent.
The Sacred Heart for Lent: Daily Meditations, by Thomas D. Williams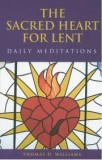 The first parish I attended in the teeny tiny town closest to us was named for the Sacred Heart of Jesus, so this book caught my eye. I wondered, before I checked it out, how this one seemingly limited topic could be applied to each day in Lent. And then I spent a bit of time reading the reflections. Each day opens with a Scripture verse and has a bite-sized meditation. The closing prayer and petition to the Sacred Heart, though, are where I found the most appeal. They are down-to-earth and accessible, even for someone who finds the Sacred Heart a bit of a challenging concept, as I do. Time spent with this book during Lent is sure help the reader grow in a devotion that will benefit more than just the individual.
Bringing Lent Home with Mother Teresa: Prayers, Reflections, and Activities for Families, by Donna-Marie Cooper O'Boyle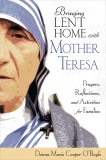 Donna-Marie Cooper O'Boyle's writing in recent years has touched on the more personal aspects of her relationship with Mother Teresa, and this book does one better: it involves the whole family. Every day, from Ash Wednesday through Easter, you get a quote from Mother Teresa, a reflection for parents, a family prayer (with parts!), a tidbit from Mother Teresa's life, ways to include fasting and almsgiving related to the topic, a closing prayer, and a thought to carry with you all day long. I especially like the idea of having a one-liner to take through the day. Written simply and beautifully, this will enrich your Lent and fill your soul.
Welcome Risen Jesus: Lent and Easter Reflections for Families, by Sarah Reinhard
OK, yes, I admit it: I'm recommending my own work. Before you throw tomatoes, let me just say that my part in this was small. I wrote the words. The fine folks at Liguori made the magic happen, and if it gets even the Curmudgeon Approval, then I feel like I can promote it to you here. It's my prayer that if you decide to use it, your family benefits from it. You'l find a daily Scripture verse, meditation, action, fast, and prayer beginning on Ash Wednesday and continuing through the Octave of Easter. Take small steps together through Lent and see how they help you grow once Easter is here.
About the Author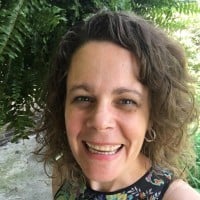 When she's not chasing kids, chugging coffee, or juggling work, Sarah Reinhard's usually trying to stay up read just one…more…chapter. She writes and works in the midst of rural farm life with little ones underfoot. She is part of the team for the award-winning Catholic Mom's Prayer Companion, as well as the author of a number of books. You can join her for a weekday take on Catholic life by subscribing to Three Shots and follow her writing at Snoring Scholar.