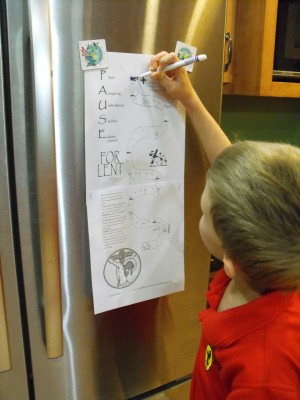 Lent last for 40 days. Its purpose is to call us back to Christ, bring us closer to our Lord, especially in response to his love for us shown in his suffering death and resurrection.
The church has given us some traditional practices to help us to do that. They are prayer, almsgiving, service and acts of charity, self-sacrifices, and studying the scriptures or other Holy writings. I came up with a simple way to keep us reminded the whole way through Lent. It's a simple poster to put on your refrigerator (or wherever) that lists these out as well as providing a way to mark off the 40 days of Lent. I made this with the whole family in mind—children and parents of all ages. Take a look and print it out. Encourage your family to try and do at least one of these practices daily during Lent—in addition to what they regularly do. I actually printed out a copy for each of my children to put in their rooms at their desks. I even keep one at my desk. If you do only one thing with your family during Lent—this could be the one thing that is not only easy to do, but could be very meaningful.
Please pass this on to your other family members and friends. It's free!
http://smartmartha.com/Documents/pauseforLent.pdf
Copyright 2012 Tami Kiser
About the Author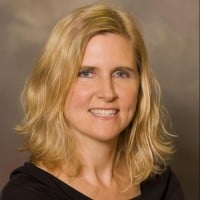 Tami Kiser is a wife, mother, teacher, author, and speaker. She runs a video production studio featuring Catholic speakers. These can be purchased or viewed on Formed. She also is the co-owner and host of a new Catholic Retreat and Cultural Center in the Carolina Mountains called Heart Ridge. She has taught everything from NFP, Zumba, cleaning toilets, Catholic crafting, the hula, bullet journaling, tap dancing, and liturgical living to Saxon Math 54 for the 10th time.