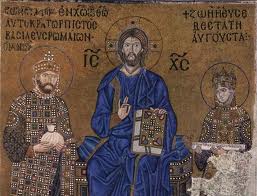 Hello dear watchers and waiters. I'm referring to those of us awaiting a new descent of the Holy Spirit. A new Pentecost is... is on its way, God willing. More on that shortly.
I often write of and preach about the organization called Madonna House. Excuse if you've read about this or know this from me or elsewhere. Madonna House is a mostly lay organization, headquartered in Canada, and with field houses in many countries, including the United States. Their mandate is to serve the people of God in whatever way God wills, as expressed by the bishop where they are located.
In Winslow, Arizona - some ninety miles from where I live, there is a Madonna House location. It's known as La Casa - the House of Our Lady. There are six staff members living there and the bishop (His Excellency James S. Wall from Gallup) has asked them at this location to assist in teaching, faith community formation and in being Christ to the rather poor and drug-wearied area. Winslow was once a bustling town along Historic Highway 66 -- no longer so as it was bypassed by the interstate system.
The 'madonnas' (as they are known) are involved in a Catechesis of the Good Shepherd faith teaching program based on the Montessori method of education.
They are involved in high school youth programs and in home visitations. They feed anyone who knocks at their door seeking food or drink. Madonnas are at virtually every funeral and wedding, and they live in the toughest of area in Winslow. But they've never had any damage, any threat or any problem. They are loved by the community. They are the face of God's love amidst poverty, high cancer rates, a bulging state prison and addiction. I've been told that Winslow is the crossroads for meth distribution in the southwest.
The monthly newsletter from Madonna House (out of the Canada headquarters) is called RESTORATION. It is taken from the Biblical image of 'restoring all things to Christ.' And while I've only been to a few Madonna House locations, it would seem they are living out the mandate of restoration.
The late priest, author and speaker Henri J. M. Nouwen once said something related to this notion of being a small part of something much larger: "A mosaic consists of thousands of little stones. Some are blue, some are green, some are yellow, some are gold. When we bring our faces close to the mosaic, we can admire the beauty of each stone. But as we step back from it, we can see that all these little stones reveal to us a beautiful picture, telling a story none of these stones can tell by itself.
That is what our life in community is about. Each of us is like a little stone, but together we reveal the face of God to the world."
Nobody can say: "I make God visible." But others who see us together can say: "They make God visible." Community is where humility and glory touch.
To prepare for the 2012 Pentecost in our lives - would you join me in a 'novena' of prayers asking God's guidance for the next phase of our lives? A novena is normally based on the number nine... nine days or weeks or whatever. But let us use the time between now and Pentecost to seek ways of becoming a new stone in a new mosaic of the face of God here on earth.
Let us not worry about or compare our 'puny' activities or results to the great accomplishments of, say a Mother Teresa. Our goal ought to be whatever color and size stone God wants us to be in the mosaic of Christian life here and now.
In some small way, let us be a part of RESTORATION of all things in Christ.
Copyright 2012 Deacon Tom Fox
About the Author

Deacon Tom Fox and his wife Dee are co-hosts of the CATHOLIC VITAMINS Podcast for over 6 1/2 years. Tom has also been a member of the Catholic Mom columnists team for eight years, and was a regular contributor to the Catholic Moments Podcast for three years. Most recently, Deacon Tom has been leading a project to bring Catholic radio to the north central Arizona community where he and Dee reside. Blessings!