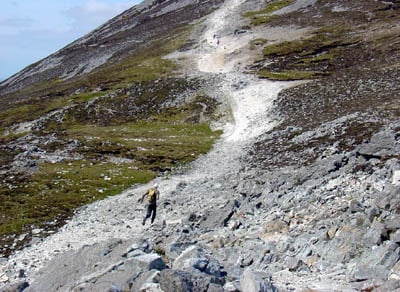 Our tiny car slowed to a stop neatly within the parking stall. "Thank you, God," I breathed as I turned off the engine. My husband exhaled with relief, but before we could celebrate our safe arrival in Murrisk from Galway, our eyes slowly turned upward at the imposing mountain in front of us. There were three peaks, the rightmost enrobed in a thick gray cloud.
Clad in a thin fleece sweater and ballet flats, I looked at my husband. "It has to be the one in the middle, right?" I looked back at the peak on the right, its tip still hidden. There's no way St. Patrick could have climbed that by himself, barefooted, with no gear, I thought.
"I don't know, Meg," said my husband. "I think it's the big one over there." I gulped and he added, "And we'll only go as far as you want, and we'll stop whenever you want." I nodded. He frowned. "Did you bring other shoes to wear?"
I couldn't bring myself to tell him that I'd forgotten them. "I'll be okay," I said lamely.
We slowly got out of the car and made our to the Croag Patrick visitor center. After having ascertained that the one in the clouds was indeed our destination, the peak on which St. Patrick had prayed, fasted, and done penance in the Lent of 441 AD, we set off toward the path.
We picked our way up it, which was mostly rock embedded in a little dirt, the grass having been worn away from the countless pilgrims who had followed in St. Patrick's footsteps over 1500 years. Even today roughly 30,000 pilgrims climb the summit to pray or to attend a special Mass during the national pilgrimage in July. And many do it barefooted. Each step was uneven due to the abundance of rocks underfoot. I now understood why a friend of a friend had to be hospitalized after having done this barefooted. I looked at my little ballet flats and at the hiking boots of those ahead of us.
Grass covered the rest of the base of the mountain beyond the path. A steady sparkling stream flowed to our right. At our backs, tiny hilly islands dotted the blue-green bay. Another purple mountain sat beyond the water. We prayed the joyful mysteries, and my husband felt like he was communing with the Irish and he prayed for his Irish in-laws.
By the time we finished, we were a quarter of the way up, and the terrain was making it too difficult to pray. Each step required thought, as the path had changed slightly to give it the appearance of a giant, steep rock staircase. Our quads burned.
It was then when I realized that this was a penitential walk. With each step, we could offer it up to do a little reparation for our sins and those of the whole world. I began to offer each step to Jesus as an "I love you", and the Spirit propelled us up the path. Soon we reached the midway point, a popular place to stop for those who didn't wish to continue to the summit.
My husband and I stopped to enjoy the view--almost the whose bay now was visible. Large fluffy clouds sped through the air, casting shadows on the water below. We turned to view the sight behind the mountain, the land blanketed by fields and dotted with tiny white sheep. The path at this point had flattened out encouragingly as it wound to the right. "Come on!" I said and my husband grinned as he gallantly took the back. We were headed for the clouds.
We passed a group of high school boys who had come from the summit, a couple stopping to spell our girls' names in the rocks along the way. Two had strayed far off and below the path, carefully spelling out "Nicole". I smiled and my husband offered to do the same. I asked him instead for his encouragement as we were almost to the last, most difficult climb of the journey.
We could now better see the top and watched, wide-eyed, as a sheet of clouds blew right up over the top. The wind had picked up, and I clutched my arms around myself, the wind blowing easily through my thin sweater.
A rosy-cheeked boy of about 15 was quickly descending. I asked him, "Is the last part very hard?" hoping for some encouragement. Surely it couldn't be as difficult as it looked if so many people climbed it every year.
"Very hard, yes, very hard indeed," he said quickly as he dashed past us.
We reached the bottom of what seemed to be a nearly vertical climb. The wind now was howling and whipping about. We slowly started up the hill, and I was certain we would be blown off the hill, leaving our three little ones orphans. Miraculously, people kept descending from the fog above, and they seemed okay, though outfitted smartly in hiking gear.
Rock by rock, we pulled ourselves up, hunkering next to the dirt wall to our right as the wind blew over our backs. I marvelled at the faith and love of St. Patrick, to do this on his own, hoping that it would result in yielding fruit for his people. All the muscles in my body were tired, my feet hurt. I looked up, greatly disappointed that we couldn't see the top yet. Another couple came down out of the fog. "Mind the wind," said the wife.
Sure we must almost be there, I thought, as the moisture from the cloud stung our faces. How nice it'll feel to get to the top and into the cozy chapel where we'll be able to do some serious praying, I thought.
Suddenly a dark rectangle appeared above, and my husband and I pushed towards it.
The top! We were there! We had reached the summit! A large gray cloud surrounded it, though, so we could only see a few feet ahead of us. A small shelter of rock littered with soda bottles lay at our left. On our right was a plaque describing the customary prayers to be said on one's knees. The wind almost knocked us over, so we made our way to the little white chapel ahead. My husband pulled on the wooden doors--locked! I was so disappointed I could've cried, but another gust of wind sent us looking for shelter behind the chapel. Inside a little doorway we were protected a bit from the wind.
The wind howled and my mood darkened. I felt silly that I was surprised that we couldn't see anything and upset that this was currently, like, the worst praying spot ever due to the conditions. I imagined St. Patrick clinging to the rock up here for 40 days and nights until he had secured great graces for his people. Unbelievable. Because the instant we had gotten up there, all we wanted was to get back down as quickly as possible. So that's what we did. We turned back down the path, not stopping until we had reached the half-way point, which was still sunny and beautifully calm.
Haggard from the wind and rain and aching from the climb, we hobbled down the path, as I tried to remember to smile at those still on their way up.
I was still so disappointed from not having been able to pray at the top. Perhaps I should've knelt down and said the customary prayers. But I hadn't. Did this trip even count for anything spiritually, I thought. Just then, my foot slipped and I skinned my foot and shin. The pain halted that line of thought and I took it as a sign.
We reached the bottom and rejoiced, thanking God and St. Patrick for a safe journey. We turned around and the summit was now completely clear and surrounded by a bright blue sky. "Quick, let's go back up," I teased.
We reached the visitor's center, and my husband noted that the mountain was about 2400 feet high. That's about 4,800 I love you's, I thought. Maybe it wasn't such a bad way to spend the afternoon after all.
Copyright 2012 Meg Matenaer
About the Author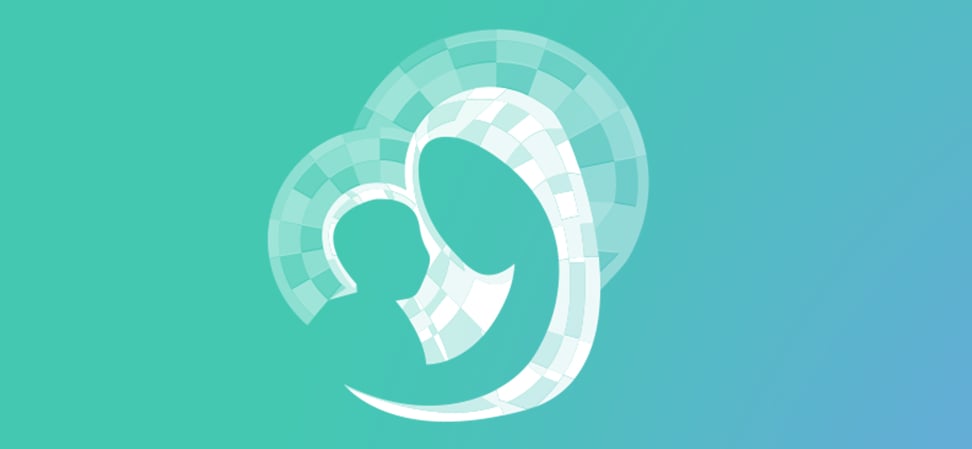 We welcome guest contributors who graciously volunteer their writing for our readers. Please support our guest writers by visiting their sites, purchasing their work, and leaving comments to thank them for sharing their gifts here on CatholicMom.com. To inquire about serving as a guest contributor, contact editor@CatholicMom.com.