Today's Tech Talk launch giveaway courtesy of Valent Richie.
We have a copy each of these great iOS apps.
Enter your name in the comments of this post by Saturday, June 2, midnight, PST.
For the past few week's, I've had my eyes on the "H.H. Benedict XVI" Pinterest board by Pinner Georg Shimmerl. I don't know Georg. I've surmised that since his Pinterest handle is "Viennese" and he calls himself "austrian, married, catholic, blogger" that he and I share some passions in common, but that his European perspective also helps him see some things about our Church differently than this California housewife would.
Regardless, Georg has pinned over 500 photos and counting of His Holiness, Pope Benedict XVI. And in a week that has seen more than its fair share of sad news coming out of the Vatican, I found myself clicking through this week's board of the week pick and praying for our Holy Father. How fascinating that you and I live in an era when such intimate moments of the papal life are ours to view instantaneously, and what a timely use of Pinterest to share an important aspect of our faith. But H.H. Benedict XVI seems to transcend a simple look at the station of the papacy and lets us have some insight into the man in that role. Having prayed in his presence during my trip to the Vatican last year, I can attest to the fact that my prior suppositions about him felt very different once I had a chance to witness his demeanor personally.
This week, I invite you to view and follow H.H. Benedict XVI and to join me in praying for our Pope and all of those in positions of leadership in our Church.

And here's this week's tip of the week from Allison Girone of the Catholic Pinterest Group Board who has kindly agreed to offer a weekly pointer for us on how to use some best practices to enjoy and effectively employ Pinterest:
Why not create your own group board? From the top right ADD button click Add a Board and add your friends and family as contributors. Some ideas? Make a family vacation board or family reunion board to share ideas, hotels, locations, day trips, sites to see. Make a board with fellow parishioners for upcoming Sacraments, like - FHC, and resources for preparation, for Confirmations you could pin about Saints candidates can choose. For Pre Cana and wedding ideas you could pin money articles, tips for a happy marriage, Church teachings and quotes on the sanctity of marriage, wedding ceremony music samples, readings. Collaborate with your playgroup moms for kid ideas, discipline articles, books to read, recipes and stress relievers. (And if Pinterest ever allows private boards...Make a board with your husband of things you want to accomplish with each other, house plans and goals you are helping each other with, prayer inspirations for each of your children.) Make humor board with your siblings, especially if they live far away and share nostalgia pins with them as well. Use Pinterest to connect!Utilize the buttons to tweet your pin or Facebook your pin…when appropriate. Ask yourself how many of these pins are my followers going to want to see? It could be overdone if your friends receive 10 Facebook updates from you in as many minutes. Because once you're in a groove on Pinterest, the pins can start dancing…
If you're a Catholic using Pinterest, please drop a link in the comments below to share your boards. Also, I'd love to hear about why you love Pinterest and how you think this latest craze might be used to spread the Good News.
Lisa M. Hendey loves Pinterest and can be found at http://pinterest.com/lisahendey/
Pushpin image courtesy of Darren Hester
Copyright 2012 Lisa M. Hendey
About the Author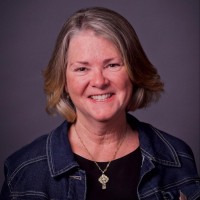 Lisa M. Hendey is the founder of CatholicMom.com, a bestselling author and an international speaker. A frequent radio and television guest, Hendey travels internationally giving workshops on faith, family, and communications. Visit Lisa at LisaHendey.com or on social media @LisaHendey for information on her speaking schedule or to invite her to visit your group, parish, school or organization. Visit Lisa's author page on Amazon.com.