Editor's Note: Today, I'm happy to welcome a fellow Central Californian to our CatholicMom.com family of contributors. Courtney is the mom of two precious children and the blogger behind A Catholic Wife. We're thrilled to have you with us Courtney! LMH
I'm sitting at the kitchen table, eating a bowl of microwavable strawberry oatmeal and deciding if I should watch The Jane Austin Book Club on Netflix or finally begin blogging. I'm feeling rather proud of myself (clearly with my celebratory oatmeal) that both my children are sound asleep and it's only 7:30pm, and most importantly, there was a minimal raising of my voice to pull of this accomplishment. My husband is a high school band director and so will be spending his evening conducting the high school band in Pomp and Circumstancefor the high school graduation. And suddenly it hits me that I graduated 14 years ago today, and I'm not sure if I should feel old or proud of whom I've become. Perhaps a little of both!
I've lived what I like to think has been an exciting life since high school, high school of course not being the most exciting having been raised in a small town, but I remember those times with my friends full of joy and excitement. I remember the way we worried if we were going to get pinned down in that small town or project out into that big world that's talked about in every graduation speech. Since high school, I've graduated from college with a degree in journalism, gone on to earn my Master's in Film Production, (a bill I'll be paying until my grandkids graduate from college), had several different jobs along the way, and my path eventually leading me back to school at the age of 27 to pursue my teaching credential. Dropping off the application for the credential, during my lunch break from a teaching job at a small private school I caught myself asking myself as I opened the door to the administration building, WHY THE HECK ARE YOU GOING BACK TO SCHOOL AT 27? I'll go for the safe answer – God placed the job in my lap. So I dropped off the application and headed back to work and it was at that moment as I was headed back to my classroom, that the Lord graciously sent me confirmation. One of my smartest students, the kind that I think could easily be smarter than me and I was always hoping wouldn't ask me questions that proved that fact, ran up to me panicked …. "Ms. P, Ms. P, I have a question – was Anne Frank a Nazi?" WHAT I thought… "No, of course not, she was Jewish and was hiding from the Nazis!" I couldn't believe he didn't already know that, until I realized that no one had taught him that yet, and that he hadn't been in my eight grade WWII class. He took a sigh of relief, turned to his friend and said, "See, I told you she'd know." Those words still linger fondly in my heart. And that's why I'm a teacher. Now if only I knew it all.
What I don't seem to quite know is how to raise children, be a loving wife, work part time, keep a clean house and somehow make wonderful homemade dinners with fresh bread and homemade chocolate cake for dessert. How did June Cleaver really cook all those nice family meals and still look so lovely in those fabulous dresses and why doesn't every meal in my life end with a nice homemade dessert? Sometimes I feel like I would feel better about myself as a person, if only I could make a wonderful dinner each night for my family, cooked only with organic, fresh ingredients, followed with a slice of heaven doused with whip cream, but who has time?
My husband and I are part of the team that does Catholic Engaged Encounter for our diocese. We've been in the ministry for about 2 of our 3 married years. We knew we wanted to join right away and we just presented our first weekend of talks for a wonderful group of fiancés who will be heading to the world of marriage any day now. The good news for us as a world, is that they are wonderfully devoted to each other and ready to discuss and learn about their soon to be spouses so as to better honor them. I mention Engaged Encounter as a way to explain another "Oh My " moment in my life.
We took our kids with us for the weekend, hired a babysitter that we knew to join us, packed almost every toy I think we own, in addition to a bike, an umbrella stroller, a few suitcases and enough snacks to feed a small preschool for a week. On the drive up we turned on the radio and our kids began singing along to their favorite song. No, not the ABC's or the Itsy Bitsy Spider, while those are among their top favorites, they were singing Matt Maher's Hold Us Together. My son is 3 and my daughter is 4 and for a mom who hopes to raise her children to be good Catholics, singing Matt Maher at the top of their lungs, felt like a good start! So here comes the "Oh My!" moment …. We were, as God would have it, driving through the town that changed our lives completely, just seven months earlier. Seven months earlier we had driven through this town but with children who were quiet and small and didn't really speak much, let alone sing songs. My son, just looking like he was in a daze, although always with a smile. My daughter, who was a little more outspoken but still timid and shy, and busy looking out the window at a world she'd never seen before. Seven months earlier, my husband and I met our children, for the first time, at a park where they sat quietly on a bench on either side of their foster mother eating from the same bag of chips. The social worker asked our children if they'd like to meet a new friend. My son didn't respond and my daughter only after finishing the chips, asked if we'd like to take her to the swings. Most people remember the first moment with their child, being in a delivery room being told "it's a boy, would you like to hold him?" My first moment with my children will always be on that park bench. I did get to hold my son that day – he didn't speak much, although he was 2, almost 3 but he did say bike and truck and would point them out to me and giggle. It's hard to remember those children now. I only envision my two laughing and signing Matt Maher. I hardly remember the day when my son couldn't carry on a full conversation, complete with 6 word sentences, although sometimes it would be nice if he took a little pause from talking. I can't remember what it was like when they weren't running down the halls to hide from my husband as he arrived home from work yelling and giggling "Mommy, tell him we don't want any."
My life forever changed seven months ago, so while I celebrate my 14th year since graduating high school, I think for now, I feel most confident that my children are tucked safely in their bunk beds, knowing that when they have a nightmare and yell for me that I will go running into their room to comfort them. Children who used to not even ask for a snack or tell you that they were hungry, but today as my daughter sat on the couch watching Word World, asked if she could have a snack and then informed me, so graciously, that she'd like cheese and crackers. My children will always have 2 families, their biological family and our family. I will always be eternally grateful to the people that gave my children their life. I will not take for granted the precious gift of life. I will try to remember these small victories like getting them both to bed by 7:30pm, but I will await the big victories, like when I sit at their high school graduation, or even their Kindergarten graduations. Those two shy, scared, children no longer exist, only in pictures where I can barley recognize them. My two are too preoccupied thinking about who they'll play with at preschool tomorrow and how to convince me to take them to the zoo. They're too busy helping themselves to the cheese sticks that they know are kept in the top drawer in refrigerator, and which my daughter has on occasion, gotten for herself for breakfast when I was taking to long in the morning, don't tell Mrs. Clever. And most importantly my children will remind me that in the good and not so good times, "Love will hold us together, make us a shelter to weather the storm and I'll be my brother's keeper, so the whole world will know that we're not alone." (Matt Mather – Hold Us Together)
Copyright 2012 Courtney Vallejo
About the Author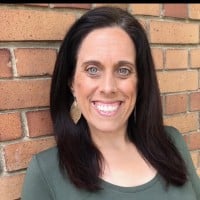 Courtney Vallejo is a convert to the Catholic faith, who is currently living in Arizona. She and her husband, homeschool their three adopted children. She is the cofounder of AMomRevolution.com, whose mission is to inspire, encourage, and reclaim joy in motherhood. She also writes for her own blog, CourtneyVallejo.com. Courtney holds a Master's degree in Film Production and a California Multiple Subject Teaching Credential. Follow her Gluten Free/Dairy Free adventures on Instagram: @aglutenfreerevolution.