For the past few weeks, I've had the tremendous privilege of exploring a review copy of the amazing tool Logos Bible Software. I almost hesitate to attempt a review this quickly, as my Logos tools are so incredibly comprehensive that I've only just begun to scratch the surface of what's possible. But what was immediately obvious to me when employing Logos is the incredible potential this tool has for those of us about to commence our journey through the Year of Faith.
To get started using Logos, the first step is to download the free Logos 4 Software. Since I'm a Mac, this was easily accomplished within minutes, leaving me plenty of time to also immediately download the free iPhone and iPad apps that enable me to immediately sync my studies between all of my devices. Since I was gifted a review copy collection, the moment I signed into my account, I had access to an amazing library that would like fill several rooms if I purchased print copies of the volumes I now own. With multiple Bible translations, countless encyclopedic resources, an entire library of spiritual classics, papal writings, the documents of Vatican II, the complete Catechism of the Catholic Church, and the lectionary at my fingertips, my studies immediately sprang to life.
One of the aspects I most love about Logos' Catholic tools is that they so fully integrate to give the student a perspective on both biblical truths and the inspired teachings of the Catholic Church. A perfect example of this is my study this week of the Lectionary readings for yesterday -- Sunday, September 30th, the Twenty-Sixth Sunday in Ordinary Time. With Logos, I was able to meditate upon the readings all week long prior to Mass, but also to delve deeper into my preparation for Mass. In one easy view, I could read from the Lectionary and see the NABRE version of the scripture passage, marking it with personal highlights and notes. A side panel helped me to easily search citations that serve as cross-references for the readings. So, for example, a quick look at Mark 9:38-43 pointed me immediately to paragraph 1304 of the Catechism of the Catholic Church, which offers additional information on "Gehenna". I was also easily able to cross-reference multiple documents, encyclicals, dictionaries, glossaries, maps and more, taking my study of sacred scripture to a whole new level.
As I stated, it will definitely take me a bit longer to fully dive into and continue to unlock the true potential of the tools provided by Logos Bible Software. I'm enjoying reading the Logos Catholic blog Verbum and exploring the Youtube videos that have proved an easy way to more effectively use the software. I'm also very excited about taking part in Logos' social networking forum Faithlife to study the Catechism of the Catholic Church during the Year of Faith.
I expect to report back over the next several months to share with you my journey through scripture and the rich history of the Church and her writings and teachings. I have already concluded that Logos is a tremendous tool for any family or individual looking to not only read, but also discover the rich context of scripture within our Catholic faith traditions. Investing in a tool like Logos does require commitment, not only of finances (the books are priced comparably to other electronic versions), but of effort and attention as well. What makes this tool different from reading your Bible in regular "e" version is the power to fully integrate, study, pray with, annotate and share sacred scripture in a cohesive and dynamic fashion. With Logos, I find myself not only excited about reading scripture each day, but also about unlocking truths that have in the past remained unrevealed to me because I was uncertain about how to access them. Studying the Word with Logos has become a cherished part of my daily morning prayer routine.
To learn more about Logos Bible Software for Catholics, visit http://scripturestudysoftware.com/.
About the Author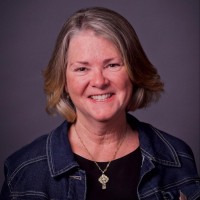 Lisa M. Hendey is the founder of CatholicMom.com, a bestselling author and an international speaker. A frequent radio and television guest, Hendey travels internationally giving workshops on faith, family, and communications. Visit Lisa at LisaHendey.com or on social media @LisaHendey for information on her speaking schedule or to invite her to visit your group, parish, school or organization. Visit Lisa's author page on Amazon.com.