So now for something completely different! Here are 26 fun things you can do to cultivate little artists and inspire the already artistically-inclined!
A is for Andy Goldsworthy... a brilliant artist who creates art from nature and then photographs his work. Much of what he does is impermanent. It is brilliant and fascinating... watch a documentary or find a coffee table book of his work. You and your child will be inspired in the great outdoors.
B is for Bas Relief...A french term meaning "low relief," a type of sculpture that is barely raised above the surface of your material. Molly and I made a bas relief fish.This was made by drawing a fish with thick school glue, letting it dry overnight, covering it with a layer of tin foil and then bringing out the "bas relief" with shoe polish. I found that drawing with glue was a little too hard for Molly, but she still helped with the glue and the shoe polish, and she seemed to really enjoy it.
C is for Calendar. A great way to use your child's best art! Make your own Church calendar using some of their finest creations.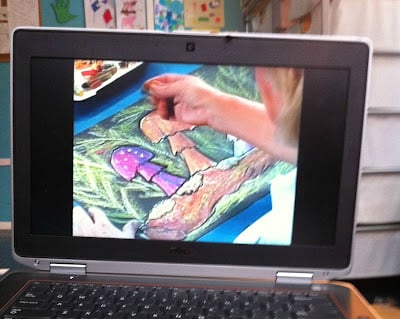 D is for Donna Hugh. We rented two videos at the local public library: "Art Lessons for Children With Donna Hugh" (does anyone else find her name amusing?!)-- one on Watercoloring, and one on general Art Projects. Over the course of two weeks, we watched all eight lessons.Molly loved them.
E is for Eggs. With Easter coming up, it is time to find some amazing egg crafts.You could use floral wire to attach dyed eggs to a ribbon for a beautiful garland.
F is for Flags. This is such a fun, easy art project, and it's a great way to talk about other cultures, children around the world, and the concept of design in art.
G is for Garden Stones. We had a lot of fun painting rocks in the back yard.
H is for Holidays. Save money by creating your own decorations for the holidays. Homemade Christmas ornaments are the best.
I is for Images. Take pictures! Photography is art, and kids love taking pictures.
J is for Jewelry. Craft necklaces, snack necklaces, sculpy clay bracelets... so much out there.
K is for Kiln. Visit a local pottery-painting studio, and create a masterpiece. Even little ones can do this, and it's totally fun for adults too.
L is for Lines. Learning to draw starts with lines. Experiment with different shapes and patterns by creating thick and thin lines. Use various writing utensils and different size paintbrushes for your line creations.
M is for Museums- There are so many free museums only a stone's throw away from us. We have visited the National Gallery of Art on multiple occasions. I had almost forgotten about the other art museums, because we love that one so much!
N is for Newspaper. Don't forget to use something to catch the spills. ;)
O is for Oil Pastels. These are fun to do on dark-colored construction paper. Take white or black and make an outline of something with a strong shape. Use the other colors to color it in, and have fun smearing and blending with fingers!
P is for Puzzle Placemat. Use thick paper and cut up your shape into intricate puzzle pieces, and have fun assembling with the kids. Another easy craft idea- laminate it and use as a placemat.
Q is for Question. What was your favorite art project growing up?
R is for Reader Response. After reading a story, poem, or book, have the child draw his or her impressions of what they have read. This is something we do a lot around here.
S is for Sponge Painting. This is a fun way to use watercolors. Draw a shape on a regular house sponge using a regular or watercolor pencil, cut out the shape. Use watercolor paints to load the sponge, and have fun painting away! We did this underwater scene with a fish sponge.
T is for Templates. There are so many templates and printables available for free out there. If you aren't sure, just ask.
U is for Underwater Scene. See letter S.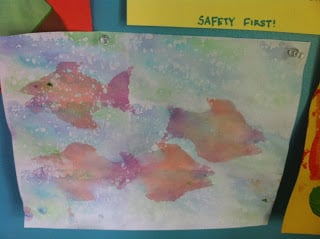 V is for da Vinci and Van Gogh. Talk with your children about your favorite artist. Tell them what you like about their art. Study one of their pictures, ask them questions, and ask them for their questions.
W is for Watercolors wash. Draw or print a template of flowers. Paint with water first, then add the watercolor over the water. This is a beautiful technique.
X is for Xerox. If you get bored, you can always xerox your face and then color it. :) (I seriously did this in an art history class in high school, I'm not joking.)
Y is for Yellow. Pick a color and use it as your art theme. There is so much inspiration in a color. Yellow is for sunshine, sunflower, star, starfish, canary, etc.
Z is for Zoo. Animals serve as incredible inspiration for art. Start with an easy animal (templates are great for little ones), like a duck, and do a "Study" of that particular animal. Choose several different mediums - collage, colored pencil, or markers and do the same duck in each medium.
We have had a lot of fun with art this year. My philosophy is... use what you already have on hand. I took art in college so I collected some supplies at that point. While I was pregnant with Molly, I took a Drawing class and a Photography class at Anne Arundel Community College. My teachers were fantastic, and I learned so much. I still have some of the supplies I purchased for those classes, and I will probably never be able to throw away the art I created, just for sentimental reasons. :) Ah, clutter. That's what the basement is for. ;)
The good old-fashioned Public Library has also been calling our name. There is so much good in just sitting with a good book, pen in hand, and jotting ideas. And for further reading, visit:
What projects have you done with your kids recently?
Copyright 2012 Tacy Beck
About the Author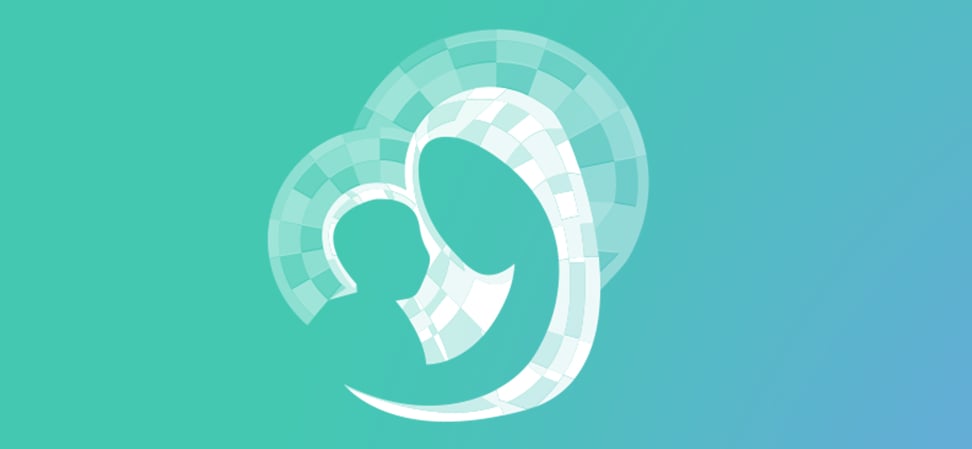 We welcome guest contributors who graciously volunteer their writing for our readers. Please support our guest writers by visiting their sites, purchasing their work, and leaving comments to thank them for sharing their gifts here on CatholicMom.com. To inquire about serving as a guest contributor, contact editor@CatholicMom.com.