For all of you who were baptized into Christ have clothed yourselves with Christ. Galatians 3:27
I recently made a quick trip to Kansas to present a teacher in-service. As I was sitting in the airport in Chicago, I was enjoying some people watching. One guy walked past in a T-shirt that read, A blood donor saved my life. After he passed by, my mind began to wonder if he had been in an accident or if maybe he had been afflicted with an illness. Lost in thought, the T-shirt made me grateful for the generosity of people, especially those who donate blood so others like this man might be alive and healthy. A few minutes later, I saw the same guy walking in the opposite directions and I caught a glimpse of the back of his T-shirt and it displayed the words from Matthew 26:28, for this is my blood of the new covenant, which will be shed on behalf of many for the forgiveness of sins. I thought that was an amazing T-shirt!
Once again, my thoughts drifted to gratefulness…but this time for the ultimate blood donor, Jesus. I was thinking how cool it was that he wore that T-shirt in the most public place I could imagine. I suddenly got the urge to tell him how cool I thought his T- shirt was and I heard my mom's voice in my ear saying "If you've got something nice to say to someone, you'd better spit it out cause folks need to hear good stuff." I decided to find him and tell him…but then I realized that by the time I packed up my laptop, grabbed my suitcase and headed out of the boarding area, I would literally have to run through the terminal to find him and the vision of a chubby woman with a cup of coffee trotting through the airport tugging along a floral print suitcase behind her might be more than the good folks gathered at O'Hare airport were ready for on a Sunday morning! So, I stayed put, said a quick prayer for the guy in the cool T-shirt and went about my business.
A few minutes later I was reminded that God has an excellent sense of humor because the empty seat beside me was soon occupied by none other than the guy with the great T-shirt! It was all I could do not to laugh out loud! I told him I loved his shirt and that led to an amazing conversation that inspired and uplifted me! The gentleman told me that he knew he'd be spending the whole day in airports so he chose an outfit with a message. As he tugged on the T-shirt that morning he thought if one person noticed the message then he'd made a good choice for Jesus. (I'm not sure that has ever been the criteria on which I based my outfit choice…but it just might be someday.) As we sat in conversation, I was impressed by this man's faith, his trust and his optimism. Both he and his wife had recently lost their jobs thanks to our current economy and in addition to raising their 15 yr. old son; they had recently and unexpectedly become guardians of their 11 month old grandson. He spoke about the way he felt God working in his life and about his expectant hope in God's good plan for him and his family. He had every right to be frustrated, angry, anxious and cranky but instead he chose to put on a great T-shirt and God's peace instead. He truly lived these words from Galatians and "put on the clothing of Christ". He dressed himself in Christ both spiritually and physically! The situation started with a comment about a T-shirt, and ended up being a lesson in God's love and grace. Who knew???
A seed to plant: This one is a double challenge! First, one day this week, purposefully wear or display something that will specifically draw attention to Jesus. Maybe it's a T-shirt with a great message, religious jewelry or a sign in the rear window of your car. Second, take my mom's advice and each time you think of something good to say…be sure you spit it out…let someone hear you say something good!
Copyright 2012 Sheri Wohlfert
About the Author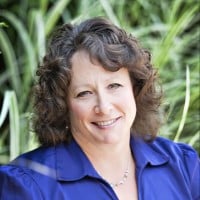 Sheri is a Catholic wife, mom, speaker and teacher. She uses her great sense of humor and her deep faith to help others discover the joy of being a child of God. Her roots are in Kansas but her home is in Michigan. The mission of her ministry is to encourage others to look at the simple ways we can all find God doing amazing things smack dab in the middle of the laundry, ball games, farm chores and the hundred other things we manage to cram into a day. Sheri also writes at JoyfulWords.org.