Be sure of this: if the master of the house had known the hour when the thief was coming, he would not have let his house be broken into. Luke 12:39
If you made a list of all the "treasures" you owned, which ones would you be most upset to have stolen from you? I'll bet if we compared lists, there would certainly be some similarities. Some of us might list valuables like family jewelry and watches. Some might list technology or tools while others may list things of great sentimental value like photos or mementos of loved ones. We all have treasures and the thought of having them taken from us leaves us with a heavy heart. Chances are, some of our precious treasures are in a guarded spot. I doubt we would put Great, Great Grandpa's pocket watch on the living room end table with the magazines, remote and half empty bowl of popcorn. Certainly not, such treasures require special care and respect.
In this Sunday's Gospel St. Luke's words speak to us about God's expectations for us to honor, protect and value our treasures but he points out that in this parable, Jesus isn't talking about gold watches, diamond rings or other material treasures at all. HE is the treasure…HE is the pearl of great price…HE is the most valuable of all treasures in our home and in our heart. HE is the most important thing we can imagine. I guess considering all that, the million dollar question would be, how valuable is the treasure of Jesus to us? Do we protect His presence in our life like the treasure it is or do we disregard or neglect it, not truly appreciating its rare and priceless value?
If we have material possessions of great value, we take measures to protect them from thieves. We lock them away in safe spots and sometimes even insure them so we can feel secure. Again, this isn't the type of thief the Gospel is referring to at all. This reading is asking us to consider the treasure of our faith and the forces within ourselves and within the world that are trying to rob us of our connection to our loving Creator and Father. We may foolishly think that since we live in a society that protects us and guarantees our freedom of religion that we are free of thieves that try to rob our faith. One peek into a newspaper, one look at most anything on TV or one glance at the magazine rack in the grocery store checkout lane illustrates that we are slathered with media that bit by bit is chipping away at the moral fiber of our society. In her book Extreme Makeover, Teresa Tomeo points out that by the age of 18, the average youth will have witnessed sixteen thousand simulated murders as well as two hundred thousand acts of violence on television. The greatest thief is the indifference and the immunity to it all. The thief is breaking into our house and we don't even see it!
It may be true that the world is trying to dilute the importance of God and His teachings and it is certainly making it harder for us to protect the treasure we have in our faith but this community is built on the work and the prayers of good strong Catholics who know how to stand up for their faith. Today is a good day to take an inventory of our treasure in Christ and see how well we are protecting it. Prayer is the greatest defense against the spiritual thieves of the world. Our first task for the week should be to read this Gospel a few more times and ask God to make us mindful of the places in our lives where we need to "beef up our spiritual security". The second task for the week is to remember that Our Lady has promised to wrap us in her mantle of protection and guide us lovingly toward her Son. It just so happens that this Thursday is the feast of the Assumption of the Blessed Virgin Mary, the perfect time to step away from the world and get to Mass to celebrate the treasure of our faith and honor the Mother of God.
Blessings on your day!
Copyright 2013 Sheri Wohlfert
About the Author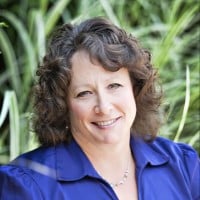 Sheri is a Catholic wife, mom, speaker and teacher. She uses her great sense of humor and her deep faith to help others discover the joy of being a child of God. Her roots are in Kansas but her home is in Michigan. The mission of her ministry is to encourage others to look at the simple ways we can all find God doing amazing things smack dab in the middle of the laundry, ball games, farm chores and the hundred other things we manage to cram into a day. Sheri also writes at JoyfulWords.org.