For a few months now, I have been in correspondence with an amazingly talented young author named Nicole Lataif. It's hard to remember when our paths first crossed, and though we've never formally met in person I feel blessed to now call Nicole a friend and co-worker in the New Evangelization. Today, we celebrate the recent launch of Nicole's beautiful new book, Forever You: A Book About Your Body and Soul, by sharing a conversation with the author.
Q: Welcome to CatholicMom.com Nicole - please share some basic information about yourself and your family with our readers.
Have you seen the movie "My Big Fat Greek Wedding?" Our family is just as big and fun, but Lebanese! Most of us, including my immediate family, live in Massachusetts, which is absolutely wonderful around holidays and Christmastime! As for me, here's a quick run-down: I am the Founder and Editor of www.KidsFaithGarden.com and Author of Forever You: A Book About Your Body and Soul. I served as the project lead for Boston's Papal Pilgrimage to attend Holy Mass with Pope Benedict XVI in 2008, edited and taught a high school Catholic chastity curriculum, organized Catholic conferences, founded two young adult Catholic groups, and taught Sunday school at parishes in Florida and Massachusetts. Since graduating from Florida Atlantic University with a degree in Rhetorical Studies, I have gained extensive training in writing for children and have also worked in marketing, event planning, media relations, and public speaking. My favorite devotion is the 54-day novena to Our Lady.
Q: What prompted you to write your book, Forever You: A Book About Your Body and Soul?
What prompted me to write this book may be a bit shocking. I taught chastity to 6th, 7th and 8th graders. We asked these middle-schoolers in a survey, "do you think sex should be saved for marriage?" A 6th grade boy wrote, "it's too late." 6th grade! I couldn't believe that a child as young as 11 years old had experimented with things so far outside his realm of understanding. So, as a children's book writer, I prayed about creating a way to safely and smoothly introduce to young children concepts that may have prevented such a tragedy. At the ages of 4-8, we cannot talk about sex, but what can we talk about? We can talk about everything in the book: that we have souls, that our souls and bodies are for God, for heaven and for showing the love of Christ to others. I pray that parents start this kind of conversation early, so that by the time their children hit 6th grade, kids know that they matter, both soul and body.
Q: Could you kindly provide our readers with a brief summary of the book?
At the most basic level, this book is a resource for Christian faith formation introducing children ages 4-8 to what being human is all about. Whether you are a parent, grandparent, or catechist, you will find this resource to be helpful in explaining the concept of a "soul" to a child, inviting them to understand and embrace the whole human person. Your child will learn about the soul's presence in their every moment, action, and emotion; its spiritual nature; its link to their body and physical experiences; its substance and origin as a gift to them from God; its commonality to all of humanity, but also its individual uniqueness; its sacredness, with gentle allusions to John Paul II's Theology of the Body; its service-directed purpose through loving and helping their neighbors; and our call to eternal life in heaven, without explicitly referencing death.
Q: What you hope families and children will take away from their experience of reading your book?
I hope children will understand that their bodies and souls are meant to express and communicate the love of Christ, and that they can choose to do this. I hope children will also identify their gifts and talents to begin to think about how God made them unique and for a specific purpose. Adults, especially those with children in their lives, should ask themselves if they strive to live a virtuous life in Christ, or if they play by their own rules. In the words of Robert Fulghum, "Don't worry that your children will never listen to you; worry that they are always watching you."
Q: What readers are saying about the book?
Here's some recent feedback:
"Forever You brings to life some of the most fundamental truths of what it means to be human while helping children to develop their relationship with God. The beautifully illustrated text encourages parents to embrace their vocation as the first and most important educators of their children by embarking on a lifetime of catechisis for the entire family." -Katie Dardis Singleton, Licentiate in Bioethics; wife and mother; Chastity, Bioethics, and Theology of the Body speaker; and former Assistant Director of the Archdiocese of Boston's Respect Life Education office.

To order Forever You: A Book About Your Soul and Body, please visit: www.KidsFaithGarden.com and click the "shop here" button on the home page or purchase the book at Amazon. KidsFaithGarden.com offers free tools, updated on a monthly basis, to help kids and adults grow in Christian virtue.
Copyright 2012 Lisa M. Hendey
About the Author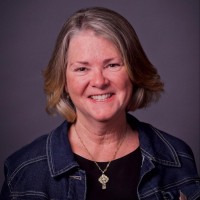 Lisa M. Hendey is the founder of CatholicMom.com, a bestselling author and an international speaker. A frequent radio and television guest, Hendey travels internationally giving workshops on faith, family, and communications. Visit Lisa at LisaHendey.com or on social media @LisaHendey for information on her speaking schedule or to invite her to visit your group, parish, school or organization. Visit Lisa's author page on Amazon.com.