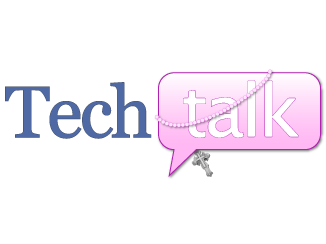 I don't typically review apps before they launch due to my column schedule, but when you discover something you KNOW is going to be amazing, you can't always wait.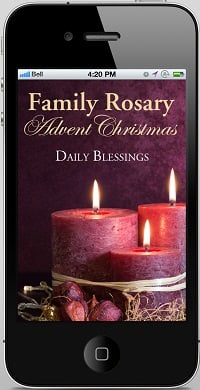 The new free app from Holy Cross Family Ministries for Advent and Christmas is that exciting something I discovered today, that I have to share. The app just launched on Monday, December 2 with the beginning of Advent, and it offers many features to enhance the spiritual side of this crazy holiday season.
Unlike Holy Cross Family Ministries magnificent Family Rosary's Mobile Rosary App, this product is available for Android devices, as well as iOS (iPhone, iPad, iPod Touch).
Daily Blessings Features:
Meditative music
Scripture
Reflections
Submit a Prayer Request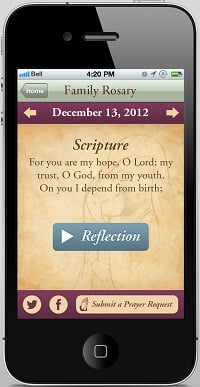 The Submit a Prayer Request section particularly attracted my attention [their Rosary App has this same feature].
There are few feelings in this world that match knowing someone is praying for you. How many times have we reached out for prayer from our friends and family? That's if you are fortunate enough to have people in your life who pray – for those who do not, opportunities such as Holy Cross Family Ministries is providing – a place to reach out for prayers is invaluable. Even if you do have prayer warriors at the tip of your fingers (or cell phone, email, or Facebook), I can see nothing negative in soliciting even more prayer!
Prayer is a conduit of grace therefore
we can never receive too much of it.
As we enter into this Advent season, let us not rush through it, or wish it away. Let us not start Christmas before its true arrival, December 25. And when it does arrive, let us not dessert our prayer practices – there are still 8 more days of celebrating once the beautiful season of Christmas actually begins on December 25.

If you have not already so, I highly recommend following the QR scan code above to download your copy of Family Rosary's Daily Blessings for Advent and Christmas. May be the best gift you are given this year.
Read more of our Tech Talk columns.
Copyright 2012 Allison Gingras
About the Author