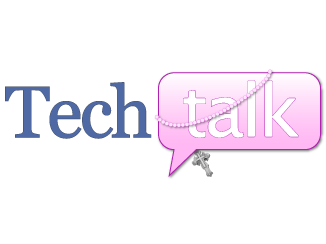 Would you like to jump-start your prayer life during Advent by praying Morning, Evening or Night Prayers, meditating on the daily Mass readings or learning more about Advent devotions such as the "O" Antiphons or the Advent Stations?
You can do all that—and more—with the Magnificat Advent Companion 2012 app for iOS devices.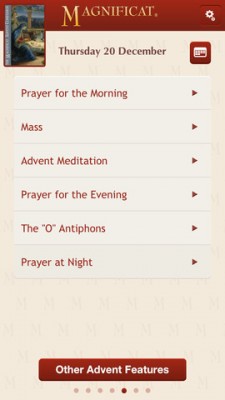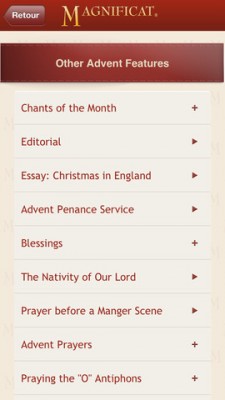 After the initial content download, you'll see a menu for the daily prayers and Mass readings, as well as an option for other Advent features.
Don't skip the features! If you do, you're missing some amazing stuff. For example:
Kick-start your morning or evening prayer by listening to an Advent chant. (These are great for a quick spiritual calm-down at any time of day, really.) Lyrics are included, so once you learn the melody, you can join in.
Find blessings for your Advent wreath and Christmas tree.
Pray along with the "O" Antiphons beginning on December 23.
Pray the Advent Stations, alone or with a group.
Plus, there are blessings, an essay on Christmas in England, and more!
The daily offerings include Morning, Evening and Night Prayers, the Mass readings and a daily meditation. This app even includes the prayers, readings and meditation for Christmas Day. (Be aware that the Morning and Evening Prayer, while based on the breviary prayers, are abbreviated versions, so if you are praying in a group, make sure everyone is using the same resource.)
You can also set a handy alarm to remind you to pray Morning or Evening Prayer or to read your Magnificat for the day. You'll find that in the "settings" area in the top right corner. That's my one quibble with the app, and it's a tiny one, really: I had to go looking to find this. Instead of the little gear icon, an alarm clock would have made a whole lot more sense.
The app will automatically set itself for the current date, but there's a calendar next to the date if you want to peek ahead—which is especially useful if you'd like to study Sunday's Mass readings at some time during the week.
Magnificat Advent Companion boasts the same beautiful cover art as the print edition and an elegantly simple interface. This app works on both iPhone and iPad and is well worth the 99-cent download price.
Read more of our Tech Talk columns.
Copyright 2012 Barb Szyszkiewicz
About the Author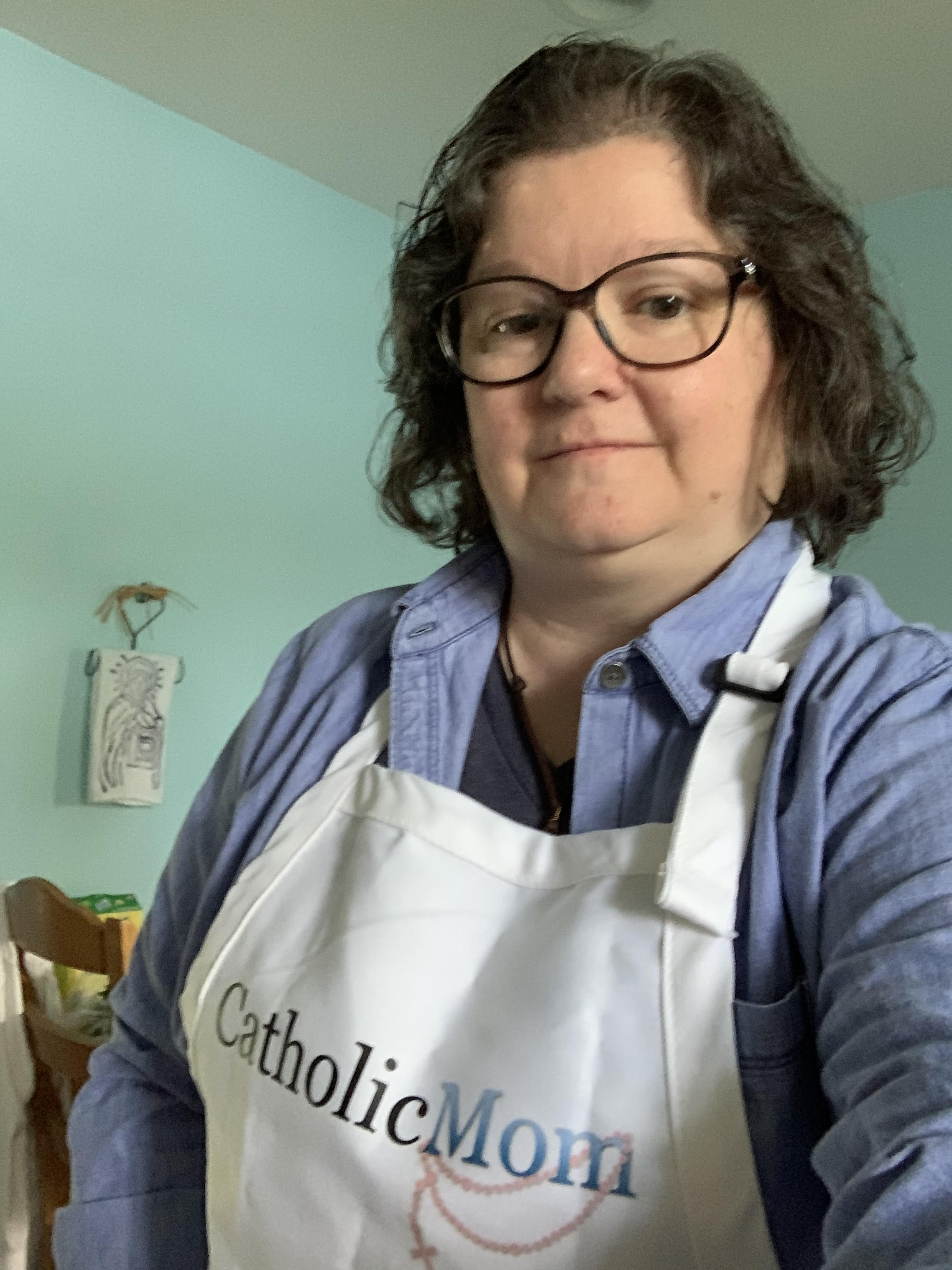 Barb Szyszkiewicz is a wife, mom of 3 young adults, and a Secular Franciscan. She is editor at CatholicMom.com. Barb enjoys writing, cooking, and reading, and is a music minister at her parish and an avid Notre Dame football and basketball fan. Find her blog at FranciscanMom and her family's favorite recipes with nutrition information for diabetics at Cook and Count. Her booklet, The Handy Little Guide to Prayer, is available now from Our Sunday Visitor.