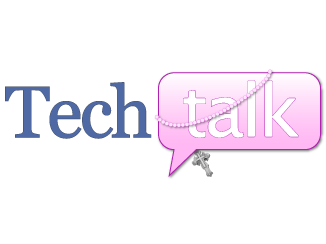 It's a strange Advent for me, as I'm not feeling particularly bah-humbuggy. I haven't thrown one single piece of greenery across a room, and I don't think I've lit anything but candles (but let's not think too hard, ok?).
I can't take any credit for the peace I feel: it must be the result of a miracle of some sort.
I am finding help, though, with three Advent apps I've recently loaded on my iPad:
Magnificat's Advent Companion 2012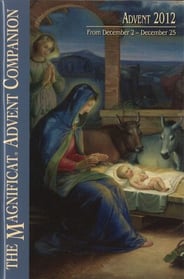 I'm a Magnificat fangirl. It's not that I am good at doing something every single day, but that, without fail, what the Magnificat folks pull together is classy, easy to use, and relevant to me. It's there when I come back to it, and it can be as much or as not-much as I can handle. Last year, the Magnificat Advent Companion rescued my Advent, so I didn't mess around this year. I downloaded it right away.
It's even better than it was and tops my list of Advent apps. It's beautifully designed and--get this, ye tablet users!--it's sized for my iPad! Let the rejoicing sound and the trumpets blare, because I was ecstatic by this one detail (which I realize was probably a huge developer headache).
When I was tinkering around in this app the other morning, one word came to mind: catechetical. It's one of my favorite Catholic words. Not only does it point to the teaching and learning of faith, but it reminds us, in its Greek roots, of the echo we are called to be. This app is catechetical in one of the best senses of the word.
Our team has done a great job of reviewing it this week, so I'll point you to Barb for more detail on what's in the app. If we can't talk you out of the 99-cents it takes to download it, or if you don't have an iOS device, a Kindle, or a Nook, maybe you'll drive to your local Catholic bookstore and buy the actual book. It is soooooo worth it!
Family Rosary's Daily Advent Blessings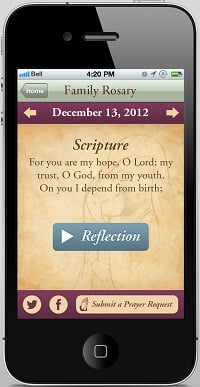 Last week, Allison previewed this app, and I was a bit jealous that it hit Android before it was on iTunes. It's simple and uses audio and visual together in a way I haven't seen in very many of the apps I use.
You can't just read the reflections, though you don't have to listen to the audio portion, either. There are social sharing buttons and a way to submit a prayer request.
What this app lacks in features is one of its strengths: there are no distractions to keep you from your prayer. It continues through Christmas, which I like, too.
And hey, it's free. What's not to love about that? Available on iTunes, Google Play, and using a mobile browser.
Adventus App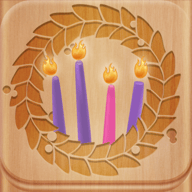 The full version of this app ($2.99, iTunes) gives you daily meditations for Advent and the 12 days of Christmas based on the book Meditations on the Gospels for Every Day in the Year by Père Médaille, S.J. The lite version (free, iTunes) gives you reflections for the even-numbered days. If you're looking for something to stretch your intellectual muscles, give this a try. It includes beautiful artwork and it's a style of writing and reading that I could use more.
Read more of our Tech Talk columns.
Copyright 2012 Sarah Reinhard
About the Author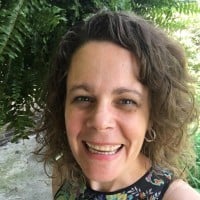 When she's not chasing kids, chugging coffee, or juggling work, Sarah Reinhard's usually trying to stay up read just one…more…chapter. She writes and works in the midst of rural farm life with little ones underfoot. She is part of the team for the award-winning Catholic Mom's Prayer Companion, as well as the author of a number of books. You can join her for a weekday take on Catholic life by subscribing to Three Shots and follow her writing at Snoring Scholar.