Joy is the net of love by which you can catch souls. Blessed Mother Teresa of Calcutta
What's a three letter word that has the capacity to change the ENTIRE world….no it's not PIE! My Dad might disagree with me though! In the 27 years he was married to my mom, he had fresh homemade pie in his lunch box nearly every day. That's how much she loved him so pie can be powerful but that's not the word I'm thinking of. The all-powerful little word I'm talking about is JOY!
Joy and happiness are different. Joy is bigger, deeper and much more contagious! Joy is something you choose. Joy doesn't depend on things goin' your way; it depends on your faithfulness and your trust in the Father. Joy is being content that things are going HIS way whether it's easy or not. The Father's will is perfectly orchestrated to provide each and every experience we need to build us up for a life in heaven. I think most of us would agree that the world needs more people who are willing to live a strong Catholic life. We are all called to "go forth and preach the Gospel" but how? We are called to evangelize but how? The answer boils down to that three letter word…JOY! If it is our mission to bring people to Christ, we have to make sure we are the kind of people others want to follow. There is no better "advertisement" for God than to be so in love with Him that His joy just leaks out all over.
Recently the famous Fr. Joe Krupp spoke to our school staff and encouraged each of us to wake up every day and ACT like we WISHED we FELT! Great advice! Each time we interact with another person, we have an opportunity to lift up or tear down. We have an opportunity to brighten their day and offer peace and support or to complain and be negative. If our goal is to get to heaven and bring a few others along with us if we can, how we act towards others can make a huge difference. The people around me don't care how tired I am or how busy I am or how important I think I might be…they want to be lifted up by a smile or an encouraging word…they want a little "shot of joy" in their day. We need to wake up each morning and invite God to be in charge of our day and lead us through it by the hand. Joy will be the feeling we get when we put Him in charge and all we have to do is hold His hand and follow along. Joy is like a magnet…why not spread some around and see what you attract!
A seed to plant: Post a sign in a spot where you will see it every day…on it write the words "I'm gonna ACT like I WISHED I FELT today!
Blessings on your day!
Copyright 2012 Sheri Wohlfert
About the Author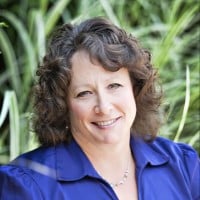 Sheri is a Catholic wife, mom, speaker and teacher. She uses her great sense of humor and her deep faith to help others discover the joy of being a child of God. Her roots are in Kansas but her home is in Michigan. The mission of her ministry is to encourage others to look at the simple ways we can all find God doing amazing things smack dab in the middle of the laundry, ball games, farm chores and the hundred other things we manage to cram into a day. Sheri also writes at JoyfulWords.org.