1. First of all, feed the soul. Encourage your family to make a morning offering with their breakfast grace if they don't already do this on their own when getting out of bed. This prayer could be said together if you all eat at the same time, but more often than not, it is a good habit for you and your children to do upon sitting down eating your breakfast independently. If this is new for your family, talk about it at one of your dinner times and then help your family to remember this new habit by having a morning offering available where your family eats breakfast. This can be done by simply having a morning offering prayer card on the table, or making your own table tents. I use clear picture frames on my tables (sort of like what you see in restaurants) where you can print out the prayer and simply slide it into the frame. Copy and print these ones out or get others from online.
O Jesus, through the Immaculate Heart of Mary, I offer you my prayers, works, joys and sufferings of this day in union with the holy Sacrifice of the Mass throughout the world. I offer them for all the intentions of your Sacred Heart: the salvation of souls, reparation for sin, the reunion of all Christians. I offer them for the intentions of our bishops and of all apostles of prayer -- in particular, for those recommended by our Holy Father this month
For young children (by Robert Hugh Benson):
My God, I offer up to Thee
My soul and heart, thine own to be;
And all I do or hear or say
and all my work and play.
2. Have a better breakfast; get out of the breakfast-box-cereal rut and save money—and get better nutrition. Most of these breakfast suggestions will not only save you money, but also deliver more nutrition. Sure, there are some very healthy box cereals out there, but if your kids will even eat those ones, you will notice that you will pay a lot of cash per bowl— there is usually only a few bowls per box! Here are some suggestions to perk up your breakfast.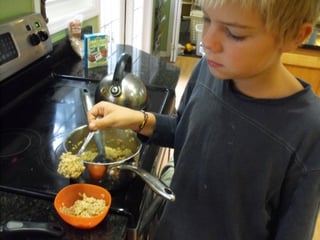 These 6 ideas may not seem quite as simple as just opening up a box, but with a little planning and organizing, that small effort will reap big benefits.
1. Old Fashioned Oatmeal and Hot Cereal
This is a great standby. And my kids love it. We especially like the Old Fashion Oats, but don't mind the quick oats, either. We usually make a big pot of it and sweeten the whole pot with brown sugar. I sometimes add chopped apples while the water boils or a handful of frozen blueberries with the oats. Even if we have just one person eating it, like here--we still use a pan. Jacob makes this on his own all of the time. He puts about an inch of water in the pot and brings to a boil. He adds some oats and turns off the stove. Viola! Yes it can be done in the microwave just as easy, but we always tend to boil it over. We don't remember to use a big enough bowl. And in keeping with the Smart Martha rules of no pans or dishes in the sink, the pan is easily washed (usually while the oatmeal cools) and put away and the bowl is rinsed and put in the dishwasher. (This is literally pennies a serving!)
We like most hot cereals; and they, too, are just as easy to make. Our favorite is Cream of Wheat or Farina. We also love yellow cornmeal/ grits with honey and milk. Hot Cereal is also a category where you can splurge and get some organic/very healthy hot cereals from a Whole Food's type store since they still will run so much cheaper per serving than box cereal. There are all kinds of wheat bran, bulgur, or rice hot cereal blends to try. We also eat Quinoa, warm and sweetened.
2. Waffles, Pancakes and French Toast
Sure, these can take a little longer and make a bigger mess, but there are a few ways to make these a little more instantaneous.
One way is to freeze a batch of waffles and just pop them in the toaster. I simply doubled the amount I made on a Saturday and flash froze them by laying them out on a cookie sheet to freeze. After they were frozen through, I put them in this Ziploc bag. We simply reheat in the toaster like Eggo Waffles--but for pennies a serving and all contents healthy. The same can be done with pancakes.
A great way to use up a loaf of bread that is going stale is to make a batch of French toast with it. Flash freeze it and put it right back in its bread bag and store in the freezer. These can be toasted or microwaved the same way as waffles.
Another way to have pancakes/waffles ready to go is to keep the batter in the refrigerator. I find most batters last a couple of days in the refrigerator before they begin to separate and look gross.
Toppings? Besides syrup-which is more sugar than I'd like them to have in the morning, I push for peanut butter and bananas or fruit spreads and cream cheese, even butter with a little cinnamon-sugar is delicious.
3. EGGS, EGGS, and EGGS!
Studies show that a high protein breakfast lasts longer than one that is mostly carbs. I also think it helps with concentration. Whenever my kids have a big, long test, I always encourage them to have eggs for breakfast. A couple of years ago I bought a cheap non-stick omelet pan which gets used several times each day. It's the perfect one-serving size which cleans up with a swish of a dishbrush and hot water. Kids over the age of 6 can make their own omelets, dippy eggs (our name for over-easy), scrambled eggs, frittatas, etc. Cheese completes their eggs! For my growing boys and husband, I usually have chopped ham or sausage patties in the freezer which gets cooked in the pan first. For me, I have spinach and tomatoes or any other veggies that I can find.
For a different way with eggs, cook up a dozen of hard-boiled eggs. A warm hard-boiled egg with a little salt and buttered toast is delicious. Here's how I do it (except I use 22 minutes instead of 12--I'll try 12 next time...) www.IncredibleEgg.com
And let's not forget the breakfast burrito. This is simply scrambled eggs, cheese, and salsa (and anything else you'd like) wrapped in a flour tortilla.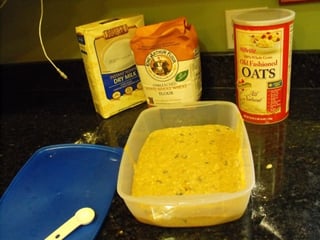 4. Muffins
Sure, you could bake some and then freeze them, but have you ever tried those Refrigerator or 6-week Muffins? It had been awhile since I had them, so I made a batch last week. The batter sits in your refrigerator for up to 6 weeks and you simply bake them on demand. Here is a basic recipe from AllRecipes.com that I used. http://allrecipes.com/recipe/six-week-bran-muffins-2/detail.aspx
I altered the recipe and used different whole grain flours including oats. I also used powdered milk and cut the sugar in half. In the past, I've used plain bran flakes for my non-raisin fans. These fresh out of the oven topped with cream cheese and jelly are great. You can obviously do lots of add-ins like, nuts, dried fruits, chocolate chips, etc.
Here's the batch I baked this morning with batter which I know won't last for six weeks, but maybe for a couple more.
5. Granola
I love homemade granola and tend to munch on it throughout the whole day. Homemade granola is usually healthier and cheaper than its store version depending on how you make it. The great thing about making it is choosing what to add. I love nuts, but sometimes if I am out, my granola goes nutless--which makes my no-nut fans happy. (and I almost never use raisins for that same reason.)
Which recipe and method? There are many--here is the one I use:
http://allrecipes.com/recipe/Megans-Granola/Detail.aspx?prop31=6
You can substitute so much for the dry ingredients--even all oats! I usually add flax, whole wheat flour, coconut or whatever I have in the pantry.
Granola bars that you get in the store are so sugary, but I've used them many times in a pinch when a child didn't have time for breakfast. Here are 2 recipes I've used often for granola/cereal bars. I wish I could make enough to keep in stock, but they disappear quickly. The 2nd one with sweetened condensed milk does have a lot of sugar, but is so easy to make and to load with other healthy ingredients, I can't resist it.
http://allrecipes.com/recipe/Playgroup-Granola-Bars/Detail.aspx?prop31=6
http://allrecipes.com/recipe/Easy-Granola-Bars/Detail.aspx?prop31=4
6. Smoothies
Although these are typically afterschool snacks for us, they make excellent breakfasts. I have a generic "Magic Bullet" that I got at Aldis that makes this feat very easy to make and clean up. But really, a blender isn't that much different. I always have a supply of frozen bananas in the freezer that can sweeten any smoothie without adding sugar. These are undesirable bananas that got too ripe or were bought that way from the store--perfect for banana bread or smoothies. Flash freeze without their peels then put in a Ziploc bag. Since other frozen fruit isn't cheap, I often freeze my own from in-season fruits or fruit that is going bad.
Once your fruit is picked and put in your blender, you just need some liquid. We use milk, soy milk, plain yogurt, juice, or even water. You don't really need a recipe for a smoothie, stock your freezer and use whatever you fancy. (Oh and for you healthy people who don't mind drinking the color green, spinach works pretty well in most smoothies without altering the taste too much.)
I hope you have enjoyed these breakfast suggestions! Stock your freezer. Do a little baking. Pray that morning offering. Take some time to make these happen. My hope is that we can start our morning looking for Christ and keep our eyes out for him all day.
Blessings,
Tami Kiser, aka Smart Martha
Copyright 2013 Tami Kiser
About the Author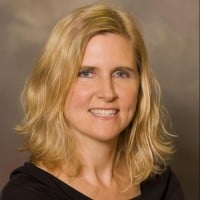 Tami Kiser is a wife, mother, teacher, author, and speaker. She runs a video production studio featuring Catholic speakers. These can be purchased or viewed on Formed. She also is the co-owner and host of a new Catholic Retreat and Cultural Center in the Carolina Mountains called Heart Ridge. She has taught everything from NFP, Zumba, cleaning toilets, Catholic crafting, the hula, bullet journaling, tap dancing, and liturgical living to Saxon Math 54 for the 10th time.