Friends who are tuned into my work in social media will have likely seen the very sad news I announced on January 8th. The 4 year old son of one of our contributors at CatholicMom.com, Cassandra Poppe, was involved in a horrific burn accident. Here is a summary of what happened to little Fulton and his father Jay:
You are aware of the tragic events on January 8, 2013, leaving 4 year old Fulton with 2nd and 3rd degree burns on over 40% of his little body. Most of the burns were to his hands, upper body, head, and face. Fulton is a fighter! But, he has a very long road to recovery. His care requires him to be at Shriners Hospital in Gavelston, TX. . .far away from home. We don't know yet exactly what recovery will entail. but we do know there will be many many surgeries he has to undergo, and up to 4 months in the hospital. Fulton's care will require family members to be with him for extended periods of time, far away from home. There are five siblings at home who are without their brother and mother right now. Though he is receiving excellent care, the family will undoubtedly incur lots of expenses from medical needs, family travel needs, and other needs related to his care and recovery in a place so far away from home!
I apologize for not having blogged about the situation sooner - for me, it truly points to the unique caring of individuals combined with the awesome capacity of our online community to mobilize support quickly. I spent much of the past few days in correspondence with Cassandra's family and rallying the troops to prayer. The response was swift and humbling. Offers of shelter for the family in Galveston, of meals, of "boots on the ground" support and most of all prayers. The Archbishop Fulton Sheen Foundation, Bishop Jenky and Msgr. Stanley Deptula have Venerable Sheen devotees around the country praying and offering Masses. Father Robert Reed of CatholicTV has invoked prayers from his nationwide audience. And so many of you begin and end your days with prayers for Fulton and his whole family.
One of the most stunning and reaffirming signs I had this week was a late Wednesday night call from a Catholic woman named Diane, living in Galveston. A "two degree of separation" friend of mine on Facebook had notified her of the situation. Diane jumped off the bus from her commute home from work, headed straight to Shriner's Hospital, and was waiting on the ground when Cassandra and Fulton arrived in Galveston. Diane doesn't know this family, but she was there to offer hugs, emotional support and to pray with Cassandra as Fulton was checked into the hospital that will be his home for the next six months.
At the moment, along with praying for this family, the most important thing we can do is to help them raise needed funds that will see them through the next several months. A funding page has been established at www.GiveForward.com/PrayForFulton. Today, on our friend Matt's Swaim's #FundingFriday, I am asking you to make a donation to this cause to aid the Poppe family and to ease their burdens. The funds that are being raised are likely only a drop in the bucket of what the family will need, but they send a strong sign that we are here for one another when it matters most. Please prayerfully consider a small donation today!
About the Author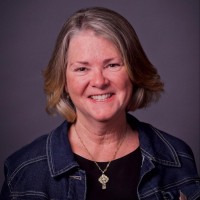 Lisa M. Hendey is the founder of CatholicMom.com, a bestselling author and an international speaker. A frequent radio and television guest, Hendey travels internationally giving workshops on faith, family, and communications. Visit Lisa at LisaHendey.com or on social media @LisaHendey for information on her speaking schedule or to invite her to visit your group, parish, school or organization. Visit Lisa's author page on Amazon.com.