This is the day that the Lord has made. Let us rejoice and be glad in it. Psalm 118:24
The alarm went off at 4:50 just like every morning and I slapped it off the nightstand trying to turn it off. That meant I had to get out of bed immediately so it would stop its annoying beeping before it woke my husband up. I stumbled to the kitchen to make coffee and discovered I was out of filters…amazing what you can do with a paper towel! Then I went to the shower only to discover after becoming all wet and drippy that the shampoo bottle was empty. Luckily my prayer time was free of any disaster. After prayers, I went into the bathroom to finish getting ready for the day and proceeded to drop my toothbrush into the toilet, and my open lipstick onto the bathroom rug, leaving a spot of lovely "dusty wine" for all to see. I moved onto lunch packing. (Yes, the Wohlferts are all big enough to pack their own, but I pray for each of them while I pack their lunch so it's a good trade off) Somehow I managed to put mustard on a peanut butter sandwich and grape jelly on ham. Thank goodness I caught that before the bags left the house! I wrapped up my morning in the house by dropping my peanut butter toast gooey side down on the kitchen floor. As I made my way to the garage, I realized someone had left the garage door open and the barn cats had made a visit to the house and had a feast on the goodies found in the torn open the bag of garbage. As I flew to the end of the driveway, I nearly barreled into a milk truck. I slammed on the brakes in the nick of time spilling my coffee all over my jacket.
I drove down the road thinking…ok God…this is the day you made? You need a do-over on this one! The longer I drove; the more I thought about the past two hours and my response shifted from pout and pity to pure, belly deep, tearful laughter! I couldn't believe one morning could have so many hiccups! My morning had been like a comic strip of disaster but the second half of this verse from Psalm 118 says rejoice and be glad in it! I decided when I got to school; I'd make a quick stop at the church to ask God if we couldn't come to some kind of agreement about the rest of the day. While I sat there in the silence of our beautiful church, I realized it was probably me who needed the do-over. I had been distracted that morning and my prayers were more of a laundry list of favors and complaints than sincere conversation. I began to realize as I slowed down a minute, He had used the events of the morning to draw me closer. He was teaching…He just had to get creative to get my attention! I walked into my classroom with a broad smile ready to start over. When I said hello to the first little lovely who walked through my door, she smiled and said, "I'm so glad when I woke up today it was a school day." Now there is something to be glad about! That was my sign that the Lord really had made that day and that in spite of lipstick stains on the rug, toothbrushes swirling in the toilet and the coffee stain on my jacket, I had WAY more to be glad and rejoice about than to be pouty and grumpy about. He had my full attention for the remainder of the day!
A seed to plant: Make this verse a part of your morning prayers. If you begin each day looking for the stuff to be glad and rejoice about, the rest of it seems easier to swallow.
Copyright 2013 Sheri Wohlfert
About the Author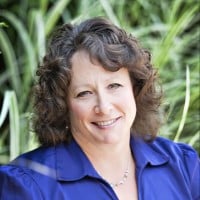 Sheri is a Catholic wife, mom, speaker and teacher. She uses her great sense of humor and her deep faith to help others discover the joy of being a child of God. Her roots are in Kansas but her home is in Michigan. The mission of her ministry is to encourage others to look at the simple ways we can all find God doing amazing things smack dab in the middle of the laundry, ball games, farm chores and the hundred other things we manage to cram into a day. Sheri also writes at JoyfulWords.org.