I have been a reading machine in the last few weeks, and I gotta be honest: I love it. Who needs the internet when you have great books all around you?
Oh wait. What did I just say? :)
Under "Current Reads," I'm only sharing the newest in the pile of books I'm reading. It's getting a little out of control, but I will admit: reading 8 books at a time isn't nearly as scary as it sounds. A few of them are audiobooks that come to me through podcast feeds. And I have other times when I read the other books...I keep something going on my Kindle at all times, because it's what fits in my purse more easily.
And, in case you wonder about my rating system with the stars, I took some time to explain it (or at least begin the conversation about it) this week at my blog.
Recent Reads
Flight of the Earls (Book 1, Heirs of Ireland), by Michael K. Reynolds (B&H Books, 2012, Fiction)
My rating: 3 out of 5 stars
I really enjoyed this book! If you like historical fiction, give this a try. It wasn't the best writing or reading I've done--which is why it got 3 instead of 4 or 5 stars--but I still recommend it. My full review is here.
Moments with God: Turn Waiting into Praying, by Jacquelyn Graham (Liguori Publications, 2012)
My rating: 5 out of 5 stars
This is the kind of book I end up dog-earing and carrying around and internalizing. The concept behind it is pretty simple: take those moments when you're either playing on your phone or twiddling your thumb and turn to God. But what this book gives you is a toolbox, a way to actually do that. And it's beautiful. The writing is straightforward, yet also poetic. It speaks to the busy we all experience and transforms the "busy of waiting" into a time of great blessing. I'll be sharing this book with many others--their own copy, of course. I can't possibly part with MY copy!
Prayers, Promises, and Devotions for the Holy Souls in Purgatory, by Susan Tassone (Our Sunday Visitor, 2012)
My rating: 5 out of 5 stars
This book gave me a greater appreciation for the souls in Purgatory and the devotion to them. It includes explanations and a treasure chest of devotions, prayers, and practices. Within this book, you'll find age-old wisdom and teachings right beside current writings from saints in the last few decades. It's a book you'll want to share and highlight and use over and over. Highly recommended.
Cultivating God's Garden through Lent, by Margaret Rose Realy (Patheos Press, 2013)
My rating: 5 out of 5 stars
This book is pure gift. Margaret Rose Realy weaves her experience as a gardener into a book that you are sure to cherish and enjoy. As a farm girl myself, I appreciated the practicality and couldn't help but relate all the way through. Though I read it all at once--NOT how it's intended!--I do plan to use this book through Lent at the pace it's designed for. I'm sure, as I do, that I'll look around myself in greater appreciation for the world around me and God's deep love for me. Highly, highly recommended.
Current Reads
Love & Salt: A Spiritual Friendship Shared in Letters, by Amy Andrews & Jessica Mesmith Griffith (Loyola Press, 2013)
I'm so enjoying this book: it's like eavesdropping on two friends! In a series of letters over the course of a few years, you travel through a few Lents and conversion between two women. I'm not very far in, but they already have voices in my head as I read their letters. A great read so far.
Living the Beatitudes: A Journey to Life in Christ, by J. Brian Bransfield (Pauline Books & Media, 2011)
I wasn't intending to read this book right now, but in another devotional, I came across the Beatitudes, and there was a question for reflection along the lines of, "Am I taking time to really reflect on and live the Beatitudes? How can I do it more deeply?" This book came to mind, and though I've read only the introduction so far, I can already tell that this book is going to be a wonderful journey.
The Naked Now: Learning to See as the Mystics See, by Richard Rohr (Crossroad Publishing, 2009)
I'm reading this book because my editor recommended it. I think highly of this particular editor, and we're talking about a writing project. I'm planning to whip through it this week. We'll see. I'm a bit leery of this book, but I trust my editor.
New to My Review Shelf
TITLE, by AUTHOR (PUB, YEAR, GENRE NOTE)
Choosing Joy: The Secret of Living a Fully Christian Life, by Dan Lord (Our Sunday Visitor, 2012)
I've heard some great things about this book and it was all I could do not to just dig into it the minute it arrived. Check out the description:
What is joy? Ask ten different people and you'll get ten different answers.

Yet if you asked:

a man who grew up fatherless and destitute in the slums of Atlanta

a young widow who decided to bring a neglected garden back to life in spite of agonizing physical pain and a deeply wounded spirit

or author Dan Lord himself, ex-frontman for a popular indie rock band

each would point to the one source of their joy: Jesus.

They made the choice for joy, against all odds, and so can you, though the obstacles might seem insurmountable. Worry and anxiety, pain and suffering, the daily grind--all these and more can block your path. When faced with such challenges, is it possible to get past the barriers, let go, and experience God's joy?

When you look around, you might wonder-although joy is a fruit of the Spirit, it doesn't seem to be hanging visibly from many Christian boughs. Choosing Joy aims to change that-and change your life in the process-as it helps you discover the key to this most attractive but seemingly elusive gift.

Choosing Joy, will help you overcome the obstacles and focus your heart, mind and strength on God so that you can receive the happiness and peace that the world cannot give.
New Evangelization: Passing on the Catholic Faith Today, by Cardinal Donald Wuerl (Our Sunday Visitor, 2013)
I can't wait to dive into this book, I gotta tell ya. Here's what the description says:
For the first time since the term New Evangelization was coined by Blessed John Paul II, 250 bishops from all over the world were called to Rome by Pope Benedict XVI to discuss it, define it, and determine what it really means to Catholics today. In an exclusive first-hand summary of the three-week Synod, the leader of the gathering, Cardinal Donald Wuerl, provides a succinct, specific and tactical roadmap for where Catholics and parishes and dioceses go from here, including:

What's the point? The three most important priorities of the New Evangelization

What am I up against? The three isms that get in the way of sharing and growing the Faith

What do I do? How to galvanize people around one simple truth of the Gospel message

Where it all began: The four theological foundations of the New Evangelization

Learning from the best: The four characteristics of great evangelizers

In addition to personal and group reflection questions at the end of every chapter, Wuerl also shares his own personal faith sharing experiences with non-Catholics and Catholics alike and how the insight he gained shaped his own view of the New Evangelization. A must-read for all parish communities.
The Psalms: Gateway to Prayer, by Jeanne Kun (The Word Among Us Press, 2013)
I love the Psalms for many reasons, and this book looks like it will be a great companion for me. Here's what the back cover says:
For nearly three thousand years, men and women from diverse lands and cultures have been lifting their hearts to God by praying and singing the Psalms. This illuminating Bible study shows us why these beautiful and timeless songs have such universal appeal. As we learn how to make the words of the ancient psalmists our own, the psalms become our gateway to deeper prayer.
What have YOU been reading lately?
*Are you on Goodreads? Well, then, I'll see you there!
Be sure to check out our Book Notes archive.
Copyright 2013, Sarah Reinhard
About the Author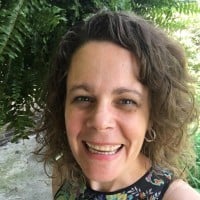 When she's not chasing kids, chugging coffee, or juggling work, Sarah Reinhard's usually trying to stay up read just one…more…chapter. She writes and works in the midst of rural farm life with little ones underfoot. She is part of the team for the award-winning Catholic Mom's Prayer Companion, as well as the author of a number of books. You can join her for a weekday take on Catholic life by subscribing to Three Shots and follow her writing at Snoring Scholar.