Let the little children come to me…Matthew 19:14
This is the first scripture verse the first graders learn when they come to St. Mary's school. They learn a new one each week but this is the one that reminds me that I am so lucky to be a Catholic School teacher. I get to point them to Jesus because He whispers "come to me!" The kids learn they are Jesus' favorite and He hears their prayers first! They find that powerful knowledge and then we spend the rest of the year learning how to pray and live taking full advantage of that knowledge.
The first graders quickly understand that the most important lesson we focus on happens over and over and over again… how to get to heaven! We learn how to read. The Children's Bible quickly becomes a favorite book and being able to read it independently is not a benchmark but a landmark! We learn to count and add…blessings as well as numbers. We learn to write the words that tell our stories and prayers that share and teach God's story at work in each of us. We learn about important people to imitate called Saints. We learn that some things in this world are completely amazing… like how frogs use their big eyes to swallow their food and how chicks have just enough room, food and air inside an egg to last exactly the 21 days it will take them to hatch. We learn that stuff like that can only be explained by the statement… "Only GOD could think of that!" We realize every single day that we don't do the same things the same way as everyone else and that's something to celebrate because that's the way God planned it.
At the tender age of 6 or 7 we learn that being part of a community is far more important than being independent. We learn that when we join together in prayer we have awesome power through Jesus. We learn that when we pray for others we become less selfish and when we see God working through our prayers we learn what it means to be humbly thankful. We pray for all kinds of things; lost dogs, sick guinea pigs, sad hearts, bodies that are sick and hurt and friends and family on their way to join Jesus and the Communion of Saints. Through prayer we connect to people we don't even know like Roxane from North Dakota, Rosalie from Kansas, Lisa from California and little Fulton from Arkansas. We don't know their faces but we know they need our prayers so we join them in their most intimate place…their hearts, through our simple prayers for them each day. We feel the power of community as we join together each week for Mass and Eucharistic Adoration. We don't understand all the words and their deep meaning in first grade, but we see how they affect the bigger kids and we look forward to knowing and understanding more.
One of the great parts of first grade is show-and-tell. The kids beam with pride as they show their treasure and often times call upon the Holy Spirit as they work hard to overcome the nerves from public speaking and each time it reminds me of my greatest blessings. Every day is like Catholic show-and tell for me. Every day I'm lucky enough to walk through the front door of St. Mary Catholic School I get to do show-and-tell for my Creator. I get to weave His amazing love and wonder into each and every thing I do! I get to see those little lovelies through His eyes and teach them how to see each other the same way. I get to discipline by quoting loving words from scripture and bless children with Holy Water and prayers on difficult days. I get to demonstrate how virtues in action are more powerful than any words ever spoken. I get to show and tell my little lovelies what Christ's mercy, forgiveness and grace looks like. I get to see them progress from "Are we 'gonna pray again?" in September to "We should put that on our prayer list." in November to "I wanna go to Adoration and maybe hear God's voice like a whisper in my ear!" in January. How lucky I am that God trusted me with this job and how lucky I am that He lets me come back day after day to try and get it right!
How lucky I am to work with the AMAZING staff at our school. How lucky I am to be led by a principal who is a prayerful, peaceful and faithful man. How lucky I am to have a wonderful pastor who leads and loves our school. How lucky I am to teach in a community that is grateful and supportive. How lucky I am to teach in the Diocese of Lansing led by a Bishop who bubbles over with Christ's joy! How lucky I am to have a Superintendent and Assistant Superintendent who are grace-filled, enthusiastic men dedicated to helping us ignite the fire of Christ's love in each of our students. At this point in my writing I can hardly stop the tears of humble joy rolling down my cheeks…that's how lucky I feel to be a part of Catholic education! That's why I KNOW I am the luckiest woman drawing breath! Thank you God!
Copyright 2013 Sheri Wohlfert
About the Author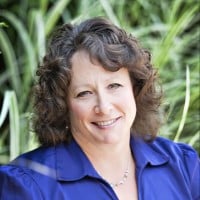 Sheri is a Catholic wife, mom, speaker and teacher. She uses her great sense of humor and her deep faith to help others discover the joy of being a child of God. Her roots are in Kansas but her home is in Michigan. The mission of her ministry is to encourage others to look at the simple ways we can all find God doing amazing things smack dab in the middle of the laundry, ball games, farm chores and the hundred other things we manage to cram into a day. Sheri also writes at JoyfulWords.org.