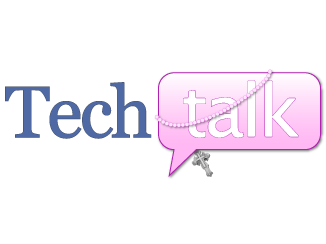 Are you looking for a convenient way to spruce up your prayer life this Lent? I am.
As a church musician, this time of year gets positively frenetic for me; Christmas has nothing on Holy Week. And the time leading up to it can be deadly to my prayer life if I'm not vigilant. This year, we have even more happening because my first grandchild is due on Holy Saturday! With all this going on, it helps to have reminders and something I won't leave on my nightstand to gather dust.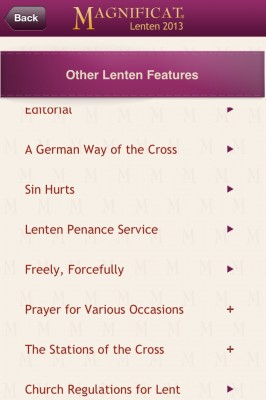 That's why I love The Magnificat Lenten Companion 2013 App for iPhone.
I loved the Magnificat Advent Companion and the Lenten App is just as solid. As with all other things Magnificat Books produces, this app is beautiful and packed with extra value.
In addition to all of the daily prayers and reflections, there is an alarm function to remind you to say your prayers. I especially love this, because I just get so scattered by Week Four that I forget all about my plans to pray more without a reminder.
The Lenten App includes a Lenten Penance Service which is also good reading, even on your own, while preparing for Confession. There are prayers for the Adoration Vigil on Holy Thursday Night, The Stations of the Cross, and poetry, as well as recordings of six beautiful seasonal chants and a special article on two beautiful pieces of classical music that speak to the meaning of Lent.
My favorite reflection is "A German Way of the Cross in Music" by James Monti. In it, Monti points to the Bach's beautiful "St. Matthew Passion" and Wagner's "Parsifal" as additional ways to reflect on the passion of Christ during Lent. Though he admits that neither composer was Catholic, the themes of suffering, sacrifice and redemption are present and are beautifully crafted to bring the Sacrifice of Christ on Calvary to mind in a unique way. I must admit I quirked an eyebrow at the "Parsifal" reference, but in the end, I found his conclusions fascinating. I may have to just take a listen this Lent.
The only trouble I have had with this app is that sometimes the screen for "Other Lenten Features" will stick when it's half-loaded. I have found that if I back out and come back to it, the page usually loads up fine the next time. Also, the first time you open the app after installing it, be prepared to wait for up to 10 minutes for the content to download. It's well worth the wait, but if you don't know about it, it could make you wonder if you installed it correctly.
The Magnificat Lenten Companion is a great (and inexpensive, at 99-cents) way to add more prayer to your Lenten sacrifices anywhere you happen to be. Since I happen to be just *everywhere* during Lent, this app is going to be getting lots of use.
Read more of our Tech Talk columns.
Copyright 2013 Katie O'Keefe
About the Author