I don't know why, but I've had a hankering for anything grilled lately. Hot dogs are fine, but so are veggies and burgers and chicken and corn. I'm even learning to do some grilling of my own this summer and my cooking may never be the same.
In order to avoid having my dinner turn into charred bits of carbon fit only for my "burned is right" mother-in-law, I have to stay by the grill. Which brings me to this week's book talk... :)
Recent Reads
Do No Harm: A Novel, by Fiorella de Maria (Ignatius Press, 2013)
My rating: 5 out of 5 stars
A powerful and amazing story that was gripping and well-told. I'm going to be doing a lengthy review later this week. Bottom line: awesome book, highly recommended, read it.
Current Reads
How Far Is It to Bethlehem: The Plays and Poetry of Frances Chesterton, compiled & edited by Nancy Carpentier Brown (CreateSpace, 2012, Collection)
I put this down for a few months and have found it just as delightful in the picking-back-up as it was originally. I've finished the first half, which was the plays, and I'm on to the poetry, which cannot be read quickly, I'm finding.
Lumen Fidei, by Pope Francis
I meant to whip through this right after it came out. But...well, weekend life was not conducive to holing up and I have a bunch of other books I'm reading and I'm enjoying a bit of a slower reading.
Francis: Man of Prayer, by Mario Escobar (Thomas Nelson, 2013)
I'm a sucker for Pope Francis reading, and this landed in my lap and I'm enjoying it immensely.
Waking Up Catholic: A Guide to Catholic Beliefs for Converts, Reverts, and Anyone Becoming Catholic, by Chad Torgerson (Assisi Media, 2013)
This is a good, straightforward book. It's a quick read (I would have had it done if I hadn't gotten distracted by the pope reading...) and well-done.
A Hero for the People, by Arthur Powers (Press 53, 2013)
I wouldn't have picked this up if a friend hadn't asked me to, but after reading only one chapter, I'm already hooked. Imagine your favorite storyteller sitting down with you and sharing about their adventures. That's what the first chapter felt like. Good stuff.
Unwind, by Neal Shusterman (Simon & Schuster, 2009, fiction young adult)
This was required reading for my niece's 7th grade English class. She told me a few months ago that I *HAD* to read it, and after she told me a bit about it, I agreed. I picked it up BEFORE those other books turned into "read right now" reads...but I will be whipping through it for sure. Here's what the back cover:
In America after the Second Civil War, the Pro-Choice and Pro-Life armies came to an agreement: The Bill of Life states that human life may not be touched from the moment of conception until a child reaches the age of thirteen. Between the ages of thirteen and eighteen, however, a parent may choose to retroactively get rid of a child through a process called "unwinding." Unwinding ensures that the child's life doesn't "technically" end by transplanting all the organs in the child's body to various recipients. Now a common and accepted practice in society, troublesome or unwanted teens are able to easily be unwound.
New to My Review Shelf
Today, three books that I was delighted to see, books I didn't even know I wanted to read until they showed up in all their review copy glory.
Imagine going on a tour of a world-class art museum with a talented and insightful curator. But instead of just focusing on the history, technique, and cultural significance of each piece, you have the opportunity to reflect on the spiritual aspects of the works, examining their religious significance and concentrating on the transcendental meaning conveyed by the artist. This is what you'll find in these exquisitely produced books.

They each feature 15 pieces of art relating to Mary, the saints, and Christmas (depending on the title), with an extended reflection on each piece. The commentary is meditative, more reflection on the spiritual nature of the paintings' subject than art critique. Sister Wendy writes with the deft hand of one who is formed in spirituality, art, and critical thinking. Her imagery is lush, creating a landscape where the sacred and profane live in comfortable coexistence through the medium of painting. For spiritual seekers and lovers of art, these books will offer a unique journey into the experiential nature of a well-rounded faith.
I'm looking forward to spending some time with each of them.
What have YOU been reading lately?
*Are you on Goodreads? I'll see you there!
Curious about what my ratings mean? Here's an explanation of what the stars mean to me.
Be sure to check out our Book Notes archive.
Copyright 2013, Sarah Reinhard
About the Author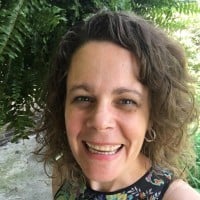 When she's not chasing kids, chugging coffee, or juggling work, Sarah Reinhard's usually trying to stay up read just one…more…chapter. She writes and works in the midst of rural farm life with little ones underfoot. She is part of the team for the award-winning Catholic Mom's Prayer Companion, as well as the author of a number of books. You can join her for a weekday take on Catholic life by subscribing to Three Shots and follow her writing at Snoring Scholar.