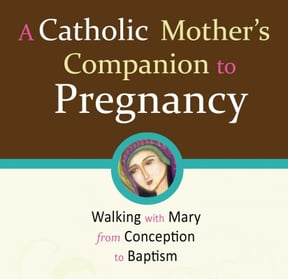 Today's book note is six months overdue. A few weeks ago, my partner in crime Sarah Reinhard and I figured out that I had never formally reviewed her masterpiece, A Catholic Mother's Companion to Pregnancy: Walking with Mary from Conception to Baptism. Doubting that such an oversight could be true, I scoured the pages of CatholicMom.com. Sure enough, while I found Sarah's awesome Nook Contest Rosary posts at the launch of the book and a terrific review of it by Patti Maguire Armstrong, my only words on it seem to be a post telling you without pulling any punches to "go buy it" when it launched.
Some of you may look at the title of Sarah's book at think, "That's not for me. I'm too old (or too young, or too male, or too religious) to read a book with the word "Pregnancy" in the title. I'm here to tell you firsthand that you're wrong.
Four years ago, I was treated successfully for early stage breast cancer. A side effect of part of my treatment was an immediate transition out of fertility and into menopause. This took me from being a woman who hoped and dreamed for an additional pregnancy every month for well over a decade, to being someone for whom the potential of giving birth was no longer a possibility. I was devastated. Even though it was clear that there was a medical issue that likely created a period of extended infertility in our marriage, Greg and I always held out hope that some "miracle baby" (preferably a little girl) might one day grace our lives. Alas, that was not to be.
So when I tell you that Sarah's blessing, A Catholic Mother's Companion to Pregnancy, is not simply for pregnant women, I know what I'm talking about. Read this book, and you will learn not only more about the gifts of family, marriage and faith, but you will also strengthen the relationships in your life: with your spouse, your children (and those yet to grace you), your friends and community, and especially with the Church, our Blessed Mother, and the God who loves us so infinitely that He knows the perfect plans for our lives (even when we don't!)
In a very short time, Sarah will be inviting each of you to take part in one of the most exciting projects that CatholicMom.com has ever undertaken. I won't "spill the beans" on that just yet, but I want to urge you now to give the gift of A Catholic Mother's Companion to Pregnancy to yourselves and your loved ones today. Yes, buy it for a friend who's expecting or who recently gave birth. But also buy a copy for you -- this book is a perfect companion for the season of Lent! With 44 chapters that are so good you want to keep reading, you'll have the perfect daily devotional to tie you closer to your devotional life this Lenten season.
And yes, stay tuned for Sarah's invitation to be involved in something truly special -- a gift of life -- in the days to come!
Order A Catholic Mother's Companion to Pregnancy and support CatholicMom.com with your purchase
Be sure to check out our Book Notes archive.
Copyright 2013 Lisa M. Hendey
About the Author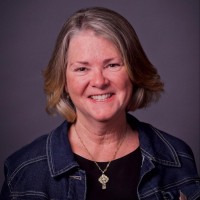 Lisa M. Hendey is the founder of CatholicMom.com, a bestselling author and an international speaker. A frequent radio and television guest, Hendey travels internationally giving workshops on faith, family, and communications. Visit Lisa at LisaHendey.com or on social media @LisaHendey for information on her speaking schedule or to invite her to visit your group, parish, school or organization. Visit Lisa's author page on Amazon.com.