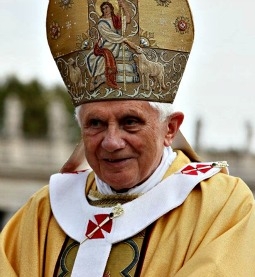 Dear Friends,
Astounding news has been announced from Rome this morning. Our dear Holy Father, Pope Benedict XVI has announced his resignation as Bishop of Rome, Successor of Peter, as of February 28, 2013. Pope Benedict XVI is citing his advanced age and resulting physical frailty as the reason for his decision. I've included the link, below, to the National Catholic Register article about the announcement, which includes the full text of his statement.
For myself, I have mixed emotions. Since I use a vast amount of papal writings in my work, I often browse the various addresses that our Holy Fathers give to their audiences. Often, there's a beautiful nugget of truth buried in what might seem to be merely a few kind words to a particular group or organization.
Over the past year or so, I've noticed how Pope Benedict XVI's addresses have become shorter and shorter and also seem to have decreased in number as well as length. Certainly, I'm not a papal expert, but I did have to wonder – Is he struggling to keep up? And so, I'd pray harder for him, and watch, and wait…
Upon hearing the announcement, my first reaction was that there must have been pressure on him to resign from others in the Church. For Pete's sake, I wondered to myself, Who would ever want to give up on the Papacy? That was a naive, knee-jerk reaction, I know.
After reading the Holy Father's statement, I am in awe at his profound humility. The fact that he can see in himself, for himself, that he no longer can physically give to the office what it requires, and that he can so humbly admit that to the entire world, touches me deeply. How many of us would go to our bosses and say, "Boss, I'm getting more frail and am not able to carry on my duties as well as they should be. Someone in better physical condition could do better, and I want what's best for the company, so, here's my resignation." Could you do that? I'm not so sure I could.
The Holy Father's statement touches me for another reason. It is perfectly clear to me that Pope Benedict XVI is not stepping down because he can't handle the Church, but rather the Church can't handle him. What I mean is, the Pope's statement makes it obvious that he cares more about the Church, and what's best for her, than he does for himself. He doesn't whimper about it all being too much for him; he states consciously and bravely that he wants to step back so that someone of greater physical stamina can give Holy Mother Church what she needs and deserves. He's being more realistic and rational about his own shortcomings than I think most of us could be. Or, at least more than I could be.
February 28 is coming up fast, and as it approaches, I'll be praying and sacrificing for our Holy Father, as he takes the necessary steps for letting go and looking forward. I'll be praying and sacrificing for those now imbued with the arduous task of filling his shoes – the shoes of St. Peter. They'll need the help and guidance of the Holy Spirit! I'll be praying and sacrificing for the Church, too, as we say goodbye to a loving, intelligent, and insightful Pope who has led us through the turmoil and persecutions of the past eight years. Pope Benedict XVI has passed on to all of us a laudable example and vast storehouse of wisdom, and for that we must be grateful and ever-mindful.
The Church again is facing a moment of uncertainty and change. That takes confidence in God's power and wisdom. It is his Church, and he will lead us onward if we place our tiny little child-hands into his strong, powerful, and kind Father-hands. Here's the prayer I'll be saying from today until our new Holy Father is installed and situated in the chair of St. Peter. It's from a prayer formed by Fr. Joseph Kentenich, founder of the Apostolic Movement of Schoenstatt, and I invite you to say it along with me each day – or at any time of your life that you need to remind yourself that God does indeed have a perfect Master Plan for each of us, all of us.
You know the way for me,
You know the time.
Into your hands, I trustingly place mine.
Your plan is perfect, born of perfect love.
Your know the way for me, that is enough. Amen.
And, here's the link to the NCR story about the Pope's resignation: http://www.ncregister.com/daily-news/pope-benedict-xvi-to-step-down-feb.-28/
Copyright 2013 Marge Fenelon
About the Author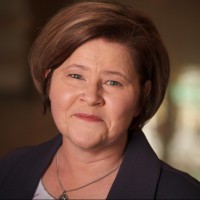 Marge Steinhage Fenelon is a wife, mother, award-winning author and journalist, retreat leader, internationally-know speaker, podcaster, and Catholic media personality. She's author of the best-selling Our Lady, Undoer of Knots: A Living Novena, award-winning My Queen, My Mother: A Marian Pilgrimage Across America, Forgiving Mother: A Marian Novena of Healing and Peace and other books on Marian devotion and Catholic spirituality. Learn more at MargeFenelon.com.