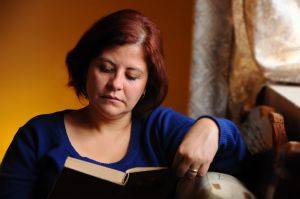 In need of a retreat? Consider attending "A Taste of God's Grace". This Catholic Women's day retreat will feature renown Catholic writer, speaker and EWTN host, Donna-Marie Cooper O'Boyle, and Catholic author and CatholicMom.com contributor, Allison Gingras.
The retreat will be held at the Holiday Inn, Danbury/Bethel, Ct. from 9 - 4 on Saturday, March 23rd. Call 508-243-1133 or visit www.reconciledtoyou.com to register or for more information.
Donna-Marie Cooper O'Boyle
Donna-Marie Cooper O'Boyle is an award-winning author and journalist, speaker, and the EWTN television host of Everyday Blessings for Catholic Moms, which she created. A Catholic wife and mother of five, Donna-Marie was noted as one of the Top Ten Most Fascinating Catholics in 2009 by Faith & Family Live. She enjoyed a decade-long friendship with Blessed Mother Teresa of Calcutta. For many years her spiritual director was Servant of God John A. Hardon, S.J., who also served as one of Mother Teresa's spiritual directors.
Donna-Marie was invited by the Holy See in 2008 to participate in an international congress for women at the Vatican to mark the twentieth anniversary of the apostolic letter Mulieris Dignitatem (On the Dignity and Vocation of Women). She received apostolic blessings from Blessed Pope John Paul II and Pope Benedict XVI on her books and work and a special blessing from Pope John Paul II for her work with Blessed Mother Teresa.
Donna-Marie is the author of numerous books on faith and family, including Catholic Prayer Book for Mothers, The Heart of Motherhood, Catholic Saints Prayer Book, A Catholic Woman's Book of Prayers, Bringing Lent Home with Mother Teresa, Mother Teresa and Me: Ten Years of Friendship, Prayerfully Expecting: A Nine Month Novena for Mother's To Be (with a foreword by Mother Teresa), Embracing Motherhood, Grace Café, Rooted in Love: Our Calling as Catholic Women, My Confirmation Book, Catholic Mom's Café, and The Domestic Church: Room by Room. She has been featured by Zenit news and Rome Reports, and is a frequent guest on EWTN's Bookmark, Faith & Culture, and Vatican Insider. Watch for Donna-Marie's new upcoming EWTN television show, "Catholic Mom's Café." Learn more at: www.donnacooperoboyle.com
Allison Gingras
Catholic writer and inspirational speaker. Her newest book, "Three Persons, One God: Growing in Relationship with Father, Son and Holy Spirit" encourages readers to discover God in a whole new, deeper way. This book is perfect for individual or small group study, to celebrate the Year of Faith declared by Pope Benedict XVI.
Allison founded Reconciled To You (RTY), in 2009, which seeks to awaken our response to God's abounding gift of Grace by cultivating a Sacramental life. RTY produces many retreats (for men, women and teens) on the themes of Forgiveness, Trust, Answering Our Yes to God, and Living an Authentic Catholic Life.
Allison contributes a bi-weekly to TechTalk on Catholicmom.com - reviewing Android Apps and Technologies as they relate to the Catholic Faith. Her newest project is called, 'Our Yes To God', the book tells the amazing story of the adoption of her deaf daughter from China, a story that brings testimony to the power of God's Grace in an ordinary life!
To learn more about Allison, and Reconciled To You ministries, visit www.reconciledtoyou.com
Call 508-243-1133 or visit www.reconciledtoyou.com to register or for more information.
About the Author