Ahhhhh, we're into the first REAL week of Lent. Bring on the sackcloth! Break out the ashes! Let me embrace the pain and suffering!
Except...uh...it doesn't feel so bad this year. Should I feel guilty? Naaaahhhhh.
And I'm sure I'm tempting the Lent Fates, if there is such a thing (perhaps distant cousins of the Poop Fates?). Even so, I'm going to enjoy the reading I'm doing (I suspect I'll polish off at least two books in the coming week--I got caught reading a lot of internet last week, thanks to Papa).
Recent Reads
Living the Beatitudes: A Journey to Life in Christ, by J. Brian Bransfield (Pauline Books & Media, 2011)
My rating: 5 out of 5 stars
I loved this book. Love, love, LOVED it. And, in case you missed it, here's my full review of it.

Current Reads
Jesus of Nazareth: From the Baptism in the Jordan to to the Transfiguration, by Pope Benedict XVI (Ignatius Press, 2008)
This is my Lenten reading. And...it is good. It gives me the distinct feeling of curling up beside a grandfather and listening to him explain patiently deep and complicated concepts using beautiful language. I'm not sure I'm understanding everything, but I sure am enjoying it. It has made the last few Lenten mornings decidedly full.
Refuse to Do Nothing: Finding Your Power to Abolish Modern-Day Slavery, by Shayne Moore and Kimberly McOwen Yim (IVP Books, 2012)
This book may just change my life. I'll be posting a full review later this week, but I can already barely restrain myself from doing constant online research and taking more action. I'm holding myself in check because of the already crazy week I have ahead of me. But barely in check. This book is powerfully written and very, very real. I could easily hold the idea of modern-day slavery at arms' length, but this author duo is made up of moms just like me (and maybe you). I suspect this is going to be one of those books I shove off on everyone I know.
Manalive, by G.K. Chesterton (originally published in 1912, fiction) (available free as an e-book)
My fiction book club must be LOVING me right about now, because this was my pick this month. I'm really liking this book, but I don't think I'd call it light reading (though I'm pretty early in it). Chesterton is always a wordsmith, but he crafts his phrases and sentences and descriptions in ways we just aren't used to nowadays. For example, my summary of the first chapter: there was a strong wind, a neighborhood with an unlikely name, and some people who were connected in surprising ways. His language is fun, though, and just as I love Dickens, I can't help but love Chesterton's fiction. I'm glad I picked it, but I'll bet I will be ducking tomatoes next week at our book club get-together...
New to My Review Shelf
Winning the Discipline Debates: Dr. Ray Coaches Parents to Make Discipline Less Frequent, Less Frustrating, and More Consistent, by Ray Guarendi (Servant Books, 2013)
Here we have a book that is well-timed, because of my own parenting needs. According to the blurb:
Winning the Discipline Debates covers a series of the most common (and most frustrating) discipline scenarios between parents and kids. Written in a script format, dialogue between the characters is interspersed with Dr. Ray's comments and observations, and each scene ends with a summary and discipline ideas from Dr. Ray. As a father of ten (with his children's ages ranging from twelve through twenty-four), clinical psychologist, public speaker, and national radio host, families have literally been Dr. Ray's life. Learn, laugh, and let Dr. Ray coach you to stand strong and become a more confident parent. Some of the debates covered in the book include: A child who is wide awake and a mom who just wants to get some sleep A grandmother who interferes with a dad's discipline—and a child who suffers because of it Parents who argue in front of their kids—a lose/lose situation A mom who struggles to enforce the consequences she's decided upon Two siblings who are fighting and a mom who tries to sort things out From preschool to the late teen years, Dr. Ray coaches parents on how to make discipline less wordy, less frequent, less frustrating—and more definite. With Dr. Ray as your coach, everyone wins!
Random MOMents of Grace: Experiencing God in the Adventures of Motherhood, by Ginny Kubitz Moyer (Loyola Press, 2013)
I won't be able to put this one off for long, I promise. I love CatholicMom.com contributor Ginny Moyer's writing and have been following her blog for years. Here's what I have to look forward to with this one:
Before Ginny Kubitz Moyer became a mother, she spent a lot of quiet time with God. But the moment she became a mom, those deeply meaningful times of serenity all but disappeared, raising a critical question: How do you maintain an active spirituality when your life is consumed by the nonstop mayhem of motherhood? In Random MOMents of Grace, Moyer helps mothers realize that their spiritual lives don't have to stagnate even though most of their time is now spent in a world of play dates and playgrounds. In fact, Moyer contends that all that wiping of noses and reading of bedtime stories can lead to some pretty amazing spiritual growth. For any mom wondering if it's possible to be fully engaged in the lives of her children without sacrificing her spirituality, Random MOMents of Grace offers a definitive "yes" as it shows moms how to see God's grace at work in even the silliest, messiest, and most frustrating moments of motherhood.
Diary of a Country Mother: A Year Remembering Tim, by Cynthia A. Montanaro (Roman Catholic Books, 2013)
From the blurb:
A mother's worst fear: the death of her child. Cindy Montanaro lived that nightmare when her adopted son Tim died in 2005. Some months later she started a year-long journey of prayer, meditation and writing. "I envisioned an extended period of time in which to record, before memory failed me, all of the little humorous and profound incidents that made up my son Tim's short life."

Meet Tim. An outgoing boy with a big smile and an even bigger heart, a boy with an infectious sense of wonder and enthusiasm. Adopted by Cindy and Andy Montanaro in 1989, he was diagnosed at a young age with physical and mental disabilities. His life brought joy and happiness to his parents and family; but always there was the shadow of his mental illness. "I think of Tim and the clear brightness of his moments of insight that would suddenly burst forth in blazing glory," writes Cindy, "only to be overshadowed quickly by the grim reality of his mental disorder."

With faith, tenderness, and humor, Cindy Montanaro's deft hand brings to life the delight and tragedy of Tim's time on earth. Tim saw Christ's image in everyone he met, not with a conscious vision, but with the instinct of the heart.
What have YOU been reading lately?
*Are you on Goodreads? I'll see you there!
Curious about what my ratings mean? Here's an explanation of what the stars mean to me.
Be sure to check out our Book Notes archive.
Copyright 2013, Sarah Reinhard
About the Author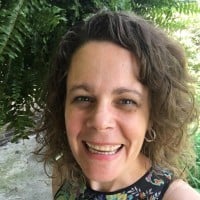 When she's not chasing kids, chugging coffee, or juggling work, Sarah Reinhard's usually trying to stay up read just one…more…chapter. She writes and works in the midst of rural farm life with little ones underfoot. She is part of the team for the award-winning Catholic Mom's Prayer Companion, as well as the author of a number of books. You can join her for a weekday take on Catholic life by subscribing to Three Shots and follow her writing at Snoring Scholar.