It's a good thing that, though some of the books on my review shelf are gathering dust, they are still there, waiting patiently. I thought I would go through and dig through some of the titles I have been looking forward to reading and share them here.
The Complete Thinker: The Marvelous Mind of G.K. Chesterton, by Dale Ahlquist (Ignatius Press, 2012)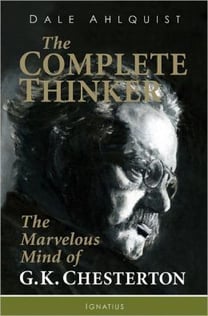 My pick for my fiction book club this month was Manalive, by Chesterton. And though we all struggled with it, we all walked away shaking our heads too. Was Chesterton brilliant? Or just really messed up? I have read other books by Ahlquist, and I love how he helps me understand Chesterton and appreciate him better. On my own, I get about, oh, 30% of what's going on with anything Chesterton does, usually at the "I'm entertained" level. Keeping myself stocked with Ahlquist keeps me prepared for those times when I actually do pick up a Chesterton book, be it fiction or theology or essay.
See if this synopsis doesn't entice you:
What does it mean to be a "complete thinker"? It means being able to take on a wide variety of ideas and disciplines and put them all together in a way that they work together. It means thinking like G.K. Chesterton.

The English author G.K. Chesterton (1874-1936) was one of the most prolific and well-known writers of his time, and one of the most widely quoted in our own. For newspapers and magazines, he wrote social commentary, literary criticism, and poetry with poignancy and wit. Creator of the beloved detective Father Brown, Chesterton also wrote novels and short stories.

"Thinking", wrote Chesterton, "means connecting things." His ideas are not only connected to each other, they are also connected to us, showing that the thought of Chesterton is timeless. In a world of increasing specialization, Chesterton connects us to the big picture by helping us see how the many and varied elements within our experience fit together. He sheds light on almost every subject and opens doors from one thing to another with dazzling clarity.

Drawing on literally hundreds of references from Chesterton's vast writings, Dale Ahlquist conducts a symphony, with Chesterton playing all the instruments in perfect harmony.

Chesterton's thoughts on almost everything--from east to west, from old to new, from politics to economics, from Shakespeare to Dickens--are woven together to create an illuminating whole.
The Heart of Catholic Prayer: Rediscovering the Our Father and the Hail Mary, by Mark P. Shea (Our Sunday Visitor, 2012)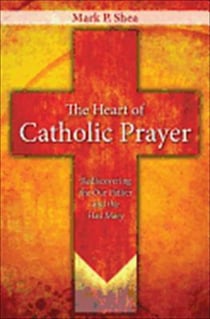 I love Shea's writing, yes I do. And I can't help but think the timing of this book is quite wonderful, because it wasn't so long ago that I examined the Hail Mary word-by-word at my blog, inspired by Jen Fulwiler's treatment of the Our Father at her blog.
The back covers says this:
It's no coincidence that the Our Father and the Hail Mary are closely intertwined in the heart of the Church. At once meditative and catechetical, The Heart of Catholic Prayer dissects these two anchors of our faith, line by line, in a journey into the heart of the Church's rich tradition of prayer, drawing us more deeply into the heart of the mystery of God's love.
Just typing that made me want to scrap everything else and start reading. Dinner's not such a necessity, is it? :)
No One Cries the Wrong Way: Seeing God through Tears, by Father Joe Kempf (Our Sunday Visitor, 2012)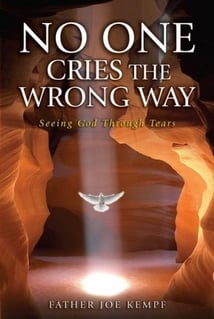 This book is on my review shelf because a friend suggested I should read it after she heard Father Kempf on the radio. I have to admit, the blurb on the back by Cardinal Timothy Dolan doesn't hurt my interest either:
Have you ever found yourself tongue-tied when encountering someone suffering, dying, or having just lost someone close, and reduced to the cliche, I really don t know what to say ? Well, people of faith should have something to say at those sacred, delicate moments. Father Kempf, with grace and sensitivity, helps us learn what to say and do in moments when our people long for a word of hope and consolation.
I hate to say I'm "interested" in grief, but it sure seems to be part of my interactions with some of my dearest friends and family members. And, I suspect, it will come down the pike directed at me soon enough.
Wrapped Up: God's Ten Gifts for Women, by Teresa Tomeo & Cheryl Dickow (Servant Books, 2012)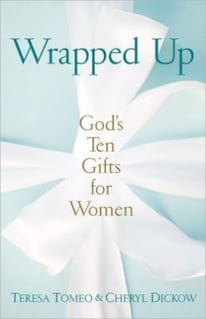 I've heard so much ABOUT this book; it's high time I buckled down and actually read it for myself. I'm a fan of both authors and I'm sure this has a message many women I know need (self included).
According to the synopsis, this book
offers a healthy alternative to the false messages women hear today. Each chapter focuses on a different gift a woman is meant to discover and unwrap, ultimately leading to peace and fulfillment. Cheryl draws from her extensive knowledge of Old Testament women to unveil life lessons found in the rich history of our faith, and Teresa uses her media expertise to reveal how to counter the cultural messages that inundate women today. Together, the authors provide a timeless and timely look at God's life-giving gifts.
I am especially intrigued to see how Tomeo's media expertise and Dickow's Old Testament knowledge flow together.
Legacy of Love: Biblical Wisdom for Parenting Teens and Young Adults, by Kimberly Hahn (Servant Books, 2011)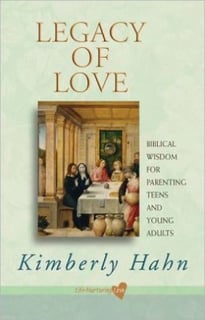 I keep thinking I don't need to read this one yet, but I love Kimberly Hahn's writing--her book Life-Giving Love was one of the first Catholic books I read, and definitely my introduction to Catholic thought on marriage, after hearing her speak at a conference. That, and I know a lot of moms of teens. And I have many other kids that age in my life.

Honestly, reading the synopsis and back cover make me think I could skip it, but I remain convinced I need to read this book. One of these days I'll dive in, and I'm sure I'll be glad I did.
YOUR TURN:
What's on YOUR to-read shelf?
Be sure to check out our Book Notes archive.
Copyright 2013, Sarah Reinhard
About the Author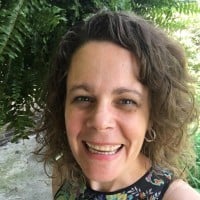 When she's not chasing kids, chugging coffee, or juggling work, Sarah Reinhard's usually trying to stay up read just one…more…chapter. She writes and works in the midst of rural farm life with little ones underfoot. She is part of the team for the award-winning Catholic Mom's Prayer Companion, as well as the author of a number of books. You can join her for a weekday take on Catholic life by subscribing to Three Shots and follow her writing at Snoring Scholar.