Today, I'm sharing a new book with you that sounds intriguing to me. I must warn you up front that I have not yet read this book, and also that it may not be a good fit for all of our readers. But since these Book Notes are intended to keep you up to date on "what's new", I thought it would be fun to share this press release about a new title with you! LMH
From the bestselling author of the cult classic Riding In Cars With Boys which was made into a major motion picture staring Drew Barrymore, comes Beverly Donofrio's ASTONISHED: A Story of Evil, Blessings, Grace, and Solace (Viking; On-Sale: March 11, 2013; ISBN: 978-0-670-02575-6; $25.95). A fiercely observed memoir about how an incident of profound violence—rape—can change one's life, and radically transform the search for faith, healing, and identity.
Six years ago, Beverly Donofrio thought she had seen it all, done it all and come to peace with her past and with her deepening spiritual practice. She was happy, and why not? Now in her mid-fifties she was living in a vibrant Mexican town where there were salsa dancing lessons, yoga classes, and friends to come enjoy a margarita in her gorgeous backyard. She still had no luck with men or romance, but she loved her life, and the birth of her grandson melted a wall she hadn't even known she'd erected around her heart. With this newfound discovery, she decided she wanted to join a monastery, where love and prayer would be the focus, and her life would have more meaning. Two weeks into a search on the internet to find a monastery that might accept a woman of late middle age with a grandchild she must visit, she shut her computer at midnight, fell asleep, and one hour later was awakened by a rapist in her bed. And life as she knew it was over, for good.
During the five-year emotional and spiritual journey of healing depicted in ASTONISHED —spent mostly in monasteries but also on visits with family—what's important comes into sharper focus as her masks, illusions, and worldly ambitions begin to crumble and fall away. She already knew that every painful, surprising, terrible experience can be an invitation to grow. Now, refusing to be a victim, practicing spiritual disciplines, meditating on fear, evil, love and grace, the horror begins to fade and be replaced by gratefulness. With a voice that's been called "tender and funny, reverent and ribald, harried and hopeful," by The Denver Post, Donofrio bares all here in this unforgettable story.
About the Author:
Beverly Donofrio's first memoir, Riding in Cars with Boys, has been translated into sixteen languages. Her second memoir, Looking for Mary, began as a documentary on NPR and was chosen as a Discover Book at Barnes & Noble. She lived for four years as a lay Carmelite at Nada Hermitage in Colorado, where she began this book.
Order ASTONISHED: A Story of Evil, Blessings, Grace, and Solace and support CatholicMom.com with your purchase
About the Author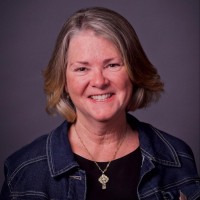 Lisa M. Hendey is the founder of CatholicMom.com, a bestselling author and an international speaker. A frequent radio and television guest, Hendey travels internationally giving workshops on faith, family, and communications. Visit Lisa at LisaHendey.com or on social media @LisaHendey for information on her speaking schedule or to invite her to visit your group, parish, school or organization. Visit Lisa's author page on Amazon.com.