Have you ever found yourself longing to read the Bible more, or maybe wanting to read it better? Do you find yourself stammering out a Bible verse but unable to cite where it came from, maybe even not quite sure what it really means? Are you unable to attend local Bible studies, whether because of other obligations or because they don't exist?
And wait, while we're asking ourselves questions like this, have you ever considered what might be holding you back? Do you have this feeling that it's time for a change? Are you ready for something that's totally beyond the "let's read the Bible together and discuss it" format?
Let me introduce you to something EXCITING!
Walking Toward Eternity: Engaging the Struggles of Your Heart, written by Jeff and Emily Cavins and available through Ascension Press, has me looking at my Bible in a whole new way and even considering studying it in a whole new way.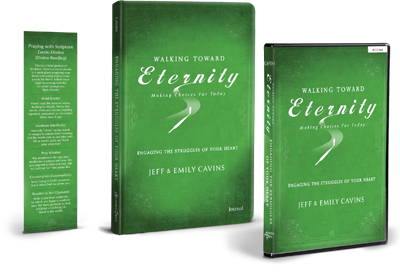 According to the press package,
Walking Toward Eternity is a Catholic adult faith formation program that seeks to help people hear God's Word to them in the prayerful reading of Scripture and to apply it, one step at a time, to real situations.
For me, the subtitle says it all: this is a Bible study about the struggles we face from within.
The topics include appetites, shame, envy, anger fear, loneliness, and hopelessness. The topics are based on "where our hearts are at, what we're struggling with in our lives," said Jeff Cavins in introductory session.
The study itself has a few different components.
There are eight two-hour group sessions, complete with a DVD presentation by Jeff Cavins. Then there is a journal that guides participants in prayerful reading for 10-15 minutes each day.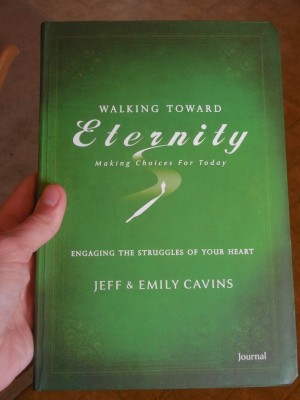 Walking Toward Eternity involves reading Scripture and interacting with it in a way that I've never seen done successfully. I've heard the theories of lectio divina, and I've attended parish Bible studies teaching it.
And I've NEVER succeeded.
I think, though, that this study might have a mixture of activities to get me into the habit of reading my Bible and engaging with it, in part because it addresses three major concerns I've had in the past with this sort of study program.
I've done these video studies before and there are a few things that turn me off:
Poor production quality.
Unengaging content.
A lack of flow.
Production quality:
I'm not good at watching most of this sort of video presentation. Maybe it's because I watch NCAA sports so much, and the commercials, whatever issues I have with the content, are impeccably produced. The production quality of these videos is top-notch.
The journal includes an outline of each DVD session, along with daily exercises. It's beautiful--no, really!--and a good size for tucking in your purse or a drawer. And it lays flat without being three-ring bound.
Dare I let on how much of a snob I can be by pointing out that the fonts are non-standard (but not weird or too artsy) and in brown ink? Really, it feels special. Like using it is important.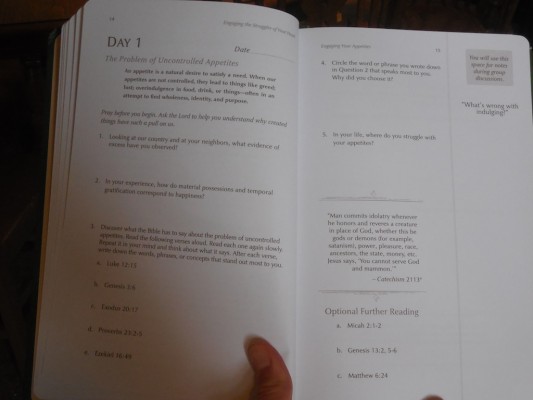 Call me crazy, but I like that. A lot.
Content engagement:
In addition to poor production quality, I also find that sometimes the presenter is, uh, boring. I could give you details and examples, but I'm guessing you don't need them.
This series, though, had none of that. Jeff Cavins is the presenter for each of these sessions and he is a stellar speaker and teacher. I was impressed with how engaging he is, even through video. He made me chuckle, he made me nod, he made me pay attention. Most importantly, he made me want to be part of this process and this study.
Flow of materials:
Call me egotistical, but there are many times that I feel like the videos that are produced for a group study are made secondarily. If you have the book for the study, you don't really need the videos. These videos and journal reading, on the other hand, complement each other. I don't feel like I could skip the video and rely completely on the journal. I don't want to skip the video.
I'm completely sold on this program.
Going through it for review did NOT replace going through it for myself and with a group. I don't say that lightly, especially as someone who often battles Sudden Eye Roll Syndrome when the phrase "group sharing" is uttered in my presence.
Highly, HIGHLY recommended. If anyone's game for trying an online version of this, let me know in the comments. Maybe we can get one going through our community here at CM.
Be sure to check out our Book Notes archive.
Copyright 2013, Sarah Reinhard
About the Author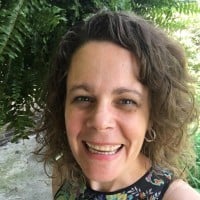 When she's not chasing kids, chugging coffee, or juggling work, Sarah Reinhard's usually trying to stay up read just one…more…chapter. She writes and works in the midst of rural farm life with little ones underfoot. She is part of the team for the award-winning Catholic Mom's Prayer Companion, as well as the author of a number of books. You can join her for a weekday take on Catholic life by subscribing to Three Shots and follow her writing at Snoring Scholar.