My first exposure to Mark Hart was when our youth ministry and director of religious education (who I'll just call "Kelly" for short) started talking about him a few years ago. I first saw Mark Hart in action last year during our summer Confirmation Boot Camp (which I co-teach), when Kelly used one of his videos as part of the lesson.
About two months ago, on Lauren Gulde's advice, I started listening to the Sunday, Sunday, Sunday podcast, which is hosted by none other than Mark Hart.
But I've still been under a bit of a rock, I'll admit it.
Consider the rock gone now and consider this an alert to the world that I am now an Official Mark Hart Fangirl, all thanks to this: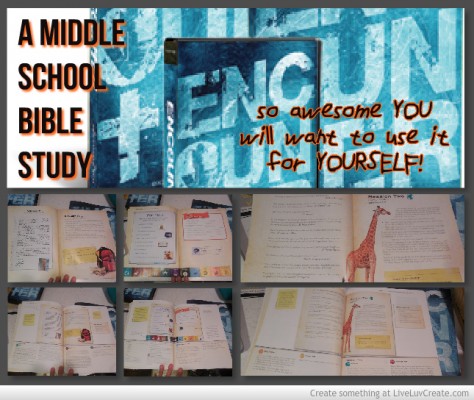 It's the Encounter, a middle school Bible study with, you guessed it, Mark Hart. Here's the synopsis:
Encounter is more than a Bible study program. It is a life-changing experience that speaks directly to the hearts and minds of middle-school-aged kids. Designed specifically for sixth to eighth graders, Encounter uses the color-coded Bible Timeline learning system to reveal the story of our Faith and God's plan for our lives. As your students are drawn into this story, they will come to a new and profound understanding of who God is. Most importantly, they will see God not as a distant doctrinal concept, but as a loving Father who desires a meaningful and lasting encounter with them.
Now, before you go all googly-eyed and think that I just haven't had enough coffee, I thought the description was over-the-top. I thought it might be, well, a tad bit of "marketing language" taken to the extreme.
And then I watched it.
It's pretty hard NOT to be excited when you're watching Mark Hart, have you ever noticed that? And I agree with him in the introduction when he points out that the reason no one else has done any Bible studies for middle schoolers is "they're scared to!" Mark Hart said to the in-studio audience, "I'm not afraid of you [middle schoolers]. I have the power of God." I about fell over from laughing--and maybe some shock. Ascension LET THIS BE RELEASED THIS WAY.
All of a sudden, I'm paying attention in a whole new way. And I think maybe Mark Hart drinks coffee that I need to get ahold of.
The in-studio crew looks totally REAL. They are BORED to begin with. I have BEEN THERE (both as a student and as a catechist). By the end…they can't help it. They are enjoying themselves.
Though it's designed for middle schoolers, I want to use it for parents.
I've been a catechist for quite a while, and in the last three or four years, I've done more with our older kids, between 5th and 8th grades, both for religious education classes and Confirmation preparation. I've also done more with adults, both through my online and writing work and in our parish.
You know what I've found? This is what adults need.
Mark Hart has energy, he's honest, and his material is impeccable.
Most of the adults in our parish don't know more than our Confirmation students. And they're hungry (though they are also about ten times as busy and have absolutely no time for anything).
These resources are as beautiful as they are useful.
For one thing, the videos are entertaining, well-produced, and packed with great information. They are worth watching and paying attention to. As a group study dropout, I don't say any of this lightly.
Even better, the workbook and leader's guide are awesome. I say that as both a catechist and a parent. I took quite a few pictures to demonstrate how they great they are (see the image above), but I'm going to spare you the play-by-play of me posting them and raving about each one. Because here's what I am still saying, page by page, "Wow! Oooo! REALLY?"
Kids now have high expectations--and why shouldn't they? A full-color workbook is expensive--I know that. It's also TOTALLY wonderful to use. Maybe it's overkill. Or maybe it's attention getting. When I try this study with actual middle schoolers, I'll have a better sense of that.
The leader's guide is also full-color, and it's also filled with a step-by-step process, as well as great tips and tricks for the leader.
I guarantee I'll be using this with some group of middle schoolers (maybe even during our Confirmation follow-up series this fall…).
Every part of this is designed for middle schoolers. (Yeah, even so, I hold to what I said before: I may try it with parents too!) From the graphics to the video presentations, this was done by people who know kids in 6th-8th grades and are striving to meet their needs.
Highly, HIGHLY recommended.
Now, pardon me, I have to start my Mark Hart Stalking Activities. :)
Be sure to check out our Book Notes archive.
Copyright 2013, Sarah Reinhard
About the Author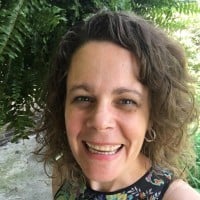 When she's not chasing kids, chugging coffee, or juggling work, Sarah Reinhard's usually trying to stay up read just one…more…chapter. She writes and works in the midst of rural farm life with little ones underfoot. She is part of the team for the award-winning Catholic Mom's Prayer Companion, as well as the author of a number of books. You can join her for a weekday take on Catholic life by subscribing to Three Shots and follow her writing at Snoring Scholar.