I have a mustard seed and I'm not afraid to use it. Pope Benedict XVI


"We all have that mustard seed and we shouldn't be afraid to use it!" (Chris Faddis) That's the message I have sitting like a brick on my heart as I type this post. This was not the post I had planned for today but as it often happens, the Holy Spirit planted something right in the middle of my radar and it just has to bubble out onto the page for all of you to read. A few days ago I had the tremendous blessing of listening to Chris Faddis tell the story of his wife and his life with her. Chris's 32 year old wife Angela, his bride of 6 short years and mother of two young children died of cancer. Theirs is a story of surrender, trust and a gorgeous "living color" example of Jesus' parable of the mustard seed. If you want to give your faith a "million volt jump start" go to YouTube and check out their journey…I promise you will be changed! Chris's book It is Well: Life in the Storm, will be available in early May. Head over to www.itiswellbook.com and prepare to be inspired and pre-order a copy!
God and His amazing timing are a wonder to behold. Last Wednesday I learned that Chris (a guy I had never heard of) was coming to the area to speak. It caught my attention because the person who arranged it is a woman of great faith and I took her invitation to heart. I asked Dave and Shannon to clear the afternoon and go with me not thinking much more about it. Less than 24 hours later, I learned that my Aunt Mary's cancer had been re-diagnosed as stage four, inoperable and I was drawn to my knees. Aunt Mary is my mom's sister and she is the bearer of one of the sweetest, kindest most loving hearts God ever put in a body! She has loved and mothered me and my children for all the years my mom has been gone. She is amazing and her thoughtful, giving spirit has touched more people than any of us would ever be able to count. As I struggled to sort it out and surrender it, out of nowhere comes this message of hope and trust from a man named Chris. I have so many things to share with her…I've never wanted to shrink those 800 miles between us so badly…or at least shrink the cost of the airfare to get there! I suppose that is part of the lesson in trust and surrender too.
We don't really like to talk about the tough topics like suffering and death; if we're being honest, most of us fear them! Chris said something today that made so much sense. He said life on this earth is barely even the batter compared to what's to come…the masterful cake God will create. He said, "This life is really nothing more than some flour and eggs thrown together in a bowl, compared to our life in eternity with Christ." Wow…talk about a vivid and powerful image! In a world full of yucky news and negative attitudes, this message of hope and trust was a blessing to all of us parked in the pews. How long has it been since you've done something to feed your soul something hopeful and inspiring? It's a great way to let the love of God rush into your heart and do some good work. Chris is working hard to get the book and the story out not to make a buck…but to allow Jesus to make a difference. He's trying to spread the message of trust his wife so beautifully illustrated in her life and in her death. I encourage you to check out his message and I invite you to pray for Chris and his family as he sets out to use his mustard seed. While I'm requesting prayers, please say some for my Aunt Mary, a beautiful, faithful soul in need of God's peace and blessings.
A Seed to Plant: Use your mustard seed…do something this week to purposefully increase your faith. Read something, watch something, read Scripture…anything for your mustard seed!
Blessings on your day!
Copyright 2013 Sheri Wohlfert
About the Author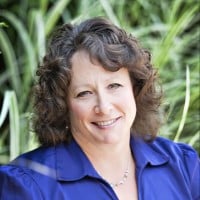 Sheri is a Catholic wife, mom, speaker and teacher. She uses her great sense of humor and her deep faith to help others discover the joy of being a child of God. Her roots are in Kansas but her home is in Michigan. The mission of her ministry is to encourage others to look at the simple ways we can all find God doing amazing things smack dab in the middle of the laundry, ball games, farm chores and the hundred other things we manage to cram into a day. Sheri also writes at JoyfulWords.org.