The first part of this year has seen a quite amazing batch of books coming my way. And since I may not be the only one trying to come up with a few great Mother's Day ideas, I thought I'd share links to a few of these newly-released books and (not always) brief reviews.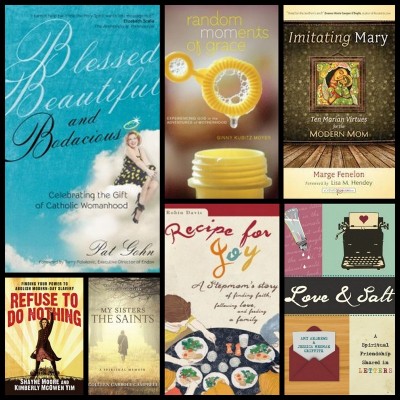 The mom in your life is sure to love any of these books, and your purchase through our links supports the work we do here.
These are listed alphabetically by title, in case you were wondering. :)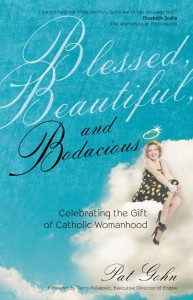 Blessed, Beautiful, and Bodacioius: Celebrating the Gift of Catholic Womanhood, by Pat Gohn (Ave Maria Press, 2013)
I can tell you already that one of the books on my "Best of 2013″ list is the newly released brilliance in B by Pat Gohn, Blessed, Beautiful, and Bodacious: Celebrating the Gift of Catholic Womanhood. Pat has a streak of sassy New England, and she also has a swash of practical Midwestern. She's studied and she's lived. And it's all there, in a title that makes me smile every time I see it.
This book makes a big promise: it has a sort of all-encompassing premise that could really fall flat. I mean, how many of us celebrate cramps or hot flashes or pains in various parts of our bodies? And put the word Catholic in there and there's a whole separate set of gripes I could point out.
Modern thinking meets Church teaching, written by the woman who's pouring you coffee and pulling out her stash of chocolate to share. Gohn doesn't shy away from the tough issues: she faces them squarely and just takes 'em on.
At the end of each chapter, in a way that's so approachable and real that even I couldn't roll my eyes, Gohn gives the world an inside look at her devotion.
And it's blessed, beautiful, and bodacious.
Truly, the title of this book doesn't just describe Pat's vision of what Catholic womanhood is and should be—Blessed, Beautiful, and Bodacious describes the book itself. It's a blessing to read, beautifully executed, and bodacious all around. I won't be surprised when it becomes a Catholic bestseller for the way it so easily shares so much information so well. I won't be surprised when I give it as a gift to people who already have it, because it's that good. If you don't have a copy, don't wait.
Think of it this way: you'll read it and love it and leave notes in the margins. Then you'll share it with your best friend, who won't be able to give it back because her sister will need to read it.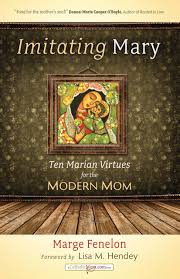 Imitating Mary: Ten Marian Virtues for the Modern Mom, by Marge Fenelon (Ave Maria Press, 2013)
For so many people, she's inaccessible. It's something I find again and again as I write and speak and ponder this woman who changed the course of humanity.
You may call her Blessed Mother or Virgin Mary. You may call her Mama or you might just call her Mary. Whatever you call her and wherever you see her, from your garden to your church, from your daily life to your deeper devotion, there's a new book you should consider a must-read: Imitating Mary: Ten Marian Virtues for the Modern Mom, by Marge Fenelon.
What Fenelon has done isn't so remarkable, really. The market is saturated with books on mothering, books on Mary, and books that are lists of things. What this book has that no other book I've found has is all of that together: Mary, mothering, and lists.
Did I mention that it's written in an accessible and down-to-earth style? Within these pages, you won't be able to help growing closer to Mary…she will breathe from the pages and take shape before you.
The virtues highlighted throughout the book aren't things that I think I'm naturally good at; they're definitely things I need to improve. I'm glad I read it before I got caught up in thinking about how far I had to go: each chapter inspired me and made me think more deeply about how very much Mary wants to help me personally, ME.
Throughout the ten chapters of this book, Marge Fenelon makes the Virgin Mary into a real person without subtracting from any of the Blessed Mother's amazing qualities. Mary becomes a model—not of a distant figure from thousands of years ago, but of a mom like you and me who wants to walk beside us.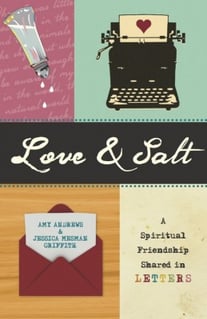 Love & Salt: A Spiritual Friendship Shared in Letters, by Amy Andrews & Jessica Mesmith Griffith (Loyola Press, 2013)
To have a friend who leads you closer to God is nothing short of a gift. I have one such friend. After reading Love & Salt: A Spiritual Friendship Shared in Letters, I realized that, though I'm a writer, I don't write this dear friend of mine nearly enough.
There's something personal about letters–they're not dashed off like email, short like a text, or rambling like a phone call. They remain, full of their original words, to be reread and cherished and, if they're lucky, saved.
In Love & Salt, we have three years distilled into a few hundred pages and at least a hundred letters (no, I'm not counting). It felt like glimpsing into a personal time capsule, one filled with memories and shared laughter and honest experience.
This book is sincere in the most beautiful expression of that word. You read a part of the two women's souls, share their smiles and their tears, feel yourself wrenched along lives filled with questions.
They are questions I've asked myself. They are pains I have also borne. They are tears I have shared with others.
I have no doubt that, a year from now, I will still be raving about this book. It is one of the best examples of "spiritual memoir" I have ever read, told in conversation and by real people. Except…did I mention that I'm not such a fan of memoirs? Yeah, I should probably mention that. I'm not. But this is…well, it's more than memoir. It's an almost voyeuristic look into how a friendship developed and grew into more than simply two women who liked each other. They became sisters in Christ in the very best, most ideal sense of that phrase.
This book reads like real life. In some ways, it's what I love about blogs and find so rarely in books: the honesty, the bare emotion, the hilarity mixed in. It's truly a cocktail of love and salt, roses and thorns, sugar and spice.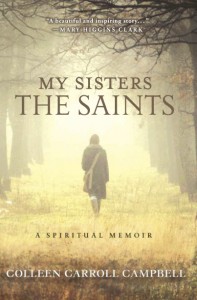 My Sisters the Saints: A Spiritual Memoir, by Colleen Carroll Campbell (Image Books, 2012)
I'm always a little scared, lately, when I agree to read something that is either biography or memoir. Though they can be well-done (and often are), they can also represent a genre that, well, sends me packing and screaming and launching a book across the room.
I was unable, though, to turn down the chance to read Colleen Carroll Campbell's new book, My Sisters the Saints: A Spiritual Memoir. And then, about halfway through, I was unable to put it down.
Bottom line: GREAT BOOK.
This was truly a look inside, and dare I say there was even a plot? I loved how there was a story woven throughout, and that the stitches of the story were some of my favorite saints.
In no way does Campbell give in to the temptation just to tell us about the saints in a long "we could find that on Google" lecture. She does not reduce the saints to her own take on them, either.
Within this book is some of the best writing I've seen and a style that captivated even me, an admitted non-biography/memoir-reader.
This is a book that documents an ongoing conversion in a way that I found engaging and thought-provoking. I caught myself marking passages and shaking my head.
I also found myself with tears running down my face. Campbell's struggles with her own conversion and understanding, with her father's declining health, and with her infertility were shared intimately in this book. It took some kind of courage to write the way she did throughout this book, and it was a light to me. After I finished the book, I wanted to email her words of encouragement, and I couldn't help praying for her.
And isn't that the beauty of a good book like this? It not only makes a stranger into someone we feel like we might know, it also brings us closer to some truths about ourselves. And, in the case of this book, it draws closer the communion of saints and the beauty of our Christianity.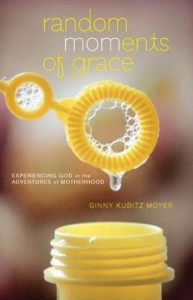 Random MOMents of Grace: Experiencing God in the Adventures of Motherhood, by Ginny Kubitz Moyer (Loyola Press, 2013)
Some books are good reading, but when you're done with them, you shelve them, let them collect dust, and eventually give them away to an unsuspecting thrift store bargain shopper.
Some books are good reading, and when you're done, you rave about them on your blog, shelve them, let them collect dust, and eventually give them away to an unsuspecting giveaway winner.
Some books are good reading and no matter what, YOU DO NOT EVEN LEND YOUR COPY TO ANYONE. You know you're going to be referencing those folded-down pages, tapping into the insight and wisdom that brought a dusting to your eyes, searching for a shoulder to lean on between the cover.
Some books are such good reading that they're almost "blankie" books.
Ginny Kubitz Moyer has written one such book with her latest release, Random MOMents of Grace: Experiencing God in the Adventures of Motherhood.
Moyer writes with the voice of experience and the insight of appreciating what she has. She doesn't sugarcoat things and yet she taps into the beauty of motherhood. She's sappy without being sickening, funny without being overbearing, wise without being unreachable.
After reading this book, I was left feeling encouraged by a sister-in-arms. It's a book I'll be sharing, for sure, and I'll also be re-reading. Because you know what? All moms deserve this sort of reading every once in a while.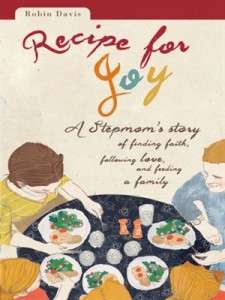 Recipe for Joy: A Stepmom's Story of Finding Faith, Following Love, and Feeding a Family, by Robin Davis (Loyola Press, 2013)
Recipe for Joy: A Stepmom's Story of Finding Faith, Following Love, and Feeding a Family looked interesting, but I'll be honest: I almost didn't read it. There are a number of reasons why, but none of them are as huge as the feeling of "Wow, I am SO GLAD I read that!" that I felt late on Saturday night, with the whole house asleep, as tears streamed down my face and I closed the back cover.
This was great read that makes me consider that maybe I do like memoirs when they're told as expertly and entertainingly and heart-wrenchingly as this one.
Did I mention there are some recipes? That I felt nearly motivated to try?* And that the author is practically my neighbor? (I found out that last bit quite by accident. She doesn't know I know that yet. Shhhhh…she's still safe…for a little while longer…)
The book's arranged in courses, beginning with a toast and continuing to appetizer, soup, salad, bread, main course, and ending with dessert. At the end of each chapter, which are beautifully written and not, in fact, forced in any way, there is a relevant recipe. By the time you're done with the book, you have a full meal. And it looks like one my family may even eat.
Davis was never going to get married or have children, and the surprise and delight she has found in both of those vocations seeps through her descriptions and writing. But don't think that they're sappy or irrelevant to you.
I'm not spoiling anything to tell you that yes, she did marry Ken. She embarked on something for which she felt ill-equipped, and as I turned the pages, I couldn't help but nod. A lot.
Robin Davis, under the guise of a memoir, shares a beautiful story of conversion and ongoing trust in God. She bares an intimate part of herself, shares recipes, and poetically makes you love and hate and interact with her experiences.
I found this to be a book that plumbed my heart in ways few books have. It spoke to me as a daughter, to me as a mother, to me as a fellow woman. Davis dives into her story and doesn't slow down. I could sum it up in one sentence (and some of the synopses I've seen do just that), and yet the gift within these pages is found in the love that's within the very core of the story itself.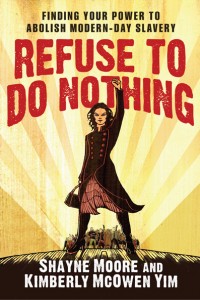 Refuse to Do Nothing: Finding Your Power to Abolish Modern-Day Slavery, by Shayne Moore and Kimberly McOwen Yim (IVP Books, 2012)
Despite the fact that I regularly whip through books, I could not whip through this one. I found myself choked up after chapters, and the image of those young girls from Taken, the ones who were part of the prostitution ring and were drugged into submission.
I pictured the children who didn't know a better life, who couldn't imagine hope.
And, more than anything, I pictured these two ordinary moms changing the world, one small step at a time.
This isn't an easy topic. I actually haven't talked much to the people around me about its content because…well, not only is it uncomfortable, but I just about need to reread the book to feel confident about it.
And the problem is so stinkin huge, what difference can Imake from my home here in central Ohio?
I love how Moore and Yim begin the book by writing at length about the abolition of slavery in the United States. That initiative was carried by women, believe it or not, and specifically Christian women. Without the women–who controlled what was purchased, who kept the prayers going, who never ever gave up–we may still have legal slaves here in the U.S.
This book is a must-read for you, no matter who you are. You need to know what you know (and what you don't know).
Within its pages, Refuse to Do Nothing inspires both hope and action in readers. At the end of each chapter there are discussion questions, and see if you can read them without thinking (maybe for hours afterward, maybe with some actual discussion with the poor spouse who looks over at you while tears are streaming down your face). There are also action items at the end of each chapter–add the hotlines to your phone, sign up for email updates, tell a friend, watch a movie–that are neither overwhelming nor impossible.
I told more than one friend that this book has probably changed my life. And you know what? I'm not really happy about that. I was pretty happy with the way things were.
But conversion is ongoing, and social justice is something we are called to, especially as Christians. There are very real, very tangible, very actionable things we can do–starting with our prayers and with how we spend our money.
Back when I was in corporate America there was a saying about money talking and something else walking. We can make our money say a lot of things, and this book gives us real ways to make that happen.
Don't sit still. Don't click away without resolving to read this book.
It won't be easy. I promise that.
Like me, you may even be sorta sorry you read it.
Until, that is, the image of those girls in Europe comes to mind…and then, the thought of abolishing the modern-day slavery that is here all around us, even in the United States, even in central Ohio, will light a fire under you and leave you unable to sit still any longer.
Be sure to check out our Book Notes archive and, while you're at it, stop on over and visit the lovely Jen at Conversion Diary, whose Quick Takes are always entertaining, enlightening, and educational.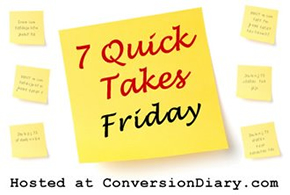 Copyright 2013, Sarah Reinhard
About the Author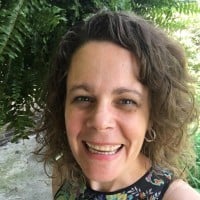 When she's not chasing kids, chugging coffee, or juggling work, Sarah Reinhard's usually trying to stay up read just one…more…chapter. She writes and works in the midst of rural farm life with little ones underfoot. She is part of the team for the award-winning Catholic Mom's Prayer Companion, as well as the author of a number of books. You can join her for a weekday take on Catholic life by subscribing to Three Shots and follow her writing at Snoring Scholar.