There are signs of spring here in Ohio, despite the fact that I'm still wearing hoodies and wool socks. As the days lengthen and the sun begins to be more a part of our days, I can't help but curl up in a patch of sun with a book.
After I've fed the kid and done my OTHER WORK, that is. OF COURSE. (You didn't think I was just dropping everything to READ, DID YOU?) (On the other hand, DON'T ANSWER THAT.)
Recent Reads
Manalive, by G.K. Chesterton (originally published in 1912, fiction) (available free as an e-book)
My rating: 5 of 5 stars
This was a book club pick (I wrote about our last few novels last week at my blog), and I really enjoyed it. Though I fight a lingering feeling of "I'm not smart enough for Chesterton," I continue to delight in his writing. Even when I feel like I'm missing something. Even when it's hard. Even when it dangles and seems to crawl and then seems to leap without any sense.
This book was really eye-opening in some ways. It made me think...what would life be like if we opened our eyes and appreciated it? If we delighted in every moment? If we looked at those we are most familiar with as though they were brand-new to us?
There's a lot to be said for this book, and whether you are intimidated by GKC or just hesitant to commit, let me recommend this as a book worthy of both your time and your reflection.
Mission Libertad, by Lizette M. Lantigua (Pauline Books & Media, 2012, YA fiction) - 5 stars
My rating: 5 of 5 stars
This book has been languishing on my review shelf, and I'm so glad I finally read it! I can think of a few adventure-minded girls and at least a boy or two who will really enjoy it. In fact, come to think of it, I can think of a mom or three who will delight in this (it's a fast read if you're an adult!).
It's about Luisito, whose family has immigrated to the U.S. in 1979 from Cuba on a raft. There's intrigue and faith and some good lessons (but they're not shoved down your throat, don't worry!). Highly recommended for the middle grade reader in your life (or, hey, even for you!).
Current Reads
My Sisters the Saints: A Spiritual Memoir, by Colleen Carroll Campbell (Image Books, 2012)
I have realized, over the years, that I'm not such a fan of memoirs. So when I said yes to this one, I was sort of wrinkle-faced about it. I'm a bit of a fan of Campbell's, but...well. I have my own memoir, in my head, and I'm not sure I'm always open to reading others. It's not my favorite genre by a long shot. But I like the saints, and I have a special devotion to all but one of the saints she notes. So I thought I'd like it.
I'm glad I agreed to read it, and as I write this, I'm still in the early chapters (2, I think). The story's one I relate to (I didn't see that coming, honestly), and the way the saints have been woven in is both natural and informative. So far, so good.
Frozen Footprints, by Therese Heckenkemp (Tumblar House, 2012, fiction)
I didn't mean to start reading this novel, especially not when I have SO! MUCH! ELSE! to read. But there I was, trapped in a situation with only my Kindle and this book was next up to read. What was a girl to do?
Yes, I did start reading it. And then I had to remind myself once I was home that I wasn't allowed just to hole myself up in the bathroom or the bedroom or, really, anywhere, and read. So far, it's good. Engaging. And I want to keep reading it. I suspect I will be bribing myself with "you get a chapter if you scrub the kitchen floor, feed the kids lunch, and write three things" before long...
33 Days to Morning Glory, by Fr. Michael Gaitley (Marian Press, 2011)
I've read this before, and it was only last year, which speaks to the quality of the writing and the quality of the material within this book. It's sinking in a bit more this time around, and I caught myself using Maximilian Kolbe's equation, W + w = S (explained below), in a discussion with my pastor.
If you're curious, W = God's will; w = our will; S = sanctity. The equation is meant to show that when our will is combined with God's will, we will achieve sanctity.
Jesus of Nazareth: From the Baptism in the Jordan to to the Transfiguration, by Pope Benedict XVI (Ignatius Press, 2008)
I feel like I'm limping along on this book, in part because I find myself with a suddenly heavy review reading requirement. I'm trying to read a little bit each day, or a big chunk once every few days. I continue to love the writing, and to find it accessible, and to just love B16 even more as I wonder and wander. I think when (if?) I'm done with this one, I'll definitely pick up the first book of the three Jesus books.
New to My Review Shelf
Totally Catholic! A Catechism for Kids and Their Parents and Teachers, by Mary Kathleen Glavich, SND (Pauline Books & Media, 2013)
I am so excited about this little gem that I wrote to Pauline and asked for it when I caught wind of it a few weeks ago. And when it arrived in my mailbox, I was SOOOOO proud of myself for not dropping everything and just diving into it. Soon, though. Verrrrrry soon. It's just about a guaranteed purchase for a few catechist friends of mine and I suspect once our DRE catches wind of it, there will be parish purchases...
Here's a bit about it:
Are you looking for a way to accessibly communicate the faith to your kids, but are at a loss for words? Is your older child preparing for receiving the sacraments, but needs to catch-up on their religious education? Do you want to brush up on your knowledge and grow in your faith, especially in celebration of the Year of Faith?

In this comprehensive resource for faith formation, children ages 9-12 and the grown-ups in their lives are provided with child-appropriate, helpful, and theologically-correct language to explain the faith…from A to Z! Whether you are a parent, grandparent, teacher, or catechist, this guidebook of all things totally Catholicoffers you an exciting way to share and pass on the faith!

Drawing from the Catechism of the Catholic Church and using 'hip' terminology and acronyms such as "BTW" and "VIP," content is presented in a way that reaches out to young people-and even to adults looking for an accessible window into the faith. Analogies illuminate difficult concepts, bolded key terms are defined, and a pronunciation aid accompanies more advanced language. Clip art style illustrations and call-out boxes present the faith in a fun way.

From Bible stories, to the sacraments, to Church hierarchy, to the fruits of the Holy Spirit, this resource covers all bases. It also responds to contemporary societal issues such as abortion, euthanasia, and homosexuality, along with issues that kids might directly deal with in their day-to-day lives such as cheating, plagiarism, and gossip.

Containing extensive information on what Catholics believe and how they live as members within the community of believers, this manual not only equips you with knowledge of the faith, but also encourages you to engage in it.
Rock-Bottom Blessings: Discovering God's Abundance When All Seems Lost, by Karen Beattie (Loyola Press, 2013)
I am curious enough about this book that it made my review shelf, as opposed to my giveaway pile. Here's what Amazon has to say about it:
What does it mean to live an abundant life? Some might say living abundantly means living comfortably, having the family you always dreamed of, receiving accolades from your peers, in short—living a life that is commonly accepted by many as blessed. But what if having an abundant life is morethan the "good life"? Can we actually be blessed in the midst of serious disappointments and setbacks?

In Rock-Bottom Blessings, Karen Beattie makes the case that true abundance is found in the transformation that happens when we experience God's presence during periods of grief, loss, and disappointment. With the help of her friends and her newfound Catholic faith, she learns to trust that God's plan is better than hers. Beattie began to see life's challenges as gifts to be accepted like all other gifts: with reverence and gratitude.

Beattie's story makes abundantly clear: it is the suffering, death, and resurrection of Christ (the paschal mystery) that can inspire us not only to find blessings in every season of our lives, but to be utterly transformed by God's riches.
What have YOU been reading lately?
*Are you on Goodreads? I'll see you there!
Curious about what my ratings mean? Here's an explanation of what the stars mean to me.
Be sure to check out our Book Notes archive.
Copyright 2013, Sarah Reinhard
About the Author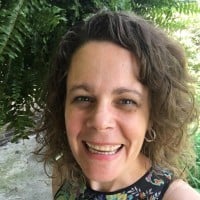 When she's not chasing kids, chugging coffee, or juggling work, Sarah Reinhard's usually trying to stay up read just one…more…chapter. She writes and works in the midst of rural farm life with little ones underfoot. She is part of the team for the award-winning Catholic Mom's Prayer Companion, as well as the author of a number of books. You can join her for a weekday take on Catholic life by subscribing to Three Shots and follow her writing at Snoring Scholar.