If the thought of a book about Eucharistic Adoration makes you feel guilty, sleepy, overwhelmed or uncomfortable, prepare to have your mind changed. That's what happened to me when I picked up 21 Ways to Worship: A Guide to Eucharistic Adoration by best-selling author Vinny Flynn.
It's probably a big, fat, sinful faux pas for for me to admit it, but I have suffered over the years from a bit of a guilt complex when it comes to the topic of Eucharistic Adoration.
My parish is blessed with a lovely 24 hour adoration chapel where I can luxuriate in Christ's true presence, but I've declined to commit to a regularly-scheduled hour because of my sporadic travel schedule. For that reason, I don't have access to the "key" that unlocks our chapel (sadly, secured because of prior acts of desecration). So my visits to that chapel are less frequent than I'd like. I've hesitated to "pop in" unscheduled in the past year, because I can rarely commit to an entire "holy hour". Instead, I frequently visit a nearby chapel where I can make a visit to an unlocked chapel during the day, pray in Christ's presence and move in and out quietly without disrupting other adorers.
OK, enough of "true confessions of Catholic Mom". And enter Vinny Flynn's amazing book 21 Ways to Worship: A Guide to Eucharistic Adoration. From it's bright purple cover to its amazingly inviting tone, this is the book that will smash your previously held misconceptions of Adoration. Vinny's tone is fun, inviting, and actually infectious. His sharing of his own personal experiences will have you nodding, smiling, and feeling less guilty than perhaps you've felt in the past. Adoration is a gift -- indeed the greatest gift we can receive -- and Vinny is the friend who wants to hold your hand and lead you to its riches.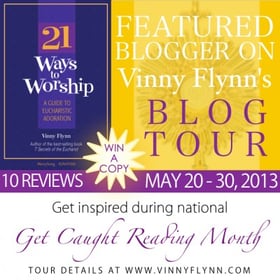 My favorite chapter in this book is joyfully called, "Please don't snore!" In it, Vinny Flynn addresses the concern that so many moms share on the fear that once they finally find two minutes to quietly pray, they run the risk of falling asleep. Vinny reminds us how we would feel if one of our beloved children slept (or worked, or played) lovingly in our presence -- how filled with joy our hearts would be at the mere pleasure of their presence. And doesn't God, our Father, desire the very same of you and I?
21 Ways to Worship: A Guide to Eucharistic Adoration is the perfect companion for those of us who need a reminder that we are "good enough" -- just as we are -- to deserve time in the presence of the God who loves us so greatly. If you've been away from Adoration for some reason, this book will be your faithful companion as you journey home. If you are already in the practice of praying in the presence of the Eucharist regularly, you too will benefit from Flynn's work. There's truly something for everyone between the covers of this book.
I'm pleased to be a small part of Vinny Flynn's ongoing blog tour. To read what others are saying about this book, visit the rest of the tour.
Known internationally as the best-selling author of 7 Secrets of the Eucharist, 21 Ways to Worship, and as the man who sings the Divine Mercy Chaplet on EWTN, Vinny Flynn is also a popular speaker at parish missions, conferences, and retreats. Formerly the Executive Editor at the Marian Helpers Center and General Manager of Divine Mercy International, Vinny is one of the foremost experts on the message of The Divine Mercy and is now the Executive Director of MercySong Ministries of Healing. His relatable style and his powerful teachings on the Sacraments, Our Lady, Divine Mercy, and the Father's love have been called "Healing" "Uplifting" and "Life-changing. Visit him at www.VinnyFlynn.com.
Order 21 Ways to Worship: A Guide to Eucharistic Adoration and support CatholicMom.com with your purchase
Be sure to check out our Book Notes archive.
Want to win a free copy of 21 Ways To Worship? Simply leave a comment below by midnight (Pacific time) on Monday, May 26, 2013. One winner randomly selected.
Copyright 2013 Lisa M. Hendey
About the Author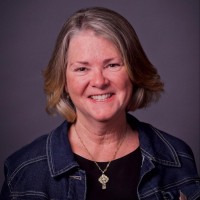 Lisa M. Hendey is the founder of CatholicMom.com, a bestselling author and an international speaker. A frequent radio and television guest, Hendey travels internationally giving workshops on faith, family, and communications. Visit Lisa at LisaHendey.com or on social media @LisaHendey for information on her speaking schedule or to invite her to visit your group, parish, school or organization. Visit Lisa's author page on Amazon.com.