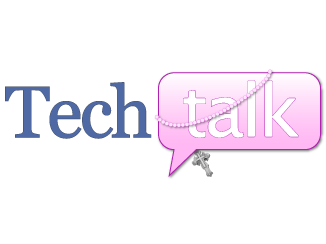 1 cup of red Kool-Aid + 1 toddler boy chewing the lid + 1 iPad in front of him = certain destruction for Mom's prayer time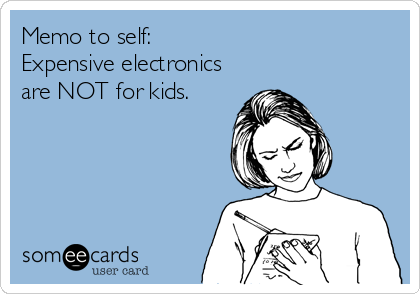 I should have seen it coming. I should have prevented it. I shouldn't be surprised that it happened.
I thought there was hope after the rice routine and then leaving it sit a day or two...but guess what? IT WON'T TURN ON. And that means I've had to change my prayer routine...BIG TIME.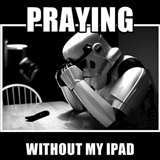 I don't think I fully appreciated just how critical my iPad was to me actually praying until now. When I first got it, I called it my iPad prayer book. Over the years, it has become my go-to tool for prayer.
And now? I'm floundering. I don't want to turn on my laptop to access Divine Office, because then I'll be open to the distractions of the interwebs. (I know myself.) Many of the apps I use on my iPad aren't available any other way.
Sometimes it's good to have something shake up your routine. I can't help but think of a passage I read recently in Elizabeth Scalia's new book, Strange Gods: Unmasking the Idols in Everyday Life:
And yet, in those rare moments when we find ourselves alone and the gadgetry silent, we feel we are at a loss. With nothing to distract us, we come face to face with a keening emptiness. The void we thought to fill with noise and superficial relationships and tinkery things presents itself to us in a resounding echo. Silence is then terrifying, but only because it lays bare our loneliness, our self-recrimination, and our doubts. Possessing nothing that is equal to those depths, we sense the need to distract ourselves and the cycle begins to churn again.
Have I been using my iPad as a distraction? Has this kind of prayer become an idol and a blockage to real relationship with God? Is it time for a change in my prayer routine?
I'm glad for the opportunity to explore this more deeply, even as annoyed and frustrated as I am to have the idol of my plans and preferred approach disrupted.
Read more of our Tech Talk columns.
Copyright 2013 AUTHOR
About the Author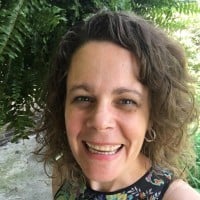 When she's not chasing kids, chugging coffee, or juggling work, Sarah Reinhard's usually trying to stay up read just one…more…chapter. She writes and works in the midst of rural farm life with little ones underfoot. She is part of the team for the award-winning Catholic Mom's Prayer Companion, as well as the author of a number of books. You can join her for a weekday take on Catholic life by subscribing to Three Shots and follow her writing at Snoring Scholar.