Sometimes, I really miss the convent life. I yearn for the prayer life – daily Mass, rosary, Liturgy of the Hours and spiritual reading. I especially miss chanting the "Salve" every night. I miss being immersed in the Church's liturgical seasons. I long for the study. I suppose if I had remained a Dominican sister, I could have been a moral theologian, maybe even studied at the Angelicum in Rome! All the letters and encyclicals that Pope John Paul II and Pope Benedict wrote, I would have read – at least most of them. I also will admit selfishly that I missed out on a lot of traveling – Rome and the Vatican, World Youth Days in various countries, and missions all around the U.S. St. Paul was right: "The virgin – indeed any unmarried woman – is concerned with things of the Lord, in pursuit of holiness in body and spirit. The married woman, on the other hand, has the cares of this world and is concerned with the affairs of her family" (1Cor. 7:34).
Yet, I want to make more quality time for prayer and spiritual reading. Why can I not rearrange my schedule to prioritize daily Mass? I would love to study theology. Could I not possibly pursue a master's degree, perhaps? But, being the busy mom of nine children and homeschooling five of them…
Therein lies God's answer to me, as if He were saying, "Kel, you have cooperated with me to bring nine pray-ers into the world; nine souls destine for Heaven. Plus, you have already given one, my beloved Thomas, back to me, that were he is, you and the children and Paul may also be. Keep in mind, too, that you are a theology professor as you teach your children about me. You will never have knowledge as deep as St. Thomas Aquinas or Blessed John Paul or even Scott Hahn. I did not create you for that purpose. Your work in my vineyard is different. Do it well, with much love, and soon enough you will know all you want about me, and we will have eternity to converse."
So, I rest assure that it was indeed God's will that take off the habit to take up motherhood. Moreover, as I reflect upon it, I still live in the spirit of poverty, chastity and obedience. As a family of 11, we trust totally on Divine Providence. I may never get the children to Disney World, or board that cruise ship my hubby and I want to sail on, or get the deck and patio added on to the back of the house. It's all good, because as I look at the birds of the air and the lilies of the field, I am reminded that my Heavenly Father knows all that we need (cf. Mat. 6:26-32). Living faithfully my wedding vows and the teaching Church's teachings regarding natural family planning, I continue to live chastely. As for obedience, "the life I live now is not my own; Christ is living in me (Gal. 2:20). My days belong to the children, taking them to sporting events, lessons, school activities, friends' houses. I homeschool, make meals, clean house. I am obedient to my vocation. Most of all, when I am living my vocation to married life correctly, I am most happy and peaceful.
Yes, I long at times to spend more time with the Lord, to grow closer to Him and in greater knowledge of Him. That's a good thing, a desire pleasing to God. He always fulfills these desires. For instance, CatholicMom.com is hosting the "Lawn Chair Catechism" at CatholicMom.com on Wednesdays this summer. We're using Forming Intentional Disciples, by Sherry Weddell, as the basis for our study. We have put together a wonderful discussion guide that includes a two-page discussion question-only download. We'd love to have you participate! You do not even have to read the book to participate. But if you want to read along, Our Sunday Visitor is offering the book for the incredibly low price of $10 through June 8, with free shipping. You can find all the information on the Lawn Chair Catechism page at CatholicMom.com. See, God always provides a way!
Copyright 2013 Kelly Guest
About the Author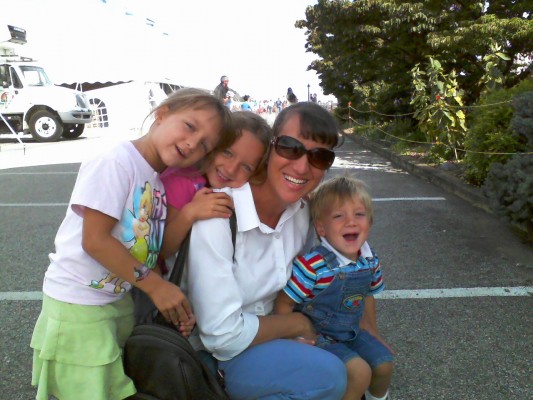 God has given Kelly lots of wonderful opportunities to follow Him. She was a Dominican Sister of St. Cecilia in Nashville, an education coordinator for a Catholic Charities' program for pregnant teens, a middle school teacher, a director of religious education and is now a youth minister. Her most challenging and rewarding calling, though, is wife and mother of ten children. What she has learned, she blogs at CatholicMom.com.